Dreaming of sunshine? Dreaming of plants that thrive in constant sunshine because your yard doesn't offer much shade? You know that motto, no shade, no problem. These full-sun perennials live for the sun. Literally. Grab your car keys and your wallet, you have some planting to do. Wait, you'll need to take this list with you!
Bee Balm
Not only does the bee balm make for an excellent addition to your garden as a pollinator plant, but it's a sun-loving perennial too. Plant your bee balm in the spring or fall, with a hearty watering. Make sure you pick a spot with full sun and plenty of room for these blossoms to enjoy the breeze.
Salvia
Allow these tall salvia flowers to explode in the sun, with colors of red, white, yellow, and blue. Plant them in the spring, but only after the danger of the last frost has passed. Water thoroughly after planting and allow the blossoms to soak up the sun all day long. Deadhead the blossoms to keep them coming throughout the season.
Canna Lilies
Prepare to enjoy canna blossoms in the spring and fall, with colors of white, orange, red, yellow, and pink. Plant your cannas around the same time you plant your tomatoes or else prepare to keep these warm and indoors until the weather cooperates. If you get cold, bitter winters, bring these beauties indoors.
Bellflower
Good news for those who live in cooler climates. Bellflowers are ready to grace your sunny gardens. After you've said so long to frost for the season, you can plant bellflowers in a sunny spot for them to soak up those rays and flourish.
Peony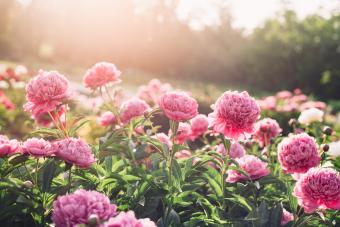 Enjoy the blossoms peonies have to offer with this sunny perennial plant. With flowers from late spring to early summer, you can also fill those bright garden patches with other varieties that'll bloom at different times. Before you home your peony in a sunny patch during a fall planting, make sure it's not in a windy spot, as these top heavy plants won't care for that.
Fast Fact
Did you know that some peonies can live for over 100 years? Now that's a budding commitment.
Purple Coneflower
Give your sunny garden a perennial that'll bloom all summer long. And we mean that. These perennials will grace your garden into that first frost in fall. Be prepared for these flowers to self-seed around your yard. Plant the seedlings in the spring or early summer in a place of full sun in your yard.
Black-Eyed Susan
Your black-eyed Susan will get by in partial sun, but they'll really blossom in a sunny patch. Plant your perennials in the fall or spring once the danger of frost has past, but if you're seeding, you can bury them in the ground six weeks before the last frost of spring.
Daylily
A sunny spot makes for happy daylilies. With colors of red, orange, yellow, pink, purple, and white, you can build a flourishing colorful garden around perennial daylilies. As soon as you can dig into the soil in spring, you can begin to plant daylilies. Or you can plant these in the early fall.
Blanket Flower
Start your sunny perennial garden with easy-going blanket flowers, either from seed or as seedlings. After you've selected a sunny spot, water your seedlings and watch them flourish. Take care to deadhead these blooms so you can enjoy more blossoms.
Bearded Iris
Your bearded iris will enjoy a sunny spot in the yard, although it will also tolerate a partially sunny space too. There's no shortage of color options, including multicolored blooms, for your sun-loving perennial garden. Plant your bearded iris in the early fall or even late summer, when the temperature is hovering in the 40s.
Garden Mum
Colorful, sun-loving perennial mums carry different messages, but if the message is that you want a yard full of mums in sun, then that's great too. Make sure your sunny spot is away from trees and sun-stealing big shrubs.
Plant these perennials in early spring, or you can kick start your mum dreams by planting them indoors abut two months before that last spring frost. Then you can transplant them outside.
Helpful Hack
Weird but true, mums won't bloom as readily or quickly if yours are near a porch light at night.
Ice Plant
A drought-tolerant sun-loving perennial? Dreams do come true, especially if you're someone that doesn't have a great reputation for watering plants on a schedule. In fact, since they're succulents, you can go ahead and not water these often at all. They're the set and forget of full-sun perennials.
Lupine
If you can't give your lupine a fully sunny spot, you can plant these perennials in an area with a little shade. Plant the seeds in fall or spring, but you'll find the most success if you soak them in warm water overnight first.
Maximilian Sunflower
Like the blanket flower, your Maximilian sunflowers are a member of the daisy family. Low-maintenance, all these perennials need are sun, regular watering, and love.
Milkweed
Don't let the name fool you, these are in fact a wildflower. Plop these the milkweed seedlings in a sunny spot in the yard anytime from a month to two months after the last frost, or plant the seeds in late spring or in the fall.
New England Aster
As your sunny garden and other perennials begin to droop, your asters will start to come to life - in the fall! Those late bloomers will adorn your sunny garden. Keep these watered and give them a good trim in spring and June for a bountiful plant.
Sedum
Enjoy the low maintenance of a full-sun perennial with stunning blossoms and leafy foliage. Don't stress if your sunny garden has poor soil, so long as it drains well, your sedum will thrive. After that last frost, but before the heat starts to arrive is the best time to plant.
Dusty Miller
Once you have your sun-loving dusty miller perennial going, you can step back, as most of your work is done. The dusty miller will give you blooms in the middle of summer - small yellow buds - but mostly this silvery plant will live a long life, happily with little water, too.
Russian Sage
Watch your Russian sage thrive with a spot in sun. This drought-tolerant plant will forgive your infrequent waterings, too. Drop your seedlings into their home in the soil in early spring.
Dianthus
Fragrant, beautiful, full-sun perennial dianthus. So long as you deadhead these blooms, you can enjoy their blossoms straight from spring until fall. Using only the sunniest spot in the yard, you can plant their seeds so long as there's no hard frost, or you can plant later in the spring or in fall.
Perennials for Sunny Gardens and Yards
Don't puzzle about how to use sunny gardens to your advantage. Work smarter, not harder by adding sun-loving perennials. With dirt up to your elbows just once, you can enjoy blooms, flowers, and leafy foliage from full-sun perennials year after year.