Planning senior day care activities may be challenging. Not only can people not be easily grouped, but budgets, staffing, and facilities have a direct impact on the activities chosen for an adult day care. Don't lose hope. Instead, explore senior day care activities like games, arts and crafts, music and exercise that can be easy and fun.
Games for Seniors
Both group and individual games have a place in adult day care programs. A little friendly competition may stimulate clients and assist in socializing them if they have been isolated at home.
Group Games
Charades can be adapted by selecting topics suited to the individuals in the game. Because this is a team game, individuals with different abilities can be grouped together. The only supplies needed are some index cards or slips of papers with the names of things or simple daily activities.
Drawing games in which a team member draws an item for the opposite team to identify require only a large pad of paper, an easel, and some wide-point markers.
Guessing games can be fun while they also reinforce basic memory and sensory skills.

Tactile skills and memory are reinforced when items are placed in a cloth or paper bag for identification only by touch.
Visual memory is enhanced by showing pictures of well-known people and places for identification by each team.
Auditory memory can be stimulated by playing recordings of common sounds, such as those from musical instruments, animals, and nature. Again, teams compete to identify the most sounds correctly.
Individual Games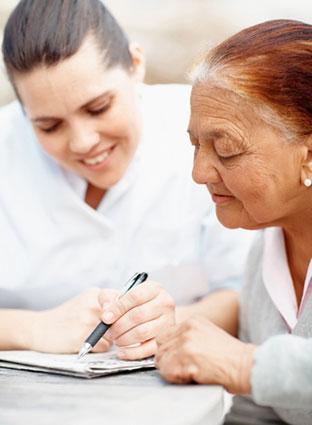 A variety of games suitable for older adults are available in books, on the Internet, and for electronic game consoles. While not all experts on aging agree, a number of studies and the day-to-day observations by professionals who work with seniors suggest that games may result in a positive effect on mental capabilities, including memory, reaction time, and other cognitive skills.
Crossword puzzles can be purchased in inexpensive paperback books at a variety of levels. In addition, it is possible to create crosswords tailored to individual needs and reproduce them an inkjet or laser printer.
Sudoku, word search, mazes, and other puzzles are also available in paperbacks. They can also be accessed for free on the Internet. A free tool for teachers lets you create a variety of custom puzzles.
Computer games for older adults are available on the Internet from many sites. AARP offers "Brain Games" for seniors.
Video Games can be played alone but may also allow players to compete. Game manufacturers are beginning to provide games targeted at older adults. One example is Brain Age for the Nintendo DS.
Relaxing Activities
Movement activities like gentle yoga and tai chi can help seniors to relax while also getting some movement in. There are also many other relaxing activities that don't revolve around physical activity including:
Coloring books help support mindfulness and reflection, both of which can have a calming effect.
If someone on staff is trained, guided meditation or deep breathing exercises can help seniors relax.
Simple spa treatments, such as painting nails or facials can be quite relaxing; take care when dealing with seniors who have arthritis so as not to irritate their condition.
Aromatherapy sessions can promote relaxation.
A massage therapist well-versed in mature clients can provide relaxation through massage. Note that this should only be done by a licensed massage therapist who is familiar with the unique needs of seniors.
Educational Activities
If you can bring an educator in to provide classes to seniors, do so. But if space or access to educators is limited, consider offering some remote educational opportunities via online learning.
Language lessons aren't only for younger people; seniors are capable of learning a new language and will benefit from the challenge.
Photography classes will not only help seniors learn a new skill but may compel them outdoors to capture more varied photos.
Acting classes offer both psychological and emotional benefits in addition to learning a new skill. Acting class - especially improv - can also help some more reserved seniors out of their shell and to become more social.
Book clubs can be beneficial in both an educational way and a social way.
Creative writing classes can help seniors utilize vocabulary while also thinking creatively.
Arts and Crafts
Arts and crafts activities for seniors in daycare can be as simple as pencil portraits of other clients or as complex as knitted and crocheted projects. Some projects may need to be adapted to accommodate special needs such as stiff joints or poor vision. A few possible activities follow below:
Drawing and Painting
Drawing and painting are relaxing and can be done relatively inexpensively with student-quality paper, watercolors, markers, crayons, and pencils available from discount stores. More advanced artists may want acrylic or oil, good brushes, and canvases.
Collage Creation
Collages can be created from scraps of material, construction paper, and clippings from magazines. Even scraps of yarn and fabric can be integrated into a collage. Tag board or other sturdy paper should be used for the foundation for a collage. Glue sticks or white glue can be used for collages.
Knitting and Crocheting
Simple knit and crochet projects that can be completed relatively quickly, such as potholders, scarves, hats, and slippers are suitable for adults in daycare. Cotton yarn should be used for potholder; synthetic yarn may melt when subjected to heat. Bulky yarn and larger than usual knitting needles or crochet hooks may aid people with poor vision or arthritis in their hands.
Music Activities
Anecdotal evidence suggests has shown music is especially valuable for Alzheimer's patients and others with memory deficits. The Alzheimer's Foundation of America has advice on selecting and using music for both stimulating and calming purposes with memory impaired clients. Music from an individual's youth seems to stimulate long-term memory. In addition, music may have a calming effect when day-care clients become agitated. Music also provides entertainment and provides an opportunity for other adult day care clients. Some possible uses for music are:
Adding music to chair exercises can enhance the experience and adds rhythm to the activity.
Selecting music from the 1930s, 40s, and 50s may awaken memories from a senior's youth and provide opportunities for reminiscence and verbal sharing.
Dance or arm movements to music engage the participants can provide enjoyment and exercise.
Sing-along sessions led by daycare staff or by a volunteer can be enhanced with sheets of lyric in large type. In addition, CDs, such as Sing Along with Mitch Miller, encourage participation in the musical experience. An impromptu rhythm band can accompany sing-alongs; common household items, such as coffee tins, pie tins, and wooden spoons, can be turned into drums, tambourines, and rhythm sticks.
Exercise for Seniors
Daily exercise has health benefits, and may provide socialization activities for seniors in a daycare setting. As mentioned, clients in adult day care may have a range of physical and mental abilities. Exercise needs to be tailored so that it does not increase risks for falling. Carefully selected exercise can improve balance and physical strength so that falls become less likely.
Games like bocce ball, lawn bowling, croquet, and shuffleboard are appealing to seniors who are relatively physically fit and can also be played by people in the early stages of dementia.
Chair exercises can be lead by a daycare staff member, or participants can follow televised instructions from a DVD.
Tai Chi, which is especially valuable for balance, can be taught without an expert instructor because there are excellent and inexpensive instructional programs available on DVD.
Supervised nature walks or city walks can provide exercise while also expanding the world of the seniors attending the daycare center.
Reflecting Real Life
Activities for adults in daycare should reflect the interests and abilities of the individuals in the program. In addition to games, crafts, music, and exercise, activities such as birthday parties, holiday celebrations, and luncheons provide an opportunity for adult day care clients to assist with food preparation, decorations, and table setting. These activities create a feeling reminiscent of life at home.