Knowing what to write in a retirement card can be hard to figure out. Should it be funny? Maybe a little emotional? Rather than wrack your brain, use these happy retirement sentiments and messages as a starting point for your own creative message.
Short Retirement Wishes
Looking for something short and sweet to add to the happy retirement card? These original messages might be right up your alley.
Your ship is sailing. Enjoy your new adventure.
You've been promoted to rest and relaxation. Happy retirement.
This is what you've worked for. Enjoy your retirement.
The work is done. It's time to play! Enjoy retirement.
May your days be filled with everything you've been waiting to do.
Saturday has become every day. Fill your retirement with joy.
You've put your hours in; it's time to fill your days with fun. Happy retirement.
Congrats! You've upgraded to the land of retirement.
You've become your own boss. May your retirement be everything you wished for.
Happy Retirement Message for Co-workers
Retirement cards for your co-workers typically come from your whole department. Therefore, knowing the right sentiment to add to the card can be difficult. Whether you want to send a message that's fun or poignant, you can find the perfect happy retirement message for your beloved co-workers.
Your contributions have made us what we are today. Your friendship and mentoring will be missed. Have a beautiful retirement.
Our sadness is your new beginning. We will miss you more than words can say. And we envy the "no alarm clock" life. Wishing you the happiest of retirements.
Bedtimes have become obsolete. Have a wonderful retirement from your team.
New adventures are just over the horizon. We hope you enjoy every second of your new freedom. Congrats on your retirement.
Today is the day. Work has come to an end. Your new adventures are full of endless opportunities. Enjoy the start of your new journey. Happy retirement.
We will never forget the endless contributions you've brought to all our lives. You've become more than just a co-worker, you're a trusted friend. We will miss you as you take the journey called retirement.
Enjoy every minute of every day of your retirement. Know we are missing you... and we are more than a little envious.
It's time to stop focusing on work and start focusing on your newfound freedom. Happy retirement. We will miss you.
Now is the time to start a new hobby and truly enjoy your life. Happy retirement.
Cute and Funny Retirement Sentiments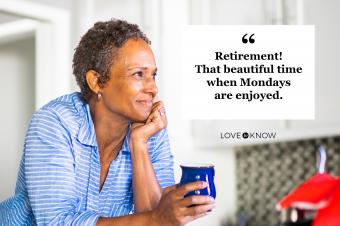 Not all messages for your retiring friends and family need to be serious. If you would like a more cute or comical tone, then you can try these funny retirement messages. They might give the retiree a bit of a chuckle.
Goodbye work! Hello Netflix! May your couch days be amazing. Happy retirement.
Retirement! That beautiful time when Mondays are enjoyed.
The time has come. The beautiful moment where you're supposed to do nothing.
After all these years, you've become a quitter. I mean retired. Enjoy your permanent weekend, my friend.
So, you're retiring. May laziness fill your days.
You never have to wear pants again. Happy retirement.
A legend like you doesn't simply retire. They upgrade to doing absolutely nothing.
Rather than needing coffee to live, it's now just a relaxing morning. Happy retirement, my friend.
May every day carry with it the happiness of Saturday. Have a wonderful retirement.
Happy Retirement Wishes for a Boss
Saying goodbye to your boss as they embark on their new journey into retirement can be hard. You need to keep it professional but personable at the same time. Send your boss off with the perfect farewell wish.
You've worked hard for this. Now enjoy it.
There can never be another legend like you. Happy retirement.
You've just upgraded to new management. Enjoy your retirement.
Now that your retirement is here, deadlines are meaningless. Enjoy every moment.
You've been an amazing boss. Thank you for everything. Now take a break and enjoy your retirement.
You've been saving your whole life for this. Enjoy your retirement.
Meetings and deadlines are done. Every moment is a new adventure. Enjoy the ride.
You've taught us so much. Now it's your time to enjoy each minute. We will miss you.
A motivating boss like you is one in a million. We will miss you a million times over. Happy retirement.
Emotional Retirement Messages
Retirement is a time for happy and sad tears. You are happy to see a person meet this wonderful milestone, but sad to see them go if you are a co-worker. When you want to get a bit sappy in your happy retirement message, you can try a retirement message with an emotional appeal.
These are tears of happiness, because I'm sad to see you go. But I hope your life opens up endless new possibilities for greatness.
You are a wonderful, amazing mentor. I hope your retirement is as special as you are.
It's our hope that your retired life is filled with blissful days and memories; because you've given us so many enjoyable and rewarding moments. You deserve every happiness.
Your retirement is well-deserved. Your motivation, compassion, and endless drive have made us better individuals. We will miss you. Happy retirement.
Retirement is a time to reward yourself with wonderful memories and adventures. You deserve every minute of it. Happy retirement.
The time has come to stop living for your work and start living for yourself. We know you will create amazing new memories during your retirement.
It has been a true honor and privilege to work with you. I know you will make a wonderful impact on the lives of others in your retirement as well.
You are a truly unique soul who has made working here a privilege. I know your impact on others will continue into your retired years.
They call this the golden phase. For a golden person like you, it will be amazing. Happy retirement.
Creative Retirement Poems
Rather than just a short message, you can try your hand at creating a cute retirement poem. If you don't have a creative bone in your body, you can try these poems on for size. They also work great to get a farewell speech rolling.
Your Workdays Are Done
Your workdays are done,
It's time to have fun.
Figure out what you want to see,
Or who this new you should be.
Even though you are free,
Don't forget about me.
Happy retirement.
It's Time to Celebrate
You don't have to work anymore,
It's that time where your interests can soar.
Retirement is all about you,
You just have to decide what you want to do.
It's time to celebrate,
Your new and exciting fate.
The Uniform
The uniform has been put away,
You are about to have brighter days.
Enjoy this new luxury,
And decide where you want to be.
The opportunities have opened wide,
It's time to enjoy the ride.
Happy retirement!
Happy Retirement
My wonderful friend, I will miss you so,
I just want you to know.
Your possibilities are shining bright,
Retirement is a beautiful sight.
Enjoy your days of luxury,
And try not to miss me.
I wrote this little poem just for you,
Sappy is what I do.
Traditional Irish Blessing
May there always be work for your hands to do,
May your purse always hold a coin or two.
May the sun always shine on your windowpane,
May a rainbow be certain to follow each rain.
May the hand of a friend always be near you,
May God fill your heart with gladness to cheer you.
What to Write in a Retirement Card
Retirement is a pivotal moment in the lives of many people. It's what you work your whole life for, so you can have a luxurious break from the daily grind. However, knowing how to wish someone farewell for their retirement journey can be tricky. But now you have a few different retirement sentiments to try out. You can even use them to create an original note of your own.