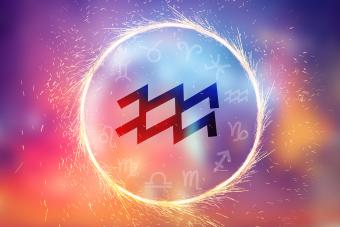 Aquarius Monthly Horoscope for December
Aquarius, this December, you might find yourself simultaneously craving connection with others and wanting to retreat inside yourself. As such an internal sign, you can't help but be affected by the desolate winter landscape. Curb a dour mood by embracing the mercurial nature of this transformative season. It'll end just as quickly as it started, and your mood will brighten much the same. 
Use meditation, yoga, or other soothing practices to center your emotional state. Give back to the community and volunteer when you get the chance. And don't forget how healing a good laugh with friends can be! 
Love and Romance
With love this month, it's all about opening up and bearing your soul. As a sign that often faces social rejection because of your unique personality, being fully vulnerable with a partner is no easy task. But you can't build a foundation of trust without letting your partner in. 
For single Aquarians looking for love, gravitate towards people who match your speed rather than ones that fit your 'type'. Finding someone who complements your sense of humor and outlook on life isn't something to pass up on. 
Family
Aquarius, you're naturally quite intuitive. This means you've learned to adapt to the onslaught of emotions around you, and you can usually pick up on small emotional shifts in the room. This insight makes you a perfect person to go to for advice, and you might find your friends and family hanging on your every word. 
While it's kind of you to lend your gifts to help your loved ones navigate any hardships they're facing, it's very important that you establish boundaries. If you don't maintain these boundaries you risk taking on their emotions as your own. 
Work and Career
In December, your work may push you to think creatively and adapt to new situations, which are both things you excel at. Thanks to your sharp problem-solving skills, you're well-equipped to handle any hurdles that pop up. 
The end of the year can be a high-pressure time, but it's vital that you prioritize your mental well-being first and foremost. One way to stay in tip-top shape is to ensure you get a good night's sleep every night. Though inspiration might strike well past midnight, try to sneak in those 8 hours before the alarm goes off. 
Finance
Aquarius, you're in the same boat as most of the zodiac signs this month in terms of your finances. The holidays are likely going to put a strain on your monthly income, so it's time to be cautious. Avoid impulse spending and focus on saving instead. 
Monthly Horoscope for Aquarius
December has its ups and downs for you, Aquarius. But the things that'll get you through are nurturing your relationships and friendships and prioritizing rest. 
To discover more about yourself and your personal astrology, check out Aquarius personality traits or discover which zodiac signs are the least and most introverted. 
LoveToKnow horoscopes are for entertainment purposes only.