We're in Gemini season - the sun entered Gemini on May 21. If you have a Gemini's birthday on your shopping list this week, check out some of our favorite gift ideas for Geminis.
Here's your weekly horoscope for every Sun sign for the week of May 29 - June 4, 2023.
Not sure which horoscope is yours? Discover your Sun sign by date.
Aries
If you find yourself feeling particularly expressive this week, Aries, it's because it is written in the stars. Your increased capacity for communication can propel you forward this week, bringing about positive changes in your life.
Along with your communication skills being at a peak, you'll also be dialed in intellectually. Because of this, it's the perfect time to make new connections via networking and express your ideas. If you have a Big Idea you've been thinking about, now is the time to share it. Your enhanced persuasive ability will inspire others to share your vision.
Your charm and expressiveness carry over into your social life, as well. Gather with friends and loved ones for a joint creative project that can help you all connect on a deeper level. A shared creative vision with the people you care for can infuse joy into everyone's life.
In the midst of all this activity, be sure to check in with yourself emotionally. Engage in practices that bring emotional and spiritual fulfillment, such as meditation, reflection, or mindfulness. This self-care will help you continue to thrive, even when things get challenging.
Taurus
Your natural strengths of practicality, work ethic, and relationship building will shine this week, Taurus, as practical matters come to the fore. The energy of the week will draw your attention to finances and professional goals.
If you've wanted to shift your money situation, this is the week to start. Take a deep dive into your finances. Reassess your spending habits, look for sound investment opportunities, and evaluate your budget. You can't meet your financial goals without knowing what's coming in, what's going out, and why. With this week's energy, you'll find yourself in a position to make monetary changes that will affect your long-term financial stability. Additionally, there may be an overlooked source of income, so check for creative ways to diversify your income streams.
At work, you have the power to set your professional path. First, make sure your work ambitions align with your current values, and tweak them as you need. Now is the time to set a plan for growth at work. With your goals firmly in place, use your characteristic Taurus discipline and determination to forge ahead with your renewed aspirations.
Trust your instincts, maintain a balance between home and work, and take time to enjoy the simple pleasures in life, and you'll exit the week with newfound enthusiasm and determination for your path forward.
Gemini
Get ready for renewal, Gemini. If things have felt a little stagnant lately, this week's energy favors personal expansion, new projects, and renewed intention.
When was the last time you sat down and thought about your intentions? If it has been a while, then it's time to remember that creating intentions that align with who you are and choose to be can help you grow quickly in all aspects of your life. Evaluate what you truly want and what you're passionate about. From there, create a new set of intentions and visualize a path to reach them. Follow up with meaningful action this week, and you'll be on your way to powerful personal growth.
You'll be especially persuasive this week. Whether it's business, friends and family, or a personal venture, now is the time to use your charm and social skills to persuade others to your point of view. The energy of the week supports extra influence and grace in your communication, so if you've wanted to convince others to get on board with a pet project, do it now.
Later in the week, you can benefit from experiences that expand your horizons. Whether it's travel, study, learning about different perspectives, or embracing a new experience, the energy is perfect to follow your curiosity.
Cancer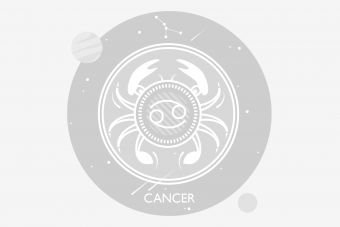 You're always deeply emotional, Cancer, but this week it's time to go within and reassess your emotional needs. Not how you feel, but how you'd like to feel and how to feel supported in that. If your emotions seem to be in control, it may be time for some self-reflection. Society isn't always super tolerant of deep emotions, and because of that, you may try to hide and suppress yours. Take the time to reflect and find ways to allow any stuck emotions you've suppressed to surface in a safe way. You'll feel better for doing so.
Socially, you'll be especially eloquent and charming this week. Use this boost of charm in your communications with others, and it may help you make progress towards your desires and goals. Now is the time to express your feelings, share your aspirations, and find new ways to connect with important people in your life.
If you've been feeling a little stuck lately, it's the perfect time to explore new possibilities. Step outside of your comfort zone this week, and you'll unlock new opportunities.
Leo
You're a font of information, inspiration, and ideas this week, Leo. Now is the time to use your natural charm, confidence, and charisma to bring some of these great ideas to life. By sharing your inspiration with the right people, you'll be well on your way to creating something great and forging deeper connections.
And while you're always the center of attention, you'll be especially captivating to others this week. Your charm and grace will attract many, and you can build new relationships that bring you joy.
Later in the week, get ready for adventure. Now is the perfect time to try that new experience you've wanted to have. And while many things are well within your broad comfort zone, the energy of the week encourages you to step outside of it, whether through education, travel, or new friends and relationships. By doing so, you'll gain a better understanding of not only the world, but also yourself.
Virgo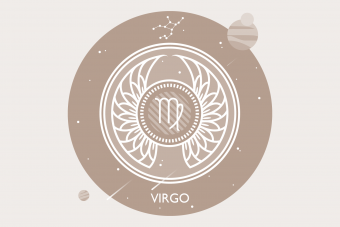 This week, Virgo, your characteristic attention to detail and analytical skills will serve you especially well. You can use them to your benefit both at home and at work to pursue your ambitions and bring about real change.
As you focus on your goals at work this week, use your analytical skills and attention to detail to show your colleagues exactly why you're the person for that project you've had your eye on and how you can be useful. Don't be afraid to highlight these skills in conversations with your supervisor. Your communication skills are especially powerful right now, particularly as it relates to persuasion and charm, so don't be afraid to ask for what you need and want. Now is not the time for modesty.
Libra
Libra, this week will find your intellectual curiosity at an all-time high. One way to break out of a rut is to learn new things and pursue new experiences, and with your curiosity peaking this week, it's the perfect time to try something new, plan some travel, or study something that challenges your existing beliefs. A shake-up to your worldview could be exactly what you need to propel you forward and help you grow.
And since your communication skills are also at a peak right now, it will be easy for you to approach people who have different perspectives. Seek new connections this week and allow yourself to truly see things through other people's eyes. Doing so can provide new ways of finding joy.
With your mind bubbling with novel information, it's a great time to take action at work. Ask for that project you've been wanting to do, set appropriate boundaries where they need to be in place, and assert your ideas with coworkers to help you turn that meh job into a dream job. Your natural charm and diplomacy can definitely help you as you do.
Scorpio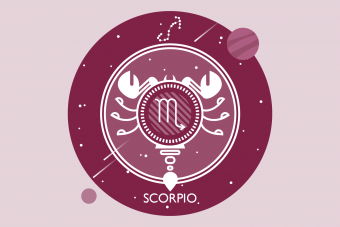 You always like to go deep, Scorpio, but this week will have you feeling a longing for an even deeper connection with others and yourself. These feelings may come about after a period of introspection where you realize that you'd like to evolve, and that strengthening your self-awareness and connections can help you get where you want to go.
Doing this may feel like an act of courage - you often hold your cards close to the vest - but true healing only comes when you're willing to share your genuine feelings and thoughts with others. Allow yourself to share your vulnerability and trust your instincts, and you won't be disappointed.
Fortunately, you'll be feeling positively chatty this week. This infusion of charm will soften some of your usual intensity when you communicate, making it easier for others to connect to the information you share. This can bring balance and harmony in relationships. With thoughtful communication and deep honesty, you'll transform not only your relationships with others, but how you feel about yourself as well.
Sagittarius
Sagittarius, this week marks an important phase in your celestial journey. Whether it's business partnerships, romantic involvements, or strengthening friendships, it's a time to nurture your bonds. Use your inherent optimism and honesty to enhance these relationships.
This week you'll notice a desire for stimulating conversations and intellectual exchanges. Use this time to express your thoughts openly, but also make sure you listen as much as you speak (something that's not always a strength if we're being honest, Sagittarius).
Later in the week, you might feel a heightened interest in wellness routines and self-care. Don't neglect these urges; it's a prime time to invest in your well-being, both physically and emotionally. It's also an excellent time to contribute towards a cause close to your heart.
While Sagittarius is always enthusiastic, you'll feel especially so this week. Don't waste this energy. Now is the time for creative pursuits or doubling down on a pet project. You'll also feel more adventurous and curious than normal. Embrace this energy and follow your curiosity. It may lead to new and exciting places.
Capricorn
Capricorn, your well-known steadfast determination is about to pay off. With the energy of the week, you're guided to concentrate on your wellness and daily routines. It's an excellent time to focus on maintaining a balance between work, rest, and physical activities.
To that end, you might find a new interest in intellectual pursuits tied to health and wellness. It could manifest as an urge to research diets, workouts, or even holistic healing techniques. Let your intuition guide you, and be open to trying things you haven't before. Your physical, mental, and emotional health will benefit from your efforts.
You'll also feel an urge to enjoy life's sensual pleasures, so take this time to indulge in activities that bring you joy. You may also feel a creative spark, so don't be afraid to explore new artistic outlets.
The energy at the end of the week invites you to explore your inner world, perhaps through meditation, journaling, or quiet reflection. It's a good time to connect with your inner self and acknowledge any emotions that lurk under the surface.
Aquarius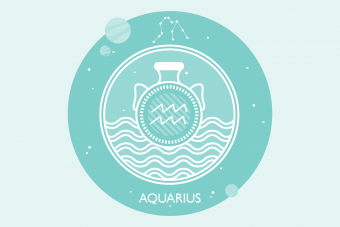 Aquarius, the week ahead is filled with possibilities! You've always been a creative soul, but this week's energy will definitely highlight that, so now is the perfect time to dive into that creative project you've been mulling over. When used as a form of self-expression, your creative pursuits will provide opportunities to grow and know yourself more deeply.
You may notice that you're thinking more clearly than usual this week, Aquarius. Your mind is alive with ideas and creative thoughts, so it's the perfect time to brainstorm and start new projects. Don't be afraid to put your own unique stamp on anything you start this week, as being unique is one of your greatest strengths, and it's time to let it shine.
If you find that you're especially curious about things this week, use that inquisitiveness to broaden your horizons. Whether it's taking a class, traveling, or trying something new, be willing to embrace new opportunities that fuel growth and satisfy your intellectual curiosity.
Pisces
Pisces, your characteristic emotional sensitivity is at an all-time high, bringing plenty of opportunities for introspection and creativity. Early in the week, you can bring that sensitivity to matters of home. Create a tranquil space just for you where feel safe to reflect and use it as a place for meditation and creative pursuits.
Your natural empathy often makes it challenging for you to have difficult conversations with others. However, this week, it's time to have those productive conversations and resolve any issues that have been swept under the rug. If you express your feelings with sensitivity and take the time to truly hear what another is saying, then you can use your empathy to reach resolution to a long-held conflict.
More About Your Sun Sign