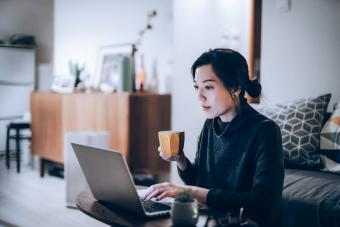 For centuries, drawing an astrological chart required knowing astronomy and geometry. Today, you can generate a free chart instantly on the internet. Free places to get a personal horoscope reading online have become ubiquitous, and new sources are now at your fingertips with free astrology apps.
Three Best Free Places for Astrology
Some free astrology report websites "bait and switch." These sites give you just enough free so you'll purchase a more detailed report. However, there are some that offer very in-depth personal astrology readings. These places give insight into all aspects of your life by looking at the sun, moon, ascendant, all the planets, and more. If you're looking for very insightful astrology reading but can't afford to spend time with a professional astrologer, these three places are good options.
Astrodienst
Astrodienst has a multitude of free horoscope readings. It has free reading that includes, "Today and Tomorrow," "Personality," "Relationships," "Children and Youth," and more. Additionally, it offers extensive information on astrology for beginners and professionals. Astrodienst is run by professional astrologers and has a community forum where members dig into a chart's various aspects. If you're looking for a free but comprehensive guide to astrology, this is the place to go.
AstroSeek
AstroSeek is an extensive free astrology resource. It's almost like having astrology software on your personal computer. At AstroSeek, you can calculate your natal chart, scroll down and get a complete interpretation of planets in signs, houses, and aspects. There are personalized reports for transits, secondary progressions, AstroCartography, fertility days, love compatibility, a personal daily horoscope, and more. AstroSeek is loaded with many free personal reports and is well worth taking the time to explore.
Co-Star Personalized Astrology
Co-Star has brought astrology into the 21st century and made it mobile. Co-Star is an astrology app that's available for Android and IOS. It has been featured in the New York Times, Cosmo, The Guardian, Vanity Fair, Vogue, Buzzfeed, Refinery29, and more. Co-Star is very detailed, and there are extras you can pay for, but that's not necessary for you to get valuable information about yourself or others.
What to Expect From a Free Horoscope Reading
All the free horoscope readings are computer-generated.
Computer interpretations give you basic but accurate information formatted in bits and pieces.
You'll often find two or more bits of information that are contradictory.
Not every planetary position or aspect generated by a computer is significant in and of itself.
Computer-generated reports don't pull all the bits and pieces of information together into a comprehensive whole.
Don't expect a computer-generated repost to take your personal life into account.
The Human Factor
When the human factor, your personal life, is applied to the birth horoscope and blended with the different chart configurations in a computer-generated report, astrology comes to life. Without this, a computer-generated horoscope has no central focus and is simply a list of characteristics. Nothing stands alone in an astrology birth chart; everything must be combined and synthesized, including the human factor. This is best done in conversation with a living, breathing professional astrologer.
Benefits of Free Horoscope Readings
Whether you're an astrology aficionado who just wants to learn more about your horoscope or a total newbie who doesn't know your rising sign from your moon sign, a free horoscope reading will give you some insight into your personality. There are many places to find free astrology reports of all kinds; compare the three listed here and several other sites and apps until you find one you really like.