Learning the zodiac sign flowers can be fun and informative. Whether you want to learn the astrological flowers for each sign in order to give a personalized gift or to enhance your own backyard garden, zodiac birth flowers are a beautiful and easy way to incorporate astrology into your everyday life.
The Birth Flower for Each Zodiac Sign
Each zodiac sign is associated with several flowers, but each also has a primary flower that represents its energy.
Aries's Zodiac Birth Flower
Go-getter Aries (March 21-April 19) is about new beginnings. They make quick decisions and have an enterprising spirit. As for their legendary temper, once Aries's anger is spent, the sign quickly reverts to its almost childlike, lovable ways. Honeysuckle flowers, symbolizing the sweetness of new love, new chapters, and pleasant memories, are the Aries astrological flower.
Other flowers associated with Aries include:
Thistle
Bryony
Peppermint
Tiger lilies
Geraniums
Hops
Impatiens
Hollyhocks
Taurus's Zodiac Birth Flower
Taurus (April 20-May 20), the fixed earth sign of the zodiac, has a reputation for stability. Taurus tends to be peaceful, calm, in control, and also enjoys the finer things in life. The foxglove is Taurus's astrological flower. Its message to Taurus is to be alert, trust your instincts, and stay grounded!
Other flowers associated with Taurus include:
Gemini's Zodiac Birth Flower
Gemini (May 21-June 21) is youthful, chatty, and inquisitive. Gemini's astrological flower is the lily-of-the-valley, which symbolizes good luck, joy, youth, and discretion. Lily-of-the-valley flowers are often used ritually to improve mental clarity.
Other flowers associated with Gemini include:
Maiden-hair ferns
Orchids
Chrysanthemums
Lilacs
Azaleas
Cancer's Zodiac Birth Flower
Cancer's (June 22-July 22) astrological flower is the white rose, which symbolizes peace, imagination, positivity, emotion, and purity. A sensitive Cancer also needs to be handled with care because, like a rose, they have a thorny side.
Other flowers associated with Cancer include:
Bear's breeches
Morning glories
Geraniums
Lilies
Water lilies
Lotus
Verbena
Southern magnolias
Leo's Zodiac Birth Flower
Leo (July 23-August 22) is loving, accepting, adventurous, warm-hearted, and has the ability to put a smile on everyone's face. Leo's astrological flower is the sunflower. Big, bright, and beautiful sunflowers are just as vibrant and attention-grabbing as a Leo.
Other flowers related to Leo include:
Celandine
Passion flowers
Rosemary
Asters
Larkspurs
Dahlias
Heliotropes
Virgo's Zodiac Birth Flower
Virgos (August 23-September 22) are shy, humble, caring, and have a reputation for being perfectionists. Virgo's astrological flower is the buttercup. These bright small flowers represent Virgo's humility.
Other flowers related to Virgo include:
Narcissus
Chrysanthemums
Asters
Cherry blossoms
Libra's Zodiac Flower
Libra (September 23-October 23) is all about fair play, balance, equality, and justice for all. Ruled by Venus, the goddess of love, Librans are also romantics. Bluebells, Libra's astrological flower, are said to embody Aphrodite, the goddess of love and beauty.
Other flowers related to Libra:
Scorpio's Zodiac Flower
Scorpio (October 24-November 21) is mysterious, deeply emotional, and protective, but quiet and strong. Scorpio's birth flower is the red geranium. Like Scorpio, red geraniums are considered protective. Some believe that if a red geranium is near your front door, it will warn you when strangers approach.
More flower options for Scorpio are:
Holly
Black-eyed Susan
Scarlet monkey flowers
Anemones
Heather
Gardenias
Honeysuckle
Rhododendrons
Sagittarius' Zodiac Flower
Sagittarius (November 22-December 21) is ruled by jolly Jupiter. Sagittarians are friendly, adaptable, and happy-go-lucky individuals. Carnations are Sagittarius' astrological flower. Often referred to as the "flower of the gods," carnations have a spicy fragrance and are a dynamic and colorful delight. In general, carnations represent fascination, distinction, and love.
Other flowers related to Sagittarius include:
Dandelions
Blackberries
Thistles
Capricorn's Zodiac Flower
Capricorns (December 22-January 19) are legendary for getting better as they age. Longevity, hardiness, and the ability to survive and thrive are hallmarks of the Capricorn personality. Capricorn's astrological flower is the pansy. Like Capricorn, pansies have overall hardiness and are survivors. Pansies can survive light freezes and snow cover.
Other flowers related to Capricorn include:
Ivy
Heartsease
Love-lies-bleeding
Knapweed
Trillium
Baby's breath
Camellias
Aquarius's Zodiac Flower
Forward-thinking Aquarius (January 20-February 18) likes unique and one-of-a-kind things, and that includes flowers. Orchids are Aquarius's astrological birth flowers. There are many species of orchids, and every orchid species has a unique look.
Other flowers associated with Aquarius are:
Solomon's seal
Golden rain
Goldenrod
Jack-in-the-pulpits
Birds of paradise
Gladiolus
Trillium
Pisces's Zodiac Flower
Pisces (February 19-March 20) is the water sign that's ruled by Neptune. The world would be pretty boring without the spiritual, intuitive, ethereal, and slippery qualities of Pisces. Water lilies are Pisces's astrological flower. Water lilies are symbolic of beauty, enlightenment, and purity, making them the perfect zodiac flower for a spiritual Pisces.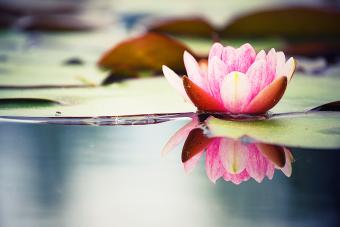 Additional Pisces flowers include:
Moss
Poppies
Rhubarb
Yarrow
Clematis
Lilac
Orchids
Best Flowers to Gift Each Astrological Sun Sign
Fresh-cut flowers or flowering plants are a meaningful gift for almost any occasion. However, when giving them, it's important to choose a flower or plant that echoes the sensibilities of the person to whom you're giving them. There's no better way to do this than choosing a gift flower that plays into an individual's sun sign.
Best Gift Flower for an Aries
Red tulips are a great flower gift for Aries. These spring flowers capture a little of the natural fiery enthusiasm that exudes from Aries.
Best Gift Flower for a Taurus
The best flower gift for a Taurus is an anthurium. Anthuriums are bold, bright, colorful, and give off good vibes. Its unique appearance not only adds a dash of luxury to Taurus's home, but also attracts positivity and abundance.
Best Flower Gift for a Gemini
There's no better flower gift for a Gemini than a Gemini hybrid tea rose. Gemini roses are a breathtaking mix of white and pink that reflects the complexity of the Gemini.
Best Gift Flower for a Cancer
African violet is the best flower gift for sensitive, emotive, homebody Cancer. African violets represent devotion, commitment, and faithfulness. Plus, they're a house plant that, with loving, tender care, can last almost 50 years.
Best Gift Flower for a Leo
Red chrysanthemums, symbolizing loyalty, devotion, joy, optimism, love, and deep passion, could be the perfect flower gift for a Leo.
Best Gift Flower for a Virgo
The perfect flower gift for a Virgo could be ocean-blue forget-me-nots, which symbolize peace, healing, growth, development, intelligence, and communication.
Best Gift Flower for a Libra
Pink peonies symbolize love, honor, happiness, wealth, romance, and beauty, making them the perfect flower gift for an aesthetically and socially appreciative romantic Libran.
Best Gift Flower for a Scorpio
The best gift flower for a Scorpio could be a flowering cactus. Not only do they match Scorpio's prickly nature, but cactus, like Scorpio, don't wilt at the first sign of stress (drought) and offer few cues that they need help (water).
Best Gift Flower for a Sagittarius
Strelitzia, also known as the bird of paradise, is a unique flower gift for a Sagittarian. The bird of paradise is an expressive, tropical flower that captures Sagittarius's joyfulness and love of freedom.
Best Gift Flower for a Capricorn
The perfect flower gift for industrious Capricorns is a fragrant stargazer lily. The stargazer lily symbolizes the abundance, wealth, nobility of mind, and prosperity of Capricorn.
Best Gift Flower for Aquarius
Wild, delicate, unique, and alien-looking proteas flowers would make an out-of-this-world flower bouquet for the out-of-the-box thinker, Aquarius.
Best Gift Flower for Pisces
The perfect flower gift for a mystical Pisces is a lotus flower. Buddhists believe that the water sliding off Lotus petals represents detachment from the material world, which echoes the Pisces's mission in life.
Flower Power for the Zodiac
Now that you know which flowers correspond to each sign, what should you do with the information? Whether it's a birthday party gift or a housewarming present, the recipient is sure to be wowed by your level of thoughtfulness. Alternatively, knowing the flowers associated with your birth sign is a great way to provide accents or a little feng shui functionality to your interior design. Most people know the benefits of having flowers and plants around the house, but for the most part, they are not personalized. Imagine how much fun it would be to go shopping for specific flowers and plants associated with you or your family's zodiac signs!