Gifts for the Grieving
There are many types of gifts you can give to a friend or family member who recently lost a loved one. While giving a gift won't make everything better, the gift may offer the bereaved some comfort. These thoughtful presents can help someone in their darkest hours.
Audiobook
When someone in the family dies, one of the things that is hard to get used to is the silence in the house. Consequently, an audiobook can be the perfect gift for someone who is grieving. Whether you buy one that lifts their spirits or gives them advice about the situation they're going through, it helps fill the silence as they get used to their new normal.
If you're not sure what book would be most appropriate, you can gift a subscription to Audible, Amazon's audiobook service.
Framed Memorial Poetry
For many, poetry can be a therapeutic way to process the emotions associated with losing a loved one. It can also comfort the grieving to know that the person who was so special to them, was special to others as well. Giving a friend a memorial poem to let them know how special their loved one was to you too, can give comfort and also help preserve the memory of someone grieving.
Look for something specific to the situation; for example, if your friend lost her child, you'd order a poem and plaque specifically recognizing her child. For example, the well-known poem, If Tears Could Build a Stairway (pictured), is written specifically for the loss of a family member.
Windchimes
For some, wind can be a gentle reminder that even though her loved one is physically gone, he is always present. Consequently, a wind chime makes a great gift for someone who would appreciate the subtle symbolism. A wind chime for the garden or even their porch could be a great way to sit back with a cup of tea, and just reflect on a loved one that's passed.
Create a Memory Box
One thing that many grieving people will say is that it is painful when no one mentions the recently deceased. Show your friend you remember by creating a memory box.
Put a nice compilation of photos, knick knacks, and symbols to represent the one who passed away together yourself as a small memorial to the person who died. After you're done picking your favorite items, decorate a box to put them all in that represents the lost loved one.
This gift is one that should be given with some extra sensitivity. Wait until a little time has gone by then, and when the hurt has faded a little, you can give them this emotionally charged gift.
Tribute Montage in Digital Frame
If you have photos of the person who has just passed, a photo montage tribute is a nice gift to let the grieving know that you too remember her loved one. This thoughtful gift can help someone keep their loved one's memory alive.
One site that will help you put your photos in a montage is Fotor. They offer a variety of effects and help to make your montage a touching and fitting tribute to your friend. The service is free, although there is a paid version. When you're finished creating the montage, you can download it onto a digital picture frame and give it to your friend.
Plant a Garden
What better way to show that your friend's loved one still lives on than planting a garden dedicated to them? Plant their favorite flowers or flowers that come in their favorite color. You can even get little planter plaques and paint quotes this person would say on them to give it even more personality. Turn little items they had in their room into garden decor too. For example, if they had a small statue of a tiger, put it by some tiger lilies. If they liked rubber ducks, get a small figure of a duck to put in your garden.
If a whole garden seems like it might be too much, consider a container garden or even a large flowering bush such as a hydrangea.
Stitch Up a Memory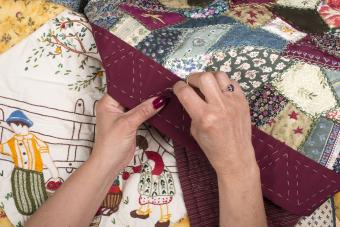 Did your friend's love one love birds? How about sailboats? Why not stitch up a picture of something they loved and add their name on it. If they liked boats, name the boat in your stitching after them. If they liked puppies, put their name on the pup's dog collar. Something subtle that gets the point across. This is a good gift if your friend is really upset as it won't force them to look at their loved one's photos or belongings if they aren't ready.
A Ring That Lasts Forever
The infinity symbol is one that obviously represents something that is everlasting-like the love your friend has for their lost loved one. Get her a ring that has the infinity symbol to show the feeling of undying love for the one she recently lost. You can also engrave the loved one's name or initials on the inside of the ring to give this gift a little extra love.
Charm Bracelet
More Details
If your grieving friend is female, a charm bracelet that memorializes their lost one makes a great gift. It's a starting point for conversations and might make it easier for your friend to talk about her loved one. Another benfit to this gift is that you can add charms to the bracelet to remember special dates such as the departed's birthdate, and anniversary, etc.
Keep Their Flame Burning
More Details
Get a long-lasting candle for your friend to burn in her loved one's memory. When someone passes away, candles bring bits of comfort at night when the mourner needs it most. Try to get a candle that would best suit the deceased's personality, or opt for something with a saying or poetry.
Host a Life Celebration Party
Your friend's loved one was someone very special to them. After the initial pain dies down, offer to host a life celebration party. The gathering involves memory sharing, a slideshow of happy moments with this person, and maybe a buffet of all their favorite treats. Having the life celebration party on a special anniversary or date will ensure that your friend doesn't have to be alone, but instead will be surrounded by other friends helping her remember all the good times, laughter and love.
Supply a Bottle of Red (or White)
If you plan to have a heart-to-heart with your friend, bring a bottle of wine along. This shows your friend that you are in no rush to leave her side and that you want her to ease her thoughts at the same time. Wine goes best when best friends can share it together. Plus, wine might take a little of the edge off when your friend is opening up. These conversations aren't necessarily easy.
Memory Pillow
More Details
Sometimes for those who are left behind, it is hard to know what to do with leftover clothing. While your friend or relative may need to clear it out, letting go can be hard.
If that's the case, offer to take a favorite shirt and have it made into a memory pillow or take several shirts and make a memory quilt. This is a good gift because it may help your friend of family member feel like they're not getting rid of the departed's memory as much as they are turning personal belongings into something meaningful. It's best to receive this gift from a family member, for example, from a granddaughter to a grandmother.
Let Them Know You Care
No matter what kind of gift you give, just the idea that you are there for your grieving friend can often be enough. While it's always great to offer practical help such as house cleaning or meals, it's also great to communicate that not only are you willing to be a source of comfort, but you're willing to help keep the memory of the deceased alive by talking about him.