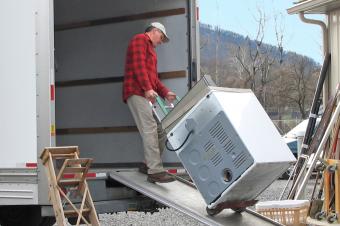 If you've got old appliances and want to give them to someone in need, many charities can fix or clean them up and sell or reuse them. Most organizations accepting big and small appliance donations have specific guidelines for donation drop-off or pickup, so be sure to contact them before loading up the goods.
Habitat for Humanity
Habitat ReStores accept donations of gently used materials or items that are meant to improve or decorate a home. Use their search function to find a ReStore closest to you. Call that store to see if they offer free pickup as most do. You can also drop off appliances after calling if it's easier. Individuals can buy these kitchen staples for a discounted price, and all store proceeds go toward Habitat for Humanity house projects which benefit low-income families.
The Salvation Army
The Salvation Army is an international organization dedicated to meeting human needs and spreading the word of Jesus Christ. As part of their programming, many regional offices own and operate thrift stores where families and individuals can purchase basic household items at discounted prices. Each location accepts specific items so all of them may not accept appliances, but most will at least accept small appliances like microwaves. You can schedule an appliance pickup using their online tool by entering your zip code to find the nearest office. While you can drop off small items like clothing in their donation sheds, you should call your local office or thrift store to find out what's on their list of accepted appliances.
Society of St. Vincent de Paul
This international organization seeks to serve the poor in any way possible. Some regional chapters of the Society of St. Vincent de Paul (SVdP) accept appliance donations for their resale stores whose goods are sold at low cost, and profits are poured back into services. One example is the Indianapolis Archdiocesan Council, Inc., which regularly schedules Saturday pickups for large appliances in good working condition or in need of small repairs. Find your local SVdP USA office using the organization's database then call or check their website to see if appliance donations are accepted.
Vietnam Veterans of America
Small appliances like toaster ovens, microwaves, blenders, and coffee makers find new homes thanks to the Vietnam Veterans of America. Don't let the organization name deter you, any veterans are eligible to receive help. Items must be small and lightweight enough to be carried by one person, but you can schedule a pickup of the small appliances you'd like to donate. The small appliances and other household goods you donate are then sold to private companies so the organization can use the profits to fund their programs and services.
General Donation Considerations
Unless specifically stated otherwise, donated appliances should be in working order. Since many of these organizations work off volunteer time and have limited budgets, it's helpful to make sure your appliances are ready for use before donating them. Giving old appliances to someone in need is not the same as sending them off to the junkyard.
Keep the future user in mind.
Give it a thorough cleaning.
Make sure the plug and all other necessary parts are intact.
Include any manuals or spare parts if you still have them.
Be honest about quirks or minor repairs needed.
New Life for Old Appliances
Old, large appliances can be one of the most difficult items to remove from your home. If you've got a used item that's still full of life, look for organizations willing to give them new life in another home or by using the parts in an environmentally friendly way.