Just like the idea that breaking a mirror will give you seven years of bad luck, the idea that you can't donate underwear and bras is more of an old wives' tale. There are actually multiple international and domestic charitable organizations that accept used and/or new underwear and bra donations (often to recycle) to support communities and habitats in need.
Can You Donate Personal Underwear?
We've all got an ever-growing pile of clothes that we need to donate, but don't always know which to give away and how to send them in. Inevitably, a couple of bras you've only used once or twice and a few pairs of underwear that never really fit right are probably buried in the stack. Not every local organization accepts intimate donations, but there are a number of different charities that accept used and new underwear to support a myriad of noble causes.
Fast Fact
Most thrift stores don't accept used underwear donations for resale, but some organizations take them to recycle, so you can donate them that way.
Places You Can Donate Gently Used Underwear and Bras
Underwear has a reputation for not being able to be donated. Although cleanliness is a major factor when it comes to undies, most of us have bought a pair or two that we've only worn for a special occasion and thoroughly washed afterwards. Instead of tossing those pieces in the trash to sit rotting in a landfill, look into donating them to one of these national charity organizations.
Planet Aid
Planet Aid is a great international organization that takes used clothing and recycles it to not only lessen the environmental impact that throwing away clothes creates, but to support communities in need as well. They accept all kinds of donations, including underwear and bras, so long as they're clean and only have minor wear and tear.
The quickest way to donate to Planet Aid is by dropping off your undies in one of their yellow bins around the world. Yet, you can still send in your donations without having a bin near you. Just purchase a Give Back shipping label, and you can mail up to 70 items.
The North Face's Clothes the Loop Program
The North Face's winter and outdoor sportswear continue to be popular with active people today. But, when you head to a North Face store, you can bypass all of their steep prices and instead go straight to their Clothes the Loop bins.
The Clothes the Loop Program is an international recycling initiative that uses monetary rewards to encourage shoppers to bring in their clothing recyclables instead of throwing them away. According to their website, people who donate can "earn a $10 reward toward [their] next purchase of $100 or more." It goes to show that when you give, you can also receive.
Hanky Panky
Undergarment and sleepwear brand Hanky Panky also accepts donations of used underwear, bras, and socks; they've partnered with GreenTree to recycle them. Underwear has to be be freshly laundered, but holes and stains aren't a problem. Join their rewards program to get a free shipping label and say goodbye to those undies.
The Bra Recycling Agency
Kathleen Kirkwood founded the Bra Recycling Agency in 2010. At the heart of this bra recycling organization is the hope to end breast cancer; the organization donates all of the metal recycling proceeds from donated bra underwires to breast cancer research.
What makes The Bra Recycling Agency so interesting is that they take a wholly different approach to reusing old bras and underwear. Through an established mechanical process, they pulverize their donations and turn them into carpet. You can head to their website to get a free shipping label for one bra donation, or pay increasing amounts for shipping labels for larger donations.
The Bra Recyclers
Since 2008, The Bra Recyclers organization has been creating employment opportunities, providing necessary clothing to the community, and helping people live more sustainably. Not only do they have a general nonprofit arm, The Undie Chest, that supports families who are in need, but also a school-specific program called Everyone Deserves Underwear that provides clean underwear to needful students.
They accept donations of:
Gently used bras
Gently used masectomy bras and other post-surgery breast cancer supplies and accessories
New underwear and t-shirts for all ages
Free the Girls
Free the Girls is a 501(c)(3) nonprofit organization dedicated to helping women survive sex trafficking. They operate a resale business model for women, and you can donate gently used and new bras. To donate bras to Free the Girls, simply visit their donation page, where you can get a free label for five or fewer bras and a low-cost shipping label if you have more than five to give.
Local Buy Nothing Groups
If your undergarments or bras are gently used and stain-free, you may also want to offer them up on a local Buy Nothing or Freecycle group. This can give them a second life.
Places You Can Donate New Underwear
The last thing we like to do is head back to the store to return something that didn't fit, especially if it's a hassle that involves printing off shipping labels or driving a long distance. Instead of keeping your brand new undies shoved in the back of your closet with the tags still on, donate them to one of these charities.
The Undies Project
The Undies Project is a 501(c)(3) charity that "donates underwear through its partner organizations who serve those who are homeless, living in shelters or who are on a low income." Not only can you send them your money, but you can also donate both underwear and bras to their Connecticut mailing location.
I Support the Girls
As I Support the Girls says it best, "women and folx experiencing homelessness or distress deserve to stand tall with dignity" by having the undergarments and menstrual products people need for merely existing in the world. Not only can you give monetary donations (including stocks and crypto), you can donate any new or gently used bras (as well as sealed menstrual products) by dropping them off at any location or mailing it in.
Local Homeless Shelters & Domestic Violence Centers
Some of the items that homeless shelters are most in need of are socks and underwear. Domestic violence centers may also need these items for the people they help. Consider contacting your local shelters and centers to ask about donating your unworn socks and underwear.
DIY Projects to Recycle Your Own Underwear
Not every old undie or bra can be brought back to life, but you can prevent them from heading to a landfill by reusing their materials to make fun crafts or cleaning supplies for your house. Although you're not donating to another person directly, you're still participating in the spirit of donating by recycling them yourself.
Construct a scrubbing sponge. Buy an onion bag and stuff the bra/underwear fabric scraps inside. Just toss in the wash after a few uses to sanitize it.
Mend old clothes using the fabric scraps. Add some character to your well-loved clothes by patching up holes with your old undies and bras.
Compost your 100 percent natural textiles. Only 100 percent natural (cotton, linen, etc) fabrics are biodegradable, so if you have those on-hand you can put them in your compost pile.
Use them instead of paper patterns for your sewing projects. Since you know your old bras and undies fit well, you can rip out the seams and use them as personal patterns to make new ones yourself.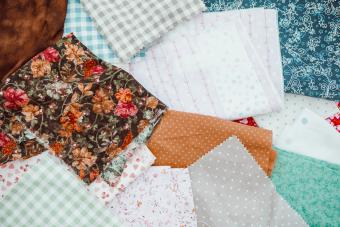 Live Sustainably, One Pair of Undies at a Time
Thanks to the internet age, we're being able to connect to more and more charities and help community outreach from miles away. If you're feeling like trying to live more eco-conscious and sustainably, then consider collecting underwear donations for one of these prominent organizations.