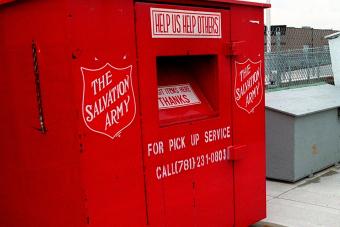 Knowing the history of the Salvation Army is to know the background on one of America's most active and influential charities. Learn about the history and purpose of the Salvation Army, including its origin story, expansion, and key programs.
Who Founded The Salvation Army?
The Salvation Army was founded in 1865 by William and Catherine Booth, an English minister and his wife. William Booth left the pulpit in London to become a minister to those he felt needed to hear words of love and salvation most, including the very poor as well as criminals, drunks, etc. He preached in the streets of London in an effort to reach members of this population in London, as many did not attend - and likely would not have been welcome at - traditional church services. Other members of the clergy didn't agree with his approach, leading William and Catherine to leave London for a while to train evangelists throughout the country.
Precursor: The Christian Mission
Upon returning to London in 1865, the Booths began a ministry that became what is now known as The Salvation Army. Since their ministry was intended to be a church for the people, the initial name of the group was The Christian Mission. Thirteen years after its start, the group was renamed The Salvation Army. After reading an annual report in which the group was described as a "volunteer army," Booth decided to change the group's name to The Salvation Army.
Early History of The Salvation Army
In the beginning, programs focused on providing food, like soup kitchens, and lodging for those in need. Booth and his wife took the word of Christ to the streets and preached to those who would listen. Eventually many of these listeners converted to Christianity and helped spread the word through the streets too as volunteers.
According to the Salvation Army's website, The Christian Mission consisted of ten full-time workers in 1865.
Ten years later, there were more than 1,000 volunteers working for The Salvation Army.
From 1881 to 1885, The Salvation Army converted a quarter of a million people to Christianity. That was just the beginning.
Expanding Impact Worldwide
Original Christian Mission member Eliza Shirley left England to join her family in the U.S., where she established a presence for the organization. She held the first American Salvation Army meeting in Philadelphia in 1879. After her grassroots effort to support the group's mission in the U.S. proved successful, Booth sent an official group from the parent organization to the U.S. in 1880. From that point, the group began to expand into additional countries, laying the foundation for what became The Salvation Army's worldwide and enduring impact.
The Salvation Army's Historical Expansion Timeline
As the work of the Salvation Army picked up steam, their work spread rapidly around the world. As you can see, the organization strategically began work in specific areas after major periods of distress.
1865 - William and Catherine Booth establish The Christian Mission in London.
1878 - The group's name was changed to The Salvation Army
1879 - First U.S. meeting of The Salvation Army was held in Philadelphia
Early 1880s - Salvationists begin campaigns in Ireland, Australia, North America, France, India, Switzerland, and Sweden
Late 1880s - Campaigns begin in Italy, Denmark, Netherlands, Newfoundland, Germany, Belgium, Finland, and Jamaica
1890s - Salvationists start work in Hawaii, Java, British Guiana, Iceland, Japan, and Gibraltar
1897 - First international social council
Early 1900s - Expansion to South America, the Caribbean Islands, and Russia
1920s - African countries receive salvationists
1970s - Campaigns begin in Taiwan and Puerto Rico
1990s - Outreach to Rwanda, Vietnam, and the Dominican Republic
The group's expansion continues to this day. The Salvation Army now has a presence in more than 125 countries.
Timeline for Key Salvation Army Programs
The Salvation Army's programs center on equal treatment for all, especially the disadvantaged. Staple programs include help for children, women, and the poor.
1881 - Started homeless shelters in London
1885 - Fight against teenage prostitution; Family Tracing Service started to locate lost relatives and restore family relationships
1891 - First red kettle fundraising drive
1891 - Opened Our New York Lighthouse (their first U.S. homeless shelter)
1897 - Salvage brigade began collecting used items to sell, laying groundwork for modern thrift stores
1905 - Staff Training Lodge, later renamed as International Staff College, opens to train workers on effective leadership
1907 - Start of the Anti-Suicide Bureau
1913 - Start of the Boys' Legion
1915 - Girls' group, Life Saving Guards, begins
1943 - Start of the Salvation Army Medical Fellowship and Nurses Fellowship
1950 - First international youth congress held
1979 - The Angel Tree charity program was introduced
1980s - Introduced the Dress-a-Child program
1990s - Opened a residential program in Los Angeles for those impacted by HIV or AIDS
2004 - ALOVE Program started to recruit more youth and young adults
2015 - Ray and Joan Kroc Corps Community Centers open in the U.S.
2016 - Launch of The Salvation Army Digital Learning Program
2019 - Introduction of the Tokens of Hope homeless outreach program
Many additional services and sub-ministries have come out of this Christian organization, including, but not limited to, the first food bank, first nursery for disadvantaged families, and the first missionary hospital. Their military services also led to the start of the USO. New programs are continually forming with prayer and compassion.
Major Milestones in Salvation Army History
The Salvation Army is credited with many accomplishments and developments in the areas of health and human services.
1868 - First publication started (East London Evangelist, later called The Salvationist)
1883 - First prison-gate home opened in Australia to help ex-prisoners find a new life upon leaving prison
1888 - First food depot opened in London
1897 - First Salvation Army hospital opened in India; first film production company in Australia opened, called The Limelight Department
1907 - Establishment of Anti-Suicide Bureau
1924 - Opened the Wonderland Camp and Conference Center in Wisconsin
1927 - Hosted first International Young People's Staff Council
1950- First television broadcast by an SA General
1965 - Postage stamp celebrating a century of service
1970s - Began to discontinue programs specific to unwed mothers to a broader focus on single parents
1980 - The Salvation Army Act 1980 received royal assent
1990 - Incorporated extensive direct mail in fundraising efforts for the first time
1990s - Surpassed fundraising efforts of all other U.S. charitable organizations
2004 - The estate of McDonald's heiress Joan Croc gifts $1.5 billion to The Salvation Army
2015 - Salvation Army reaches its 150th anniversary.
2019 - Bell ringer program modernized to accept donations by mobile app
These are just a few of the many milestones reached by the Salvation Army throughout its long history as a faith-based charitable organization.
The Salvation Army's Main Purpose
Since its inception, The Salvation Army has held true to its motto of "doing the most good" for those most in need. Armed with a Christian mission and loyal volunteers looking to help others, this organization is thriving more than 150 years later. The group truly is an army of volunteers, helping people in need and spreading Christian values worldwide. In the United States alone, the group operates around 8,000 locations, has in excess of three million volunteers, and provides services to approximately 30 million individuals each year.