Playing dominoes at home by yourself can be a bore. Liven up your playing by playing the dominoes game online. Several online game providers offer tournaments, bonuses, and even a community to chat about dominoes. Get your tiles ready because it's time to play!
Playing Dominoes Online Through Websites
If you want to play dominoes online, it's just a Google search away. There are dozens of online gaming sites available to offer you an individual or multiplayer dominoes playing experience. These websites might just provide the classic game or one of the numerous variations. To make sure you find what you're looking for, dive into a few free dominoes games you can play online.
VIP Games
VIP Games offers a virtual classic dominoes playing experience. This online play center includes a how-to and rules for playing, an area to practice, and you can register as a user. However, you don't have to for gameplay. You can sign in as a guest after you select your preferred language. VIP Games give you a few options when it comes down to how you can play. You might choose to enter a tournament, play with friends, or even play vs. the computer. You can also see other players within the dominoes playing room.
Gameplay is pretty simple. You choose your method and join a game. If you do decide to register with the site, you can earn bonuses and prizes for winning.
PlayOK
PlayOK also offers the classic dominoes playing experience along with Muggins and All Fives domino games. While you can create an account, you don't have to for access to the fun. Once you enter the lounge, you will see the players and the different tables that are available. You can also start a new game by hitting the new game table button.
While this game site doesn't have all the bells and whistles of some, it makes online playing easy for all ages. To play, just join a table with your preferred game. Once in the room, you can use the private chat feature to chat with any of your opponents.
Coolmath Games
For the younger kids in school that are interested in playing dominoes, you can find the classic, all-fives, or block games available at Coolmath Games. Gameplay is pretty easy, but you have to sit through an ad before getting to all the gaming action.
Once in the game, you need to choose your game, how many computer opponents, and if you want an easy or hard game. Then you click start to get going. If you are fuzzy on gameplay rules for any of the games, Coolmath Games offers them in the lounge before you start your game. It also gives you some tips and tricks for winning, reading the room, and using defensive moves.
Online Dominoes Games
If you like variety in your dominoes games, then Online Domino Games might be just the site you need. This online game site exclusive to dominoes offers an array of fun dominoes variations, including: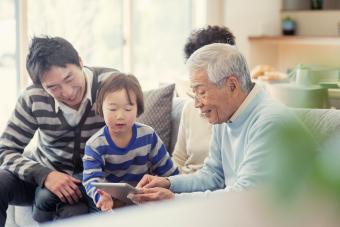 Muggins
Bergen
Chickenfoot
Mexican Train
Fives And Threes
Maltese Cross
Arab Draw
Pyramid
Hungarian
Sniff
Canton
Seven Up
Horse Race
Flower And Scorpion
Three Dozen
Pass And Out
Blind Hughie
All Primes
This is only a sampling of the variety of different games. The games offer a variety from no spinners to multiple spinners within specific games. You don't have the option to play with friends or choose your opponents. You select the game that you want to play and hit the play button. Then you can get lost in the fun of dominoes. If you are a newbie to the domino world, each game does offer you simple instructions for how to play and the rules.
Playspace
If you want more interactivity to your dominoes playing, you can try the dominos games offered from Playspace. This interactive game center provides you three ways to play their dominoes games. You can use your Facebook or Google account, or you can sign up for a Playspace account. The bonus of signing up for an account is you can earn prizes as you win games. And this gaming site isn't just for playing dominoes; they offer other fun games to play too.
Once you create your account, getting to playing is pretty easy. You just hit the play now button. The system matches you up with a player. You can also see who is playing on the server at that time.
Addicting Games
Addicting Games also offers a version of the classic dominoes game online. To play the game, you just hit the play button. If you want to play without ads, you need to get the Game Pass offered through the website. The classic game on this website has a few variations like five tiles and having a spinner. You just pick the game you want and start playing against the computer.
Dominoes Apps for Playing Online
If you like to play games on your phone or tablet, you can download a dominoes app. An app can make playing easy since you typically stay signed in, and your score is right there. Just a few of the dozens of apps out there include:
Tips & Tricks for Playing Dominoes
You don't become a master dominoes player overnight. It takes a bit of patience and practice. However, a few tips to keep in mind to help you dominate the computer or other opponents and become a dominoes pro include:
Play your doubles early. These tiles give you fewer playing options later in the game because both ends contain the same number.
Save lower numbers for the end. At the end of most games, the total number in your hand comes off your score, so it helps to lower numbers in your hand.
Keep your options open by trying to have different numbers in your hand. For example, don't play all your threes at once and keep only fives in your hand.
Watch your opponent to figure out what he has in his hand. If he has to dig in the boneyard every time a four must be played on, you know he has a lack of fours.
Focus on scoring rather than dominating. If you can build your score up enough, you can win the game even if you are not the first player to run out of tiles.
Know the rules. The Alex Cramer Company, which makes and sells dominoes, offers an excellent overview of the rules for a basic game of dominoes and outlines standard moves.
Practice Your Dominoes Skills
The more you practice, the better you will become at playing the game. Start by playing against the computer to get a general feel for the game and its rules. Try to play games against a single opponent and games against multiple opponents, and pay attention to how your strategy differs based on the number of opponents you have. As you learn to play, you will develop your strategies for scoring, playing tiles, and becoming a great dominoes player.