South Carolina State Parks Perfect For Camping
Look no further than South Carolina's state parks for the perfect locales to spend your dream camping vacation. With 43 separate parks littered across the low-country that all have select camping options you can reserve throughout the year, there's no better place to start your family camping legacy than in South Carolina. With campsites that cater to tents and RVs, and even fully furnished villas available to rent, here are just a few of the best camping options across the SC state parks system that you should reserve a spot with today.
Myrtle Beach State Park
Myrtle Beach is one of South Carolina's most popular and high-volume tourist attractions, due in large part to its beautiful beaches and colorful boardwalk. When camping at one of the multiple Myrtle Beach sites, you can settle in with tents or RVs. Pets are allowed in the campground but not on the beaches until 10am and not after 5pm between May 1 and Labor Day. Only 300 yards from the beach itself, camping at Myrtle gives you beachfront access for a fraction of the cost. With complimentary wi-fi at all the camping sites and easy-to-find showers, restrooms, and laundromats, Myrtle Beach has it all. If you're interested in making a reservation, keep in mind that you must reserve a site for a minimum of two nights per park policy.
Devils Fork State Park
Located near Lake Jocassee in Salem, South Carolina, Devils Fork State Park offers a scenic lake-front experience and the chance to get up close and personal with South Carolina's natural habitat. Take a lake tour, enjoy the waterfalls that cascade off of Lake Jocassee, or try to catch a sneak peek of the rare Oconee Bell flower on the Oconee Bell Trail when you make a reservation for a campsite at Devils Fork. With designated tent sites and standard sites that accommodate RVs, motorhomes, and trailers, Devils Fork is perfect for a variety of campers. One unique feature of Devils Fork is its boat-in backcountry campsites at the base of Musterground Mountain. Bring your pets, so long as they're on a 6-foot leash, to Devils Fork when you reserve a spot today.
Sesquincentennial State Park
Sesquincentennial State Park, located in the state's capital, is a natural haven nestled within a concrete jungle. Perfect for both people in the Piedmont region who want a quick trip in the outdoors that's not too far away from home as well as visitors from outside the state that want to camp out, Sesqui has a whole host of activities to offer. From pedal boating, kayaking, and canoeing, to multiple walking trails, and 85 campsites to choose from, take some time to celebrate the great outdoors with Sesqui State Park. Make a note, though, that Sesqui's campgrounds are currently closed for renovations and are set to reopen in 2022.
Little Pee Dee State Park
Little Pee Dee State Park is located close to the North Carolina border in Dillon, South Carolina. With 32 campsites (18 tent-specific campsites) and a primitive group area, it's a bit on the smaller side for usual South Carolina state parks but only costs $10-$12.50 to reserve a campsite for up to ten campers. However, with its proximity to Lake Norton, several hiking trails, and the one-of-a-kind ancient ocean sand deposits in Carolina Bay, Little Pee Dee makes up for its smaller accommodations. As with most other SC state parks, pets are allowed so long as they remain leashed, and admission is free. One important thing to note is that the park does not have wi-fi at its campsites, meaning you'll be going technology free for the duration of your stay.
Table Rock State Park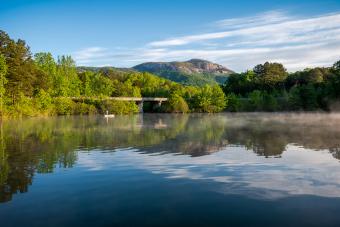 Located in the upper western corner of the state, Table Rock State Park is one of the few mountainous areas that South Carolina natives can enjoy. Beloved for its hikes, with many leading up to the top of Table Rock Mountain itself, this Civilian Conservation Corps' built state park is a great way to get a taste of the high country in the low country state. In terms of camping, Table Rock offers 94 campsites, with some sites accommodating RVs up to 40 feet long. There is a small admissions fee to enter the park, but with pets permitted so long as they're restrained, available wi-fi, and the best of both worlds (rivers and mountains) you can't go wrong with Table Rock.
Oconee State Park
One of South Carolina's most popular mountainous state parks, Oconee is located in Mountain Rest, SC, and it has a whole host of fun amenities to explore. Hike through the beautiful Blue Ridge Mountains, swim in the old-fashioned swimming hole, see the historic bathhouse and waterwheel, and take a stab at some mini golf when you go camping in Oconee State Park. With 139 standard campsites, wi-fi available, and leashed pets permitted, Oconee is a another stellar SC camping option.
Hunting Island State Park
Proclaimed by the South Carolina State Park system as being their most popular state park, Hunting Island is a coastal getaway in Beaufort County bordering the Atlantic Ocean. With a variable oceanic habitat (marshlands, saltwater lagoons, ocean inlets, and maritime forest) and the beauty of the ocean and beaches themselves, Hunting Island is a sight to behold. There are 100 standard campsites scattered across the park, and with so much to do and see, wi-fi available, and a small admissions fee, there's no chance that you'll only want to stay a day or two at Hunting Island State Park.
Edisto Beach State Park
Edisto Beach State Park lies on Edisto Island off the southern coast of South Carolina. For another awesome oceanic camping experience, visit Edisto Beach with its two separate campgrounds and 120 campsites that are equipped to have both RVs and tents. Take some time during your camping vacation to fish, go boating, have a picnic, or do some geocaching and hiking. During your walks throughout Edisto, you'll get to see the unbelievable natural landscape with its hanging Spanish moss, huge palmetto trees, and fauna like alligators, osprey, and deer.
Kings Mountain State Park
Kings Mountain State Park is a unique gem in the South Carolina park system. Located in Blacksburg, Kings Mountain sits adjacent to the Kings Mountain National Battlefield, which protects the location of a battle that took place during the Revolutionary War. You can easily pop on over there for a visit to the battlefield's grounds and monument. With 115 campsites and acres of rolling hills, hiking trails, and two lakes, Kings Mountain is wonderful for the classic camper. However, if you're an equestrian, this park offers a really unique experience. There are 15 equestrian campsites, meaning you and your animal best friend can enjoy the great outdoors together. If you're near the North Carolina/South Carolina border, Kings Mountain is just a stone's throw away.
Dreher Island State Park
Spanning three islands, Dreher Island State Park is located on Lake Murray just outside of Columbia, South Carolina. There are 97 paved lakefront campsites, some of which are RV compatible, for you and your family to spend a few days enjoying Lake Murray in its most natural and authentic space. Take some time to explore the hiking trails, go fishing, or take a boat out on the water using three of the on-site boat ramps. As with most other SC state parks, wi-fi is available and pets are allowed so long as they're on leashes that're no longer than six feet.
Camp the Night Away in South Carolina
With such a varied landscape--from mountains to beaches and everything in between--South Carolina's state parks offer whatever camping experience you were hoping to curate. It doesn't matter what activity you're dead set on participating in on your camping adventure; there's a South Carolina state park perfect for you.