Fashions may come and go, but one steadfast thing that remains is the tradition of dressing in seasonal colors. Seasonal colors are hues that mirror the shades seen in the four seasons of nature. Each season has its own set of customary colors that are typically associated with it, as well as transitory seasonal colors that are deemed current by the fashion trends of the year.
Whether you just need a few staples for your wardrobe or want to be up-to-date on the latest trends, we've got all of your seasonal color needs covered.
Start Dressing in Fashion's Favorite Seasonal Colors
Dressing in the colors of the seasons is much easier than you might think. Just walking around, decorating, and existing from season to season gives you an inherent sense of what colors tend to pop up during the quarters of the year. Yet, on top of your standard seasonal colors is a range of trendy ones that change.
Color of the Year
These colors are influenced by many different sources, such as the Pantone color of the year. The 2023 Pantone Color of the Year is Viva Magenta, a lovely warm, berry pink that's perfect for your summer wardrobe.
Runway Influence
Another dominating resource for trendy seasonal colors is current runway collections. Every fashion runway showcases their seasonal collections, whether haute couture or ready-to-wear, a season or so before the actual time frame. This gives people insight into any upcoming trends that'll trickle down into department stores and influencer partnerships.
For instance, 2023 summer collections were full of pink outfits and the Barbie film that's predicted to be a huge hit implies a pink wave on the horizon. Sometimes the current trendy color of the season bucks the traditional seasonal colors entirely, such as when electric neon hues made a splash on spring runways a few years back.
But, it's always helpful to know what colors make up a season's foundation so you can either play into or against their type.
Spring Colors
The seasonal colors of spring are much like the season itself - light, airy hues that comprise pastel versions of the colors of the rainbow. Inspired by the melting snow that brings the first blooms of the season and traditional Easter tones, spring's seasonal colors include the following:
Pale peach
Blush pink
Mint green
Baby blue
Cream
Light gray
Soft yellow
Spring green
Lavender
Summer Colors
Summer colors are all about vibrant, rich and bold shades - take inspiration from the sunshine, ocean and summer blooms. Have fun in the sun by embracing these bold colors, but don't forget to integrate plenty of white as well - from Memorial Day through Labor Day, it's the official 'non-color' of the summer season. Your best bets for summer colors include:
White
Lemon yellow
Candy apple red
Mandarin orange
Bold pink / fuchsia
Turquoise
Royal blue
Berry pink
Perriwinkle
Dark teal
Fall Colors
Fall colors emulate the changing colors of the leaves in nature. Along with the rich hues of autumn, fall marks a shift toward more neutral tones as colors fade away from the outdoors and give way to the grays and creams of winter. Here are the quintessential fall colors to try:
Browns, ranging from khaki and camel to a deep mahogany and espresso
Muted mustard yellow
Burnt orange
Hunter green
Terra cotta
Brick red
Darker purple tones like mauve and aubergine
Neutrals like cream, and all shades of gray and black
Winter Colors
In nature, winter marks the absence of color - fiery fall leaves are replaced by bare trees and snow covers the ground. Likewise, traditional seasonal colors for winter are neutrals, punctuated by deep, rich jewel tones that represent the festive nature of the holidays. Seasonal winter colors include:
White
Cream
Shades of brown
Black
Medium to dark gray
Deep ruby red
Dark purple
Emerald green
Sapphire blue
How Can I Tell What Season Suits Me Best?
Knowing what colors fit each season is all well and good, but that knowhow doesn't immediately translate into practical applications for your own complexion and taste.
Seasonal Color Analysis
There's a practice that's going viral called seasonal color analysis where trained individuals can match your features and skin tone to a season of colors that highlights them.
It's not a precise science; there are multiple categories within each season, and there appears to be an inherent bias towards lighter skin tones. Yet, the purpose of the practice is to help you start looking at colors in a different way. This concept originally became popular in the 1980s with Carole Jackson's book Color Me Beautiful on the topic hit the shelves, but today, it's all over TikTok.
Tips to Know Your Best Colors
It can be hard for people to assess their own color season. A great way to start is by putting on completely opposite toned clothing back to back and looking at yourself in the mirror.
For example, you can try on a pastel lavender and then put on a rich eggplant. See which article of clothing brings out your eyes, brightens your complexion, and saturates your features. If you're feeling washed out by something, it's not in your season.
After documenting which colors and shades you feel the best in, you can cross reference those to the average collection of seasonal colors and see where it fits. The more you compare and contrast, the more your season will start to manifest in front of you.
How to Incorporate Seasonal Colors Into Your Wardrobe
Because the trendy seasonal tones vary widely from year to year, building a wardrobe around the more traditional seasonal colors is a safer bet that will stand the test of time. Incorporate the trendy seasonal colors through accessories such as jewelry, shoes, purses, scarves, sunglasses, and one or two statement wardrobe pieces that can be worn that year and retired once they've lost their relevance.
Take Inspiration From These Seasonal Color Outfits
Of course, colors are something that have to be seen to be understood. To marry the right seasonal colors together, first you have to see them combined in the right way a few times. Thankfully, there's a wealth of good examples out there, and these are some of the most basic color combos you can pair together.
Pay Attention to Complementary Colors
Since every season includes all the colors from the rainbow, it can get overwhelming pairing them together. One great tip for picking out an outfit's color story is choosing complementary colors. These are colors that sit opposite each other on the color wheel, like blue and orange or purple and yellow. They'll give a bright contrast that'll have your outfit standing out.
Play Around With Tints and Shades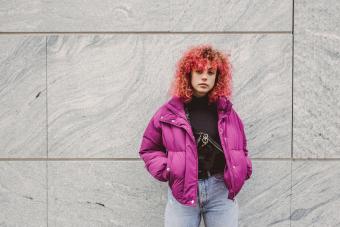 According to color theory, tints are colors that have more white added to them, making them lighter, and shades are colors with black added to them to make them darker. Unless you're trying to go with a monochrome outfit, you can play around with the tints and shades in your ensemble. If you reduce this idea down to its essence, it's the age-old dark bottoms with a light top vs. light bottoms with a dark top combination.
Pair Complementary Tones Together
Unless a color is absolutely pure, it's going to lean on the warm or cool side of the spectrum. Warm tends to be bright while cool tends to be muted. When considering your seasonal color outfits, make sure to pair the same tones together. Conflicting tones may clash with eachother, and they'll bring out warring parts of your complexion, depending on your undertones and features.
Wearing Seasonal Colors Throughout the Year
Incorporating seasonal colors into your wardrobe is a cinch if you create capsule wardrobes. Capsule wardrobes typically consist of 20 - 30 pieces of seasonal clothing basics that can be mixed and matched together to create quick outfits without digging through your entire closet. Building a capsule wardrobe is an easy way to batch your seasonal clothing to ensure that you're dressing your best for the current season, and it also eliminates the problem of peering into your closet and finding 'nothing to wear.'
Here's how to ensure you wear all your seasonal colors with your capsule wardrobe:
Begin by sorting through your entire closet and grouping clothing into each of the four seasons based on color and style
Even if the items in your wardrobe are seasonally ideal, make sure they are the right seasonal color to flatter your own skin tone and hair color. Each season has plenty of colors to choose from, so don't keep anything that doesn't look great on you - even if it's a trendy or seasonal color.
Once you've narrowed down your wardrobe to your best pieces, for each season choose:
Three casual tops
Three dressier tops
Three sweaters - lighter sweaters for spring and summer, heavier for fall and winter
Two jackets - rain jackets/ windbreakers or linen jackets for spring and summer, heavier ones for fall and winter
Four pants (two dressy and two casual)
Three skirts (add two shorts for spring/summer)
Three to four dresses (two casual, plus one or two cocktail dresses)
Four key accessories such as belts, hats or scarves (choose two traditional seasonal accessories and two trendy)
Three pairs of casual shoes and three pairs of dressier shoes
Look Your Best All Year Long
Once you've created each season's capsule wardrobe, your clothing will be more organized than ever before. This makes getting dressed a cinch and ensures you're rocking the perfect hues and styles throughout each season. When it's time to transition from one season to the next, simply retire your capsule wardrobe to the back of your closet and move the new season's capsule to the front. Thanks to a little prep work, dressing seasonally has never been easier.