Sassy and Short Hairstyles for Senior Women
Short hairstyles for seniors run the gamut, from sleek and sophisticated to soft and curly. Whether you color your hair or leave it a natural gray or white, you can still have the stylish look you crave and be absolutely beautiful!
Body and Shine
Just because hair is shorter, it doesn't mean that it can't have great body and shine. Use mousse or a volume enhancing product to create more body. To keep volumized hair looking shiny and healthy, use a color rinse to give your natural or dyed color have some extra shine. There are also shine sprays you can use to finish off any look.
Natural Curls
Allow the natural beauty of tight curls be on center stage with this easy style that works with any color hair. Vary the length depending on the look you want to achieve. Keep hair moisturized to avoid damage.
Bright Color
Adding bold color to short haircuts for seniors is a great way to give it some life. By adding a brilliant hair color, such as red or auburn, you create a look of elegance and intrigue. The soft layers on this style are easy to manage and require very little styling, yet the look is still refined thanks to the pop of color.
Artistic Flair
If you're fortunate enough to have beautiful, natural curls accentuated by a splash of grey, this fun hairstyle manages to look artistic without appearing sloppy. Use styling products specific to curly hair to help style the curls without frizzing.
Curls Galore
If you love longer hair but long for the convenience of a short cut, why not split the difference? Ask your hairstylist to leave your hair long enough to style in a variety of ways. Use a curling iron, hot rollers, or just a round brush to add curls all over.
Silver and Sleek
This beautiful model's face glows, and her blue eyes sparkle radiantly in contrast with her side-swept silver hair. If your hair has a similar texture, ask your hairstylist to cut your hair in layers and blow dry it into this simple yet flattering style.
Close Cut
If you're looking for the lowest maintenance haircut possible and have the confidence to go super-short, try this style that goes well with thick, naturally curly hair. Hair can be relaxed and styled for a completely different look.
Bouncing Body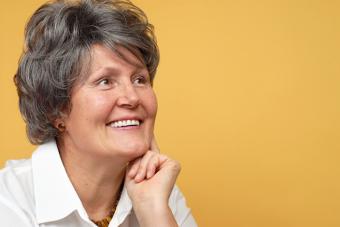 Create lift and body using a round brush and a blow dryer. As you dry your hair, gently lift and blow small sections all over your head, particularly at the crown. Soft bangs play up your eyes. This style looks great on almost any shape face.
Modern Shag
Remember the shag haircut from the 70s? This shorter haircut incorporates all the layers without all the fuss. If you want the convenience and ease of a shorter haircut, but still long for more hair to work with, this haircut may be just what you're looking for!
Simple Beauty
This face-framing cut is simple, stylish, and elegant. The hair is long enough to pull back with barrettes or a headband, or it looks great left alone. If you love the look of bangs, it would be easy to add a few eye-framing bangs to this style without changing the overall look.
Fuller Short Cut
Though this cut will take some effort to style daily, the look can be accomplished easily with some hot rollers, or a curling iron, or a round brush and blow dryer. This on trend cut helps you look well put-together.
Short and Straight
Simple mature hairstyles can be surprisingly flattering. If you have straight hair, keep the length short and simple, with a few shorter layers around the forehead and the top of the hairstyle. This is a great look for many women.
Youthful Pixie Cut
A spiky pixie cut is one of the best short hair styles for seniors who want to look young and full of attitude. It is a no-fuss hairstyle that is very playful.
Whether your hair is gray, its natural color or highlighted, this is a cut that makes you look sharp, even as it softens your face.
A Confident Cut
If you want the features on your face to stand out, this swept-back style is a great choice. This style shows the confidence of a mature woman who isn't trying to hide behind hair. Avoid over-spraying, otherwise the style may take on a "Bride of Frankenstein" flair.
Short Layers
This layered haircut is great for women with thin hair since the layers can be strategically placed to hide thinning spots. This particular style is also a good choice for thick hair as the layers can help hair be more manageable when styled correctly. An experienced hairstylist can help strategically place layers and show you how to straighten your hair if necessary.
More Short Hair Style Ideas
Short hairstyles look great on many older women. Finding the right short hairstyle for you is all about finding a style that is not only flattering, but easy to style.
If you are looking for more ideas on short hairstyles, get inspired by these additional looks.