Your bags are packed and the vacation countdown is on. Maybe you can't stop checking the app you downloaded that's counting down to the very minute you're due to board the plane. So what's next? If you ask us, we'd say that the next step is for a little self-care, a little pampering.
And nothing says ready for vacation, relaxation, and possibly a bit of sunshine and ocean water like the perfect mani. These are the vacation nail ideas to get your gears turning.
Classy Vacation Nails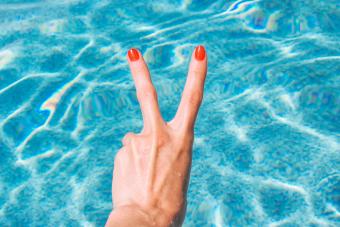 A bottle of red, a bottle of white... well, just a bottle of red. If you're someone that does the bold nails for work or regular life, vacation is the perfect time. And what's more classy or classic than a red lip? Red nails.
Other trendy vacation nail colors we love are:
Coral
Lavender
Sunny yellow
Bright, glittery, or Barbie pink
Electric lime
Pretty sand shades
Beach Vacation Nails
It doesn't matter what your blue looks like on vacation, you'll be bringing the blue with you with these blue nails. Light blue, dark blue, and matte blue separately or together will be the perfect beach vibe nails for vacation.
Quick Tip
To keep your nails looking fantastic on your getaway, apply a clear top coat after you do your polish or design. Then just reapply the top coat every two to three days to keep them from getting chipped while you're on vacation time.
Fun and Cute Vacation Nails
A splash of color? That's the perfect way to zip up your bags and walk the aisle to your seat. Pick a primary color for a bolder pop on the tips of your fingers, then use different shades of that hue across different nails.
Simple Vacation Nails
If you pack anything like I do, then you carefully, oh so carefully, plan those outfits. For about two minutes. And then it becomes, "Well, I might need this shirt I've never worn!" So how is a person expected to make sure their vacation nails pair with everything? A simple white, off-white, or eggshell manicure does the trick. Every time.
Whether you go with the glazed, milky nail trend or choose a matte look, white nails for vacation are a refreshing change.
Tropical Nail Design
Bring the waves to your nails by using wet nail polish and a toothpick or a pencil to create funky, tropical designs on your nails.
Colorful Vacation Nail Inspiration
You don't need to choose which bright, summer, tropical color you want to use for your nails for vacation -- go ahead and use them all. It's your vacation, baby.
Quick Tip
Take it a step further by using neon nail colors. Neon is the color of vacations, after all.
Fancy Vacation Nails
Adorn your nails with a French tip for a fancy look! Or, consider this, paint your nails white or a pale pink and add a bright pink stripe to one of the fingers. Playful? Yes. Fancy? Oh yes. Vacation-worthy? No doubt.
Neutral-Color Nails for Any Getaway
Seashells or no seashells, picking a neutral skin tone color that matches you and your personality is the perfect subtle touch without being too out there. Because even a subtle nail is the perfect vacation nail. Also, let's be honest, you know your personality kicks up a notch, no matter what nail polish you're wearing.
Ombre Nails Inspired by Vacation Sunsets
What's prettier than a vacation sunset? The gorgeous gradient colors could be the perfect nail inspiration. You can use this idea with pink, orange, or yellow shades (or combine all three) for a stunning nail design.
Palm Tree Accent Nails
Go full-on vacation nails with a classic theme like palm trees! Add in an accent nail or two to really channel that vacation vibe. You can also create a more subtle look with palm tree fronds on a nail or two.
Do Naut be Afraid to Go All Out
Nautical nails for vacation? Oh yeah. Whether you're staying poolside or boating on the open sea, nautical nails offer a perfect vibe. You can add small elements like anchors, use classic looks like white and navy stripes, or just choose a blue color that gives that anchors all those vacation feels.
Channel Your Inner Mermaid
For a fun, lighthearted, and whimsical take on ocean and beach themes, we love a mermaid-inspired nail look. Bonus - this is one that can be a little simpler to do yourself since the mermaid's tail look doesn't have to be perfect. Or, enlist the help of a friend to get those tails just right.
Delicate Glitter Tips
If a delicate nail look is what you're after for vacation this year, try one of this year's signature colors, like this gorgeous sage-green, in a glitter version for your nail tips. Keep the rest of the nails nude with a clear coat, and choose an accent nail with a pretty floral design for an elegant, eye-catching set of nails.
Dotted Nails for a Trendy Yet Classic Look
Easy to do yourself, perfectly classic, yet a totally on-trend look, dotted nails in any version are a great look to sport on your next getaway. The look works beautifully with random dots (and any color combo) so we love that you don't have to have artistic to get this fresh, pretty nail look.
Match Your Margarita
Channel the colorful French-tip trend in a vacation-worthy way with lemon and lime inspired nails that might just match the margarita sitting beside you on vacation.
Vacation Vibes Right at Your Finger Tips
You're on island time, vacation time, out-of-office time. Shouldn't you bring along a little somethin' somethin' on your nails to make those memorable pictures a little brighter?
Whether it's a beachy or tropical nail design, or just a simple color you love, having a gorgeous nail look when you go on your getaway can give you the perfect boost.