If you've seen the state of thrift store shoe racks, you know that vintage style shoes are making a killing right now. As fashion trends become less stringent and social media helps people embrace whatever clothes and accessories they like most - even if they're not 'cool' - vintage styles are becoming a source of great inspiration. If you're trying to rock a retro look in seconds, pick out a pair of these vintage shoe styles that never went out of fashion.
Mary Janes
When you think of old school glamour, you probably envision someone wearing a lengthy gown with a pair of low-heeled shoes that strapped across the upper part of the foot. This simple, strapped style has actually been around since the 16th century, according to the historic recreation shoe company American Duchess. Yet, the style didn't get its human-inspired name until 1904.
In the early 20th century, Mary Janes were most commonly a children's shoe, but by the 1910s and 1920s, trendsetters started gracing dance halls and clubs with them on. The higher arch and block heel of the 1920s and 1930s transitioned into something wider, flatter, and elongated by the 1960s.
Today, you can find Mary Janes in just about any shoe store you walk into. Because they can be dressed up or dressed down, they're one of the most versatile vintage shoe styles around.
T-Strap Heels
The 1920s and 1930s are prolific for shoe lovers and historians because of the inventive and creative shoe styles that were made. From haute couture and surrealist sculptural footwear to sensible everyday styles, there are so many shoes from the Jazz Age you can wistfully long for.
One of these iconic shoes is the T-strap heel that you'll find in favorite period dramas like Peaky Blinders. Named for the way the straps enclose the foot and make a capital T shape, these shoes can be bedazzled and decked out with gems, fabrics, and dye or left in a standard black patent leather.
While heel heights are skyscraper tall now, the T-straps you can find today are eerily reminiscent of their Jazz Age ancestors.
Oxfords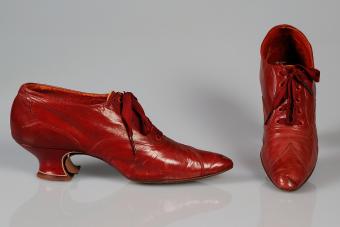 The ultimate unisex shoe style that's been around for well over 100 years is the oxford. Characterized by its closed lacing, today we associate oxfords with professional and formal wear. But, in the 19th and early 20th centuries, they were a standard everyday shoe style.
Between the 1820s and 1840s, the oxford style settled into what we recognize today. Famously, oxfords weren't limited to just men's or women's styles; men preferred low-heeled versions and women enjoyed modest-heeled ones. All throughout the 20th century, oxfords continued to be a staple found in most men's and women's closets.
From interesting two-tone color waves to incredible fine-art inspired patterns, the oxfords sold today aren't that far of a cry away from the richly dyed patent leather pieces from their infancy. However, a good quality oxford from a modern shoemaker is going to cost you a few hundred dollars.
Converse
Whether you grew up in the 1960s playing basketball in them or colored juvenile patterns all over them using permanent markers in the 2000s, you have a significant relationship with Converses. The Converse Rubber Shoe Company was first founded in 1908 but didn't make their legendary hi-top lace-up fabric and rubber sneakers until 1920.
Over the past 100 years, Converses haven't changed that much, and without time's wear and tear, you'd be hard pressed to tell the difference between pairs made decades a part.
Platforms
Although platforms in the way we conceive of them were first developed in the 1930s, they didn't mature into a full-fledged fashion style until the 1970s. In a way, these shoes developed out of necessity. The long skirt lengths and oversized bell-bottom pant legs meant you had to have substantially high heels to not drag your hems through the mud and muck.
They're also fascinating because they were one of the last dying breaths for men's high-heeled shoes. Men, women, and everyone in between wore these super stacked shoes all throughout the 1970s, but by the mid-80s they'd dropped off.
Goth and alternative culture kept the platform alive in the 1990s and 2000s, and stacked shoes are just starting to make a big comeback.
Is It Worth Buying Authentic Vintage Shoes?
As opposed to antique shoes, vintage shoes still have some life left in them. Depending on how they were made and how much they've been worn, you can wear old shoes. Unless you have experience with restoring footwear, you shouldn't look for vintage shoes that need soles replaced or have substantial tearing, as you'll pay way more to make the real thing wearable than you will buying a similar, modern recreation.
Also, keep in mind that there's a cost-benefit ratio to buying vintage shoes. Often, vintage shoes that are like-new can cost double or triple the price of modern vintage-inspired shoes. And, true vintage sometimes requires more upkeep than those made today. So, for many people, buying a new shoe that looks vintage is the best option.
Where Can I buy Vintage Style Shoes Today?
Brick-and-mortar shoe stores have a rotating seasonal inventory which makes shopping for a specific style kind of like hunting for a needle in a haystack. But, when you have a particular vintage shoe in mind, you can turn to these online retailers:
ModCloth - A fast fashion brand known for its vintage-inspired clothes and accessories, you can find many different heeled women's shoes from history on ModCloth's website.
Unique Vintage - Unique Vintage is very similar to ModCloth in terms of price point and design. A number of different shoemakers sell their vintage-inspired footwear through Unique Vintage.
American Duchess - If you're looking for a pricier but higher quality vintage-inspired shoe, turn to American Duchess. They have men's, women's, and unisex shoes made using actual historic blueprints.
Rock Old School Vintage Inspired Shoes in a New School Way
Fashion is inherently repetitive; new styles build on old influence, and so the cyclical nature of what's 'in' means that everything that was ever made comes back around at some point. Vintage fashion is trending all over social media, so naturally you're probably drawn to adding a pair of vintage shoes to your closet. Thankfully, so many vintage styles are still going strong. And if they aren't, maybe you can help them stage a comeback.