Sober October is a challenge that has been around for nearly a decade. Each year, thousands of people make the decision to give up drinking alcohol for the duration of the month. This challenge is meant to help people experience health and wellness benefits, like getting better sleep. In addition, it can help people better understand their relationship with alcohol, and even help them raise money for a good cause. Learn more about Sober October rules and benefits to decide if an alcohol-free month is right for you.
What Is Sober October?
Sober October is the official name of a challenge that involves people refraining from drinking alcohol throughout the month of October. That is, you practice total sobriety for 31 days. The break in alcohol consumption is meant to help you experience mental and physical wellness benefits. It can also give you a healthy goal to strive for throughout the month.
But what may seem like a simple challenge doesn't always prove to be easy. A sober month requires willpower and dedication. For many people, drinking and drinking-related activities are tough habits to break. But it is sometimes the difficulty of the challenge that is appealing and draws many people to participate in Sober October.
Sober October Origins
Sober October started in 2014 as a fundraising campaign for Macmillan Cancer Support, a charity based in the United Kingdom (UK). The foundation offers support services for people with cancer, such as in-home nursing visits, support centers, and educational resources. Other cancer organizations in the UK had promoted sober challenges during other months, like Sober September or Dry January.
One October, Macmillan Cancer Support was encouraging people to go alcohol-free for the month to help raise money for people with cancer and to support their foundation. People could sign up, take the alcohol-free pledge, and then fundraise by having friends and family donate to the charity for their efforts.
Sober October was such a hit that the challenge took off and continues to this day. In addition to challenging people to make a healthy lifestyle change, Sober October helps provide physical, emotional, and financial support to over three million people living with cancer.
Sober October Participants
All kinds of people participate in Sober October. Some people sign the pledge for themselves, and others sign up as a team with friends and family. You can even take the pledge with your co-workers and get your company involved.
To sign up for Macmillan Cancer Support's Sober October challenge, you need to be at least 18 years of age or older. However, you don't need to formally sign up to participate. You can take on the challenge with your own inner circle. If you still want to raise money for a cause you care about, ask friends and family members to donate to a charity of your choosing.
People who have developed an alcohol dependency should not participate in a sober month as stopping drinking with this condition may lead to negative health consequences, such as episodes of vomiting or other symptoms of withdrawal depending n the severity of alcohol use. Low-risk alcohol users, such as women that drink no more than one alcoholic beverage a day and men that drink no more than two alcoholic drinks in a day, are encouraged to participate.
Sober October Rules
The rules for Sober October are fairly simple. The traditional Sober October lasts for 31 days - the entire duration of the month. To successfully complete the challenge, you must go the entire month without drinking alcohol in any form.
Are you worried you might not be able to make it the entire month? You're not alone. In fact, Macmillan Cancer Support has created two other variations of the challenge for that very reason. Now, you can participate in Sober October for 14, 21, or the full 31 days. The goal is to go alcohol-free for however many days you pledge.
If October isn't a good month for you to go sober due to the holidays, birthdays, or vacations, it's okay. You can also participate in a Sober September or a Dry January to help better understand your relationship with alcohol.
Benefits of Sober October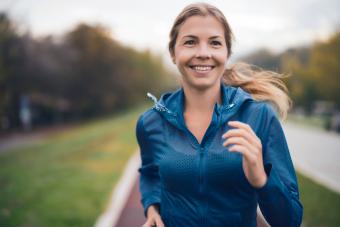 According to the charity's website, there are several benefits associated with refraining from alcohol for the month. Some of these benefits include:
Better sleep
Clearer skin
Increased energy
Weight loss
In addition to these benefits, you'll also be hangover-free for a month, and, if you fundraise, you'll help support people living with cancer. You might also find that you save money during the month, and even have more time on your hands to try something you've always wanted to do.
Tips for Sober October
October is a month that is often filled with parties to celebrate the coming of Halloween and other fall festivities. You might be invited to movie nights, costume parties, or spooky-themed dinners - events that might place you around alcohol and other people who are drinking. These present unique challenges for going sober in October. It may take a lot of willpower, but if you believe in yourself and follow some tips, you'll be able to meet your pledge goal.
If going sober in the fall isn't for you, you can try for a Dry July in the summertime. Also, you can start a sober month at any point in time. You don't need to wait until a sober month challenge rolls around. For example, if you want to start a sober month on the sixth of January, you can go sober until the sixth of February and complete your month.
Offer to Be a Sober Driver
Just because some of your fall gatherings might include alcohol, it doesn't mean that you can't attend. One way to help yourself refrain from alcohol is to offer to be the sober driver for the night. It may help give you the reinforcement you need to turn down drink offers, and you'll be able to help friends and family get home safely.
Prepare Yourself for Social Gatherings
You don't have to stay away from social gatherings when you participate in a sober month. However, you may find it helpful to prepare yourself to be in an environment surrounded by alcohol. One way to do this is to think of ways to turn down alcohol or explain your sobriety pledge to others beforehand. You can even practice your phrases out loud before you arrive, or simply brainstorm what you're going to say. Find whatever works for you. Some phrases you can use are:
I'm trying to understand more about my relationship with alcohol.
I took a pledge with my friends and family to stay sober.
I want to prove to myself that I can stick with my promises.
I was curious about sobriety and am trying it out.
Make Mocktails
Swap your favorite boozy beverage for one that is alcohol-free. Nearly every alcoholic drink has a mocktail counterpart. This means that you can still have fun at parties and even try a special spooky drink that friends have made to celebrate the season. You can host a mocktail party of your own, or ask friends to make you an un-spiked version when you're a guest. There are a lot of mocktail recipe books, that are filled with fun and refreshing booze-free drinks for you to try. Also, there's even alcohol-free spirits, wines, and beers available from many different brands you can explore.
Bring Your Own Drinks
Are you worried about showing up to a movie night or dinner party and there being a limited selection of nonalcoholic drinks? If so, you can bring some with you. Grab your favorite soda or sparkling cider. There's even some brands of water, that are decorated in skulls and cool designs to resemble cans of beer and cider. This may help you feel included in the party environment, as well as deter others from asking you if you'd like to drink something a little stronger. If you have these options available at your social gathering, then you may just find it easier to turn down spiked drinks that are offered to you.
Make Sober October Part of Your Costume
If you're looking for a laugh, make Sober October a part of your costume. Not only will it be amusing to your loved ones, but it'll help send a message to others that you won't be drinking that night. Dress up as a piece of paper with your Sober October pledge across your chest. Or, go as a tip jar and help fundraise while you're at the party. You can even dress up as your favorite nonalcoholic beverage by wearing a t-shirt with its label. Or, really lean into the sober driver gig and dress up as an old-school chauffer at costume parties.
Replace Your Habit
Going sober for a month can be daunting because it can feel like you are losing something that you enjoy. However, it doesn't have to be that way. You can replace the habit of drinking to unwind with a different habit that you enjoy. This way, it can feel like you're gaining something, instead of losing it. When you feel like pouring a glass of wine, put on your favorite movie, go for a walk with your loved ones, or unwind with a face mask. Practicing self-care or getting in some exercise are great activities to swap.
Track Your Progress
One way to keep you motivated during Sober October is to track your progress. You can keep a journal and write down how you feel inside and out. Note any struggles you experience and what you did to cope in those situations. You can cross off days of a calendar, make a count-down chain, or even set a countdown on your phone. If you're fundraising during your sober month, you can even keep track of how much you have raised. And, if you're curious about how much money you are saving throughout your sober month, you can even calculate your savings by using the The National Institute of Alcohol Abuse and Alcoholism's alcohol spending calculator.
Get Friends and Family Involved
Another great way to help keep yourself accountable is to get friends and family involved. If the people around you have taken a pledge tp stay sober for the month, you may just find it easier to stay sober, as well. You can lean on each other for support throughout the month, and rely on one another to help keep everyone accountable. Also, the more people you have, the cooler the group costume you can pull off.
Be Kind to Yourself
Going an entire month without alcohol when it's a part of your usual social gatherings is no easy task. You might end up in situations where you accept a drink, and that's okay. You can opt for the 14 or 21-day challenge instead of the full 31 if it's more within your bandwidth. And, if you do end up drinking alcohol, go easy on yourself.
You're trying your best to do something good for your health and to help raise money for others. That's a huge win. Some sober challenges like Hello Sunday Morning encourage participants to reset their sober month to day one if they drink. However, there are different levels of commitment. Find what works for you and your schedule.
During Sober October, not only will you be able to challenge yourself to reach a goal, but you can experience the positive effects of forgoing alcohol for a bit. Also, you can raise money for a charity. At the end of the month, you can feel proud of your achievement and know that you've helped make a difference.