Using blank organizational charts can simplify the process of creating a business cycle diagram. You could create such a document from scratch by drawing boxes or other shapes for each position within the company and connect them by solid and dotted lines to show the hierarchy. However, using this printable makes it much easier to visually represent an organization's reporting structure.
Free Blank Organizational Chart Template
You can use a tech application such as Pingboard or Organimi to quickly and easily create a professional and appealing diagram of your company's structure. However, if you just need something quick and free, this printable organizational chart will work well. To print, click on the image and then select the download or print icon. If you have any issues, see the online guide to working with printables.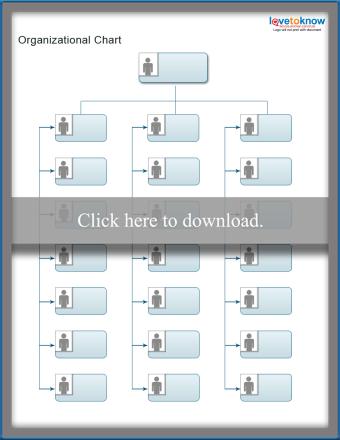 This printable comes with three charts. One is designed for listing names in teams. The other two are similar but can be completely customized.
Applications for Creating Organizational Charts
There are many other resources for creative organizational chart templates to consider. If you don't have graphic software or good drawing skills, organizational chart maker software and other applications with similar capabilities can help.
Clarify Team Structure With an Organizational Chart
The old adage that if you aim for nothing you get there every time is true. Help organize your team for success by communicating clearly who is responsible for doing what and who is on which team by creating an organizational chart and updating it as things change. Organizational charts can help give a visual representation of teams and responsibilities, which helps to ensure that everyone is on the same page.