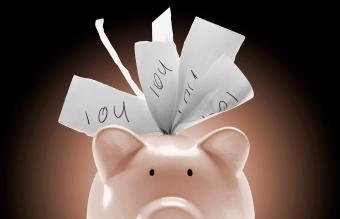 These free printable IOUs make light work for keeping track of things people owe you, or serve as a promise to repay something you've borrowed. Keep them on hand to use if you lend stuff out, borrow things, or alternatively, use them for a variety of fun purposes.
Printable IOU Template
Need to keep track of something you lent out? Keep these on hand and when you lend an item, you can also fill out one of these to help ensure you get the item back. To print, click on the image and either print or download and save. If you have any problems, click this useful guide to troubleshoot.
These printable IOUs have space to write:
The name of the person who borrows something
What the person owes
The total amount owed
The date the item was borrowed
The deadline for when the borrower must pay back the item
A place for both the borrower and lender to sign
Common Uses for IOUs
There are a variety of fairly straightforward ways that you can use these printables:
Use these to keep track of debt. While paper and pencil are old-fashioned for most business transactions, they might be more appropriate for debt between friends or family members.
Use them to keep track of things you lend out. This way, the person can agree to repay if they do not return your item.
Give them as a note of good faith when you want to borrow something like a tool, cookbook, or similar.
Fun Things to Do With Printable IOUs
Don't just keep track of your personal business transactions. There are fun things to do with IOUs too.
Teachers can give them out to students as rewards. Fill the IOU with any treat such as a piece of candy, an opportunity to sit and have lunch with the teacher, or even a no homework pass earned bc of a great test grade.
Parents can give them as payment for chores. Fill them out to include a fun treat like ice cream, a movie night, or even a shopping trip.
Use them as a romantic gift, filling out the IOU part with something appropriate for couples like a massage, a bubble bath, or a romantic, candle-lit dinner.
Keep Track of Your IOUs
Whether you're being cute and creative or legitimately want to keep track of things you lend out, these IOUs are sure to fit the bill. Print in bulk and use them for any time the situation calls for them!