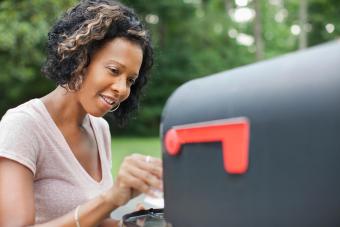 While there are plenty of ways to save using online and digital coupons, finding printed versions mailed right to your home makes it easy and convenient to save. There are a variety of ways you can obtain coupons through the mail, and you'll have the paper coupon on hand to remind you to use it.
Sign Up for Sunday Coupon Inserts
Get additional Sunday coupons mailed for a subscription fee from places like Sunday Coupon Inserts. Packages range from just under $6 for two inserts to ones for just over $40 with 50 inserts. You can also try a coupon clipping service like The Coupon Clippers, which will mail you whole inserts or individual coupons in the quantities you wish for a handling fee.
Register for Birthday Clubs
More restaurants and retailers are moving towards digital coupons, but there are still a few that may offer birthday club coupons by mail. Sign up online or at favorite places for birthday clubs for a chance at getting a coupon by mail. Examples include Designer Shoe Warehouse (sends a money-off coupon good for your birthday month).
Subscribe to Newsletters
Some brands for common household and grocery goods send coupons to customers who have signed up for a free account on their website. More recently, these are available as printables you print at home. Usually you'll need to provide your name, home address, and email address. These coupons may have higher values and longer expiration dates than typical manufacturer coupons. An example would be Proctor and Gamble.
Fill Out Surveys
Some survey companies reward those who fill out their surveys with coupons. Examples include Shopper's Voice and Inbox Dollars, but there are others as well. Sign up for a free account; don't sign up for any that require money. Be careful to make sure it is a legitimate company and know the terms and conditions before you participate.
Join Loyalty and Rewards Programs
Department stores often have loyalty or rewards programs that are free to join, and may mail coupons to your home. Kohl's and JCPenney are examples of stores that send out coupons in the mail. Kohl's is known for sending surprise mailers that offer between 15 to 30 percent, and JCPenney's rewards program offers points with purchases and will send you reward coupons in the mail.
Receive Flyers or Weekly Ads
Similar to loyalty programs, if you agree to get flyers and ads from your favorite stores (sign up via email or mention to the salesperson you want to receive them when shopping in-store), you will sometimes find coupons in the flyers you can then take to the store or use online. Michael's Crafts, for example, is known for offering coupons for 50 percent off one item in their sales flyers.
Get Store Grocery Cards
A huge perk of having a grocery store's shopper card is that it allows you to take advantage of special discounts and deals. You'll typically need to visit customer service and provide your name and address. Some grocery stores also mail out paper coupon booklets throughout the year. This may be at times like when the seasons change or when there are special store events. Giant Eagle, for example, often sends out coupon booklets when they have their annual freezer goods sale.
Contact Companies Directly
Contact a company with a compliment, a complaint, or even with just a request for coupons, and some may respond by sending coupons. You can do this via email on the contact pages of most companies. Make sure your message is direct and polite even if you are contacting them with a complaint. Krazy Coupon Lady lists a number of companies that have been known to send coupons direct when you contact them, which include major brands like Barber Foods and Celestial Seasonings.
Watch for Coupons Sent With Purchases
Many brands will also send free coupons with your purchase when you buy an item from them online, so make sure you don't throw out that box or empty packaging before you check for a coupon. A couple places that do this include HP and Davidson's Tea, though there are others.
Be Cautious of Freebie Websites
Many sites claim to offer tons of freebies, and some advertise coupons too. Be cautious with these types of sites, however, as they don't always have legitimate offers and you may end up with a lot of unwanted spam or junk mail. It's often best to go the more direct routes like those mentioned above.
Score Coupons With Convenience
Getting coupons mailed to you may take a few minutes of time to sign up for an email subscription or a loyalty program, but it can be worth it. You'll be rewarded with savings as well as the convenience.