Non-designer handbags are the kind that are almost considered designer, but are typically more affordable due to the way that they've been produced. Larger numbers are manufactured than with traditional designer handbags; however, not so many they're qualified as mass-produced. The following non-designer handbag brands are currently considered some of the best on the market.
Aspinal
Praised by some of the top magazines in the fashion industry, such as Marie Claire, Harper's Bazaar, and Cosmopolitan, this truly iconic British brand is based in a National Park in England's West Sussex Downs.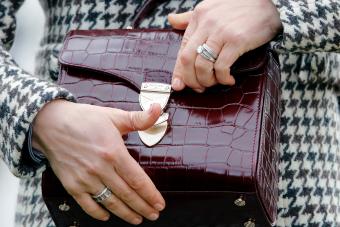 Selection
Aspinal produces handbag lines that put a funky, unique spin on classic shapes in the form of bright colors and chic detailing. Everything in their collection can be personalized through their custom monogramming service, which is attractive for fashionistas who want to rock one-of-a-kind arm candy.
Price
Prices range from $325 for a small clutch to $1,490 for a large tote.
Popular Styles
According to Marie Claire, the Marylebone tote is one of Aspinal's bestsellers. However, both Harper's Bazaar and Cosmopolitan praise the Lottie bag above all others. A small yet seriously stylish bag, Lottie comes in a range of rainbow shades and is crafted from luxurious Saffiano leather. At $745, the Bordeaux version is timeless in hue and can easily take you from day to night in a fashion heartbeat.
DeMellier
Formerly Milli Millu, DeMellier is the ideal go-to brand for gorgeous, well-crafted leather handbags according to Harper's Bazaar and Marie Claire. Even though they are based in London, DeMellier was originally founded by Harvard graduate Mireia Llusia-Lindh, with each bag being named after numerous cities around the world.
Selection
Utilizing buttery soft leather and ponyskin fabrics, DeMellier fulfill all your handbag needs, whether you prefer a practical everyday backpack or a glitzy clutch for a special occasion. The brand also participates in the "A Bag, A Life" project where, for every bag sold, they fund a life-saving vaccines pack for a child in need.
Price
Prices range from $295 for The Manhattan, a pebbled leather crossbody bag, to $575 for The Montreal, a grain and suede bag.
Popular Styles
Harper's Bazaar loves The Sydney design, celebrities adore them all, but it's The Venice bag that's received an abundance of media attention. This is, in large part, thanks to Meghan Markle as she wore the Mini Venice around London recently. Grab Meghan's look with The Mini Venice in forest grain, which retails for $375. Crafted in luxurious calf leather, it's super lightweight, feminine, and versatile. It's also available in 10 other colors to suit your every mood.
Manu Atelier
This Istanbul-based brand is championed by consumers and the media alike. It was launched by two sisters in 2014 with the help of their leather-craftsman father.
Selection
Glamour and Harper's Bazaar love the feminine shapes and colors of Manu handbags, such as blush and lavender. The brand also uses a combination of materials to create distinctive and innovative designs.
Price
Prices start from $495 for a bucket bag, and go up to $655 for a statement shoulder bag.
Popular Styles
The Fernweh Bag is considered a bestseller; however, customers also adore the elegance of the Mini Pristine Bag. This boxy crossbody bag is available in a multitude of colors for $495. As well as projecting a refined, ladylike aesthetic, it's perfectly constructed with a sturdy leather strap and the famous Manu gold-tone signature logo.
Lulu Guinness
Praised by Cosmopolitan and Marie Claire, Lulu Guinness is a fun, flirty, and fabulous accessories brand based in London, UK.
Selection
Just like they're more affordable than other non-designer handbag brands, Lulu Guinness bags are also more adventurous. If you're looking for a place to store all your daily essentials while simultaneously making a serious style statement, opt for one of their fresh and diverse designs with a stamp of attitude.
Price
Prices range from $55 for a foldaway shopper to $580 for a large leather tote with reversible handles.
Popular Styles
Lulu Guinness have a lot of dreamy handbag styles, but they're renowned for their famous "Lips" clutch. The Large Silver Glitter Perspex Lips Clutch costs $415 and comes in a range of designs. Adding a touch of glamor to any occasion, this clutch puts a new meaning on the phrase "go big or go home."
Elizabeth and James
Highly reviewed by fashion-followers and top media outlets like Cosmopolitan and Harper's Bazaar, Elizabeth and James is run by the Olsen twins. Mary Kate and Ashley Olsen launched this lifestyle brand in 2007 to include women's apparel, jewelry, eyewear, handbags, fragrance, and watches.
Selection
According to the website, the Olsen twins pride themselves on "embodying an effortless approach to dressing with a playful and feminine sensibility" through Elizabeth and James. Their handbags are classic and luxurious with a modern twist, and you're guaranteed to be wearing them for seasons to come. You can find them at Kohl's Department Store.
Price
Prices range from $125 for a leather belt bag to $585 for large luxury tote bag.
Popular Styles
The Elizabeth and James small shoulder bags are often celebrated worldwide; however, it's the Market shopper that constantly have people (and magazines like Cosmopolitan) talking. For instance, this Market Grommet Small Leather Tote in the Natural/Silver color way costs $409 and comes with individualistic circular embedded handles. The cutout detailing with silver edging can help you inject personality into your outfit and instantly dress it up for smart casual events.
Finding the Perfect Bag
Non-designer handbags tend to look exactly like designer options, but are produced on a smaller scale and come without the hefty price tag. Merely try out some of best brands on the market and it won't be long before you're looking fabulous for less.