Finding which brands of designer handbags are most affordable usually comes down to who has the best outlet stores, or where the best sales are. However, there are some designers that are most likely to have lower prices than others, especially if you're confined to shopping at regular retail stores rather than outlets and eBay.
11 Most Affordable Designer Handbag Brands
For the average handbag shopper, there are some standout brands that allow them to have the feel of a designer purse slung over their shoulder without breaking the bank. These designers range from Guess to Coach.
Coach
Coach bags are one of the most popular lower-priced designer brands and tend to fall into the low to mid hundreds. You can find some styles in limited colors in Coach outlet stores. You may also have a Coach retail store near you; expect them to have the widest range of colors and designs. If you don't, there's always Coach.com. Additionally, you can pick up your next Coach bag at a department store like Macy's and Nordstrom (don't forget to browse online, especially if you live in a rural area without easy access to these stores).
Dooney and Bourke
Dooney and Bourke, too, are roughly in the low to mid hundreds. They are also available in your average department store like Belk, Macy's, or Nordstrom. You can find everything from hobo styles to drawstring bags within the Dooney and Bourke line. Shop for them at the aforementioned department stores (online or in your local mall), at Dooney and Bourke outlets, or at Dooney.com.
Kate Spade
Kate Spade bags are similarly priced to the Coach and Dooney and Bourke selections. There are many department stores that carry Kate Spade bags, and outlet stores where you can get even this affordable bag brand for a less expensive price. If you shop at an outlet store, there may even be enough left in the budget to allow for a matching wallet. You can always shop at the Kate Spade website, too, for a wide selection of colorful bags.
MARC by Marc Jacobs
MARC by Marc Jacobs (not to be confused with the very expensive Marc Jacobs line) is another designer line that falls into the low to mid hundreds category. Look for these at Macy's, Neiman Marcus, Bergdorf Goodman, and the Marc Jacobs website. You may also discover a stash of these bags in an outlet store.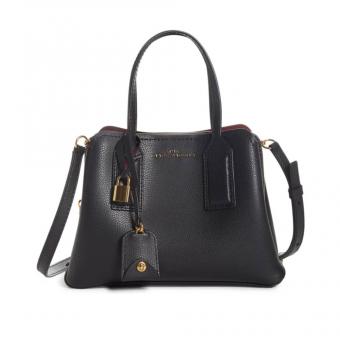 Fossil
Fossil handbags are some of the least expensive designer purses with most prices falling short of even the mid hundreds. Expect to see prices in the low hundreds. You can find these bags at Zappos.com along with department stores and Fossil.com. You'll find both fun and classic styles ranging from cross body bag sand totes to satchels and shoulder bags.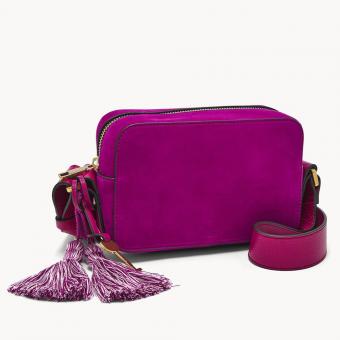 Guess
Expect prices to be in the low hundreds for Guess bags, too. You may even be able to score one for less than that (around $80.00, for example), if you happen to find a sale on their site or in a department store. These are possibly the most affordable designer bags in general. Find them at your favorite department store or Guess.com. In addition to versatile everyday handbags, you'll find plenty of choices with embellishments and prints.
Rebecca Minkoff
Since 2005, designer Rebecca Minkoff has been designing statement-making bags for fashion-forward women. The collection includes handbags made of leather or suede with tassel charging key fobs to satchels and backpacks. Handbags within the collection range from about $50 to $400 and are sold on the Rebecca Minkoff website, Bloomingdale's, Nordstrom, Shopbop, and Zappos.
Furla
Furla is an Italian handbag company proving that luxury doesn't have to break the bank. As a contemporary handbag line that maintains the brand's traditional design quality, the Furla line includes leather mini bags, satchels and backpacks from about $250 to $1000. The Furla line is sold on Furla.com and Bloomingdale's, however, discounted selections can be found at Nordstrom Rack.
Tory Burch
The Tory Burch handbag collection consists of designs that exudes loads of chic appeal with a vintage twist. Some of the designer namesake bag creations includes half-moon shapes, satchels, cross body styles and totes ranging made of leather, suede and other materials priced between $180 and $1,100. Tory Burch handbag designs can be found on the Tory Burch website, as well as the Tory Burch outlets stores for discounted selections.
Matt & Nat
Fashionable women living a green lifestyle need handbags, too. The handbag brand Matt & Nat offers designer vegan leather bags made of recycled nylons, cardboard, rubber and cork with linings made of 100% recycled plastic bottles. Matt and Nat bags are available from about $100 to $200 and can be purchased at Urban Outfitters, Nordstrom, and the brand's site, Matt & Nat.
Foley & Corinna
Fashionistas and celebrities both have a fondness for handbag collection Foley & Corinna. The modern handbag line with a vintage aesthetic runs from about $50 to $450 and includes a range of clutches, crossbody bags, hobos, satchels and totes in a variety of skins and animal hair. Foley & Corinna is sold at Foley & Corinna website, Bloomingdale's, Shopbop, and Zappos.
Find an Outlet Store
One surefire way to find the best deal you can on a designer bag without risking auction sites like eBay, where it's easy to get a fake, is to seek out outlet stores. Find one in your area if you live in the United States by visiting Outlet Bound. You'll find Coach, Dooney and Bourke, Fossil, and more!
Brands to Skip
If you're on a budget and you don't want to tease yourself, stay away from Gucci, Marc Jacobs' regular line, Prada, Hermes, and Louis Vuitton. Those are routinely out of the reach of most people's budgets, reaching the mid-thousands in price. There is a rare gem from time to time within these designers that will fall into the mid-hundreds, however. So if your willpower is strong and you won't be too depressed if you fall in love with a $7,000 purse before you get a chance to check the tag, go ahead and take a peek.
Get a Great Bag on a Budget
Next time you're looking for a new bag, you can buy with peace of mind knowing you'll be getting a great bag at a price that easy on your budget. Bags from these trusted designer brands are made with quality materials, great style, and a price you can love. There's bound to be a dream bag in there for you somewhere.