Fossil is a stylish and innovative market leader when it comes to jewelry, leather goods, and accessories. Their handbag collections, in particular, are very beautiful - inspired by nature, fashion, literature and authentic vintage since 1984.
Shopping for Fossil Handbags
Fossil's women's handbags are all about the details. The brand prides its collections on the splashes of color, quirky features, and rich leathers that go the extra mile to fit your lifestyle, your look and, most importantly, your personality. You can find each handbag category either in store at one of Fossil's many physical retail locations, or you can shop online at their website Fossil.com.
Crossbody Bags
Fossil's crossbody bags are usually square or rectangular with a long strap that allows you to sit the bag on your shoulder or wear it across your body. While they're incredibly versatile and free up your hands if you're running errands or on the go, they also tend to be smaller, which is not ideal for taking to the office or situations where you need lots of handbag space.
The materials tend to vary, with the sole leather versions coming in at about $198 at the top end of the collection and the PVC alternatives priced around $78.
The Billie Small Crossbody is one of Fossil's best-selling crossbody bags. It comes in a soft purple shade with old English brass hardware and an adjustable purple, orange and yellow shoulder strap. The bag is large enough to accommodate smartphones up to iPhone 11 and Galaxy S10 size. The material is leather and polyurethane with a polyester webbing trim on the inside. The bag sells for about $138 with free embossing.
For just about $148, the Fiona Crossbody is beautifully constructed from leather and polyurethane trim. It comes in brown with stylish old English brass hardware. As well as its main zipper pocket, it has a slide pocket and a padded tech pocket which is ideal for your smartphone safe whilst on the move.
Satchels & Shoulder Bags
Satchel and shoulder bags are ideal for busier and longer occasions where you need a smart and roomy handbag for all your treasured possessions - and a small bag just won't work.
Ranging from about $128-$278, Fossil's satchel and shoulder bags come in medium and large sizes. While they're a bit heavier to carry, the handles on these bags offer good, sturdy support for the shoulder and look extremely professional if you're heading to the office or a business meeting.
The Rachel Leather Satchel is one of Fossil's current bestsellers at around $178 and comes in both classic black and tan. The two thick handles are perfect for situations whereby you're in a rush and you just need to grab your purse and go, but the bag also has a crossbody strap if you require hands-free use. Diverse yet chic!

FOSSIL Rachel Satchel Handbag

The Amelia Hobo bag is another Fossil bestseller and comes in navy and green. Its slouchy leather exterior has plenty of compartments for the items you need to travel with, including one zipper pocket and two side pockets. There's also an adjustable and detachable crossbody strap and one shoulder strap. Available for approximately $238, this bag would make a great addition to any woman's closet.
Tote and Travel Bags
Fossil's tote bags are the perfect accessory for if you have an extremely busy lifestyle, because you never have to worry about needing extra space. They can be great for a day out, or a short car trip away; however, they're not ideal for train or plane travel as their decent size takes up a lot of room in the hold.
From about $118-$258, Fossil has a stunning array of totes which you'd struggle to fill on the average day.
The Rachel Tote with zipper is one of Fossil's most popular leather tote bags. Available in a leopard print and a khaki with navy stripes version for around $138, it's large and looks like a serious bit of arm candy when worn on the shoulder. It's also perfect for vegans as it's made from 100% PVC and polyurethane trim.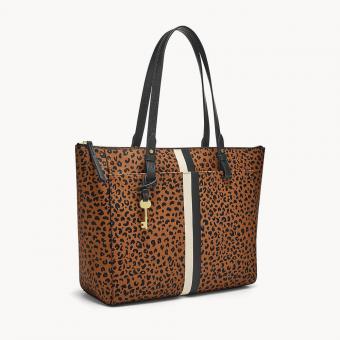 At the other end of the spectrum, the Carmen Large Tote is about $258 and constructed from leather, suede and polyurethane trim. Its brown and black block pattern will look perfect with an upscale business outfit but can also work for casual occasions where your outfit needs a bit of a lift.
Backpacks
A backpack can be a lifesaver for your daily grind if you have a busy morning commute to work, the gym, or even to your kids' school, and you need a practical solution for your belongings. As well as supporting the back to prevent injuries and ensure it doesn't hurt later, Fossil's backpacks have a lot of different compartments and room for everything you need to take with you on your journey, whether near or far.
Ranging in price from around $98-$258, Fossil's women's backpacks are fashionable yet affordable.
Currently about $158, the Liv Mini Backpack is manufactured from leather and polyurethane trim. It comes in green, yellow, pink and tan and any of these choices will provide a pop of color to your outfit. The backpack has one slide pocket and one zipper pocket and can fit larger size smartphones. It converts into a regular mini handbag with a change of the handle setup.
On the higher end at $258, the Nola Backpack has one zipper pocket with a convertible sling strap designed to be worn across your back, or held as a regular purse. The elegant design comes in either black or brown and it's made from leather and polyurethane trim with a 100% polyester interior.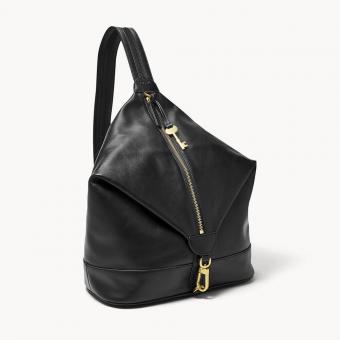 Workbags
If you need a practical bag for work, Fossil's top-selling Tess Laptop Backpack for about $298 is an excellent choice. These bags are crafted from a high quality leather and polyurethane trim and webbing and have a number of different compartments to hold everything. There's one zipper pocket, two slide pockets, four elastic loops and a front and back compartment. The back compartment is padded to keep your tech safe. Available in black and brown, as well as a leopard print version that's 100% vegan for $198.
Fossil Handbags: Practical Yet Stylish
As well as solving a problem, each handbag in the Fossil collection is meant to have its own personality and attitude. Fossil prides themselves on proving so much more than an accessory, each piece is designed to become a necessary part of your outfit. When shopping for a Fossil handbag, make sure you take the time to fully explore their varied collections to find a style that works for you and your needs, as well as complements your personality.