Washing machines get dirty! When they do, you want to reach for the best washing machine cleaner out there. Learn what the best washing machine cleaners are for top-loaders, front-loaders, mold, sensitive skin, and odors.
Best All-Purpose Washing Machine Cleaner
Are you looking for the best of the best when it comes to washer cleaners? If you are looking for an excellent overall washing machine cleaner to hit all your problem areas, Affresh is your go-to.
Affresh Washer Cleaner
In addition to getting rid of mold and mildew, Affresh breaks down grease and residue at only $6 for a three count. It also comes in an easy to use a tablet that you just throw in both top and front loader washers. It doesn't get any simpler than that, and it has a pleasant citric smell. However, while the tablet is convenient, it doesn't always break down completely and can leave gunk in the bottom of your washer. It might be a hassle, but another cycle can solve the issue. The reviews speak for themselves, with almost 1,000 people giving this product 4.7 stars at Walmart.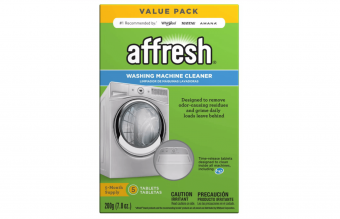 Best Washing Machine Cleaners for Front Loaders
Front-loading washers are their own breed and take a specific type of cleaner to ensure they get all the nooks and crannies. However, if you have a front-loading washer, then you want to reach for Tide.
Tide Washing Machine Cleaner
When it comes to your front loader, reach for a trusted name with Tide. Their washing machine cleaner comes in five convenient packs you can pour right in for $11. And, it's effective at getting scale, residue, stains, and odors out of your front-loading washing machine. You can also use it monthly to keep your washer clean. Over 100 reviewers gave this an impressive 4.7 stars, with one reviewer recommending it for rancid washers that had never been cleaned. Before trying this on your washer, keep in mind, some found the scent after cleaning too strong. However, this is easily mitigated by running your clean washer through a few cycles to give it a good rinsing.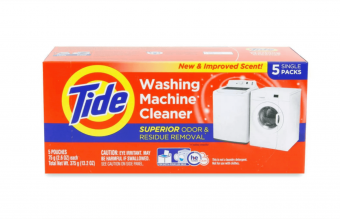 Best Washing Machine Cleaners for Odors
Is your washer starting to smell like a wet dog? Then you might have a bit of an odor problem. In this case, grab Oxi Clean.
Oxi Clean Washing Machine Cleaner
Oxi Clean isn't just great for laundry; it's excellent for a stinky washer too, especially the odor blaster formula. The blasting formula is not only phosphate-free, but it works to break down gunk and mold, causing those classic "wet dog" odors. It also noted that it's safe for septics and works in both front and top loaders. You can get a four-count on Amazon for about $4. It has 4.6 stars out of 16,000 reviews on Amazon, but some found the scent of the odor blaster to be overwhelming. Therefore, you might need to run some vinegar in the washer to get rid of the Oxi Clean smell.
Best Washing Machine Cleaners for Mold
Mold and bacteria can be a massive problem in your laundry room. Therefore, you might need a little extra fighting power to knock them out of your washer. One of the best washing machine cleaners for killing these germs include HIWILL.
HIWILL Washing Machine Cleaner
Offering a 12 months supply for only $15 on Amazon, HIWILL doesn't just knock bacteria and mold out of the park, but you also get more bang for your buck. HIWILL includes biological enzymes and antibacterials to break down bacteria and mold, causing odors and grime in your washer. It's also unscented, so it doesn't leave that perfume odor. While HIWILL states it's suitable for high efficiency, front loader, and top loaders, some users have noticed it is less effective for top loaders. Additionally, for grimy washers, you need to wipe out the gunk HIWILL unearthed before washing clothing. However, it was given 4.5 stars by over 1,000 reviewers.
Best Washing Machine Cleaner for Hard Water
Hard water and scale on washing machines go hand in hand. So, if you have hard water, any old washer cleaner might not cut it. You need something more potent, like Glisten.
Glisten
Glisten comes in a liquid form and has a price tag of about $20 for three bottles at Walmart. With three uses per bottle, it cleans your washer for less than $2. It hits mineral build-up and limescale hard. It's not only targeting your drum, but deposits on your seals and hard to reach areas too. Home Depot reviewers gave this product 4.3 stars, with one reviewer noting a washer technician recommended it. But like most washer cleaners, it does leave behind an odor.
Best Washing Machine Cleaner for Top Loaders
If you have a top loader, you still need to clean your washer. When you are up to your ears in a residue problem in your top-loading washer, think Clorox.
Clorox Washing Machine Cleaner
If you enjoy that bleach smell, then this might just be the washing machine cleaner for you. Clorox uses the cleaning and disinfecting power of bleach to eradicate dirt, grime, grease, and residue from your top-loading washer. And the liquid form makes it easy to add to your top-loading washer. Clorox runs you about $5 for five uses, making it also cost-effective. Reviewers on TrueValue also gave it 4.9 stars.
Best Washing Machine Cleaner for Sensitive Skin
If you or your family have sensitive skin or allergies, you know you can't just go throwing any old cleaner in your washer. In this instance, you have to pay special attention to the ingredient list. Thankfully, Eco-Gals offers you a solution.
Eco-Gals Eco Swilz Eco-Friendly Washer Cleaner
A one year supply of Eco-Gals Eco Swirlz come in easy-to-use tablets for all types of washing machines. It also runs you $15 for a year supply. While the active ingredient, sodium percarbonate, is comparable to competitors, Eco Swirlz does not include fragrances, gluten, nickel, or common allergen causing irritants. Additionally, it was ranked best for sensitive skin by Skin Safe. However, it's only available online.
How to Choose the Best Washing Machine Cleaner
When it comes to choosing the best washing machine cleaner out there for your machine, there are a few things you need to think about. Most products work to eliminate odors, bacteria, and mold. However, you want to consider a few questions before choosing.
What is the specific problem you are having with your washing machine? Do you need an overall cleaner or one that tackles hard water or grease?

Are you sensitive to smells? If so, you might want to consider a fragrance-free option.

Are you or your family sensitive to allergens? A cleaner for sensitive skin might work better for you.
It's important to consider all your options when choosing the best washing machine cleaner for you and your family.
How Often Should You Clean Your Washer?
It seems strange that washers get dirty, but they do. Therefore, these cleaners are designed to be used once a month to keep your machine clean and smell-free.
Natural Washing Machine Cleaners
Commercial cleaners are great and all, but they all come with chemicals. If you are looking for a more natural route to cleaning your washing machine, then look in your pantry. Baking soda and white vinegar can make a powerful grease and residue fighter when it comes to cleaning your washer.
Cleaning Your Washer Effectively
There are a lot of top brands out there to get your washing machine sparkling. Ensuring your washer is clean and disinfected is an essential step to making sure your laundry looks fresh.