Sandy Mitchell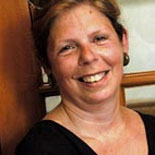 Sandy Mitchell is a full-time freelance writer and former insurance salesperson, based in Cleveland, Ohio. In addition to being a contributor for Love to Know, her writing has appeared in numerous print publications and websites, including The Better Drink, Live Life Travel, and Mahogany Magazine.
Interior Design
While not a design professional herself, Sandy Mitchell, is the daughter, cousin, and roommate of interior designers. Since she was a little girl, she has been helping to finish projects, helping to pick paint and wallpaper colors, and later, picking up and delivering wallpaper and furniture. There were (and are) always a few interior designer magazines sitting on the coffee table at her house.
Today, Sandy is a full-time freelance writer. When she's not at her computer writing or picking up fabric samples, she's digging in her organic garden or working on some DIY project at her Cleveland Ohio century home.
Travel and Cruises
Prior to concentrating full-time on her writing career, Sandy worked in the travel industry for eighteen years, as a travel agent, tour guide, cruise school instructor, and travel agency manager. She has traveled the world and she is eager to share her experiences with Love to Know readers.
Sandy Mitchell has been cruising for over twenty years. In her previous career as a travel agent and cruise school instructor, she toured and sailed on scores of ships and visited many of the world's ports. She has sailed the Mediterranean, through Alaska's Inside Passage, the Aegean, and extensively throughout the Caribbean and Mexico.
These days, Sandy is a full-time freelance writer, specializing in travel writing. In addition to writing for Love to Know, she is a site editor (Guide) to Cleveland for About.com (a divison of the New York Times Company). She is also a frequent contributor to The Better Drink, an ezine about sparkling wines and travel and Zagat Travel Guides.
Most Recent Contributions by Sandy Mitchell
All Contributions by Sandy Mitchell