Sanskrit is a beautiful, ancient language utilized by many parts of South Asia. When searching for a name with Sanskrit roots, there is no shortage of stunning monikers with plenty of meaning for parents to muse over. This list provides some of the best Sanskrit baby boy names, ranging from popular choices to rare and unique options.
Lord-Inspired Sanskrit Names for Boys
Many Hindu gods have different names, providing parents of Hindu roots with plenty of meaningful name options. You can honor your beliefs in any of these gods by giving your son a Hindu baby boy name with Sanskrit meaning.
Achyut: Lord Vishnu (imperishable, indestructible)
Adhrit: Lord Vishnu (one worthy of respect)
Advait: Lord Brahma (unique)
Ayan: Lord Shiva (God's gift)
Bhavesh: Lord Shiva (Lord of the world, existence)
Bhuvanesh: Lord Vishnu (Lord of the world)
Darsh: Lord Krishna (sight, handsome)
Eashan: Lord Shiva (name of sun)
Ekaksh: Lord Shiva (one with an excellent eye)
Faneesh: Lord Shiva (cosmic serpent Shesh)
Gaurish: Lord Shiva (lofty mountain peak)
Giriraj: Lord Shiva (Lord of the mountains)
Hiren: Lord of the diamonds
Ishan: Lord Shiva (the sun)
Itish: Lord Shiva (supreme ruler)
Jagish: Lord of the Universe
Karunesh: Lord of mercy
Mukund: Lord Vishnu (freedom giver, precious stone)
Nandish: Lord Shiva
Sashwat: Lord Shiva (eternal)
Savar: Lord Shiva
Shivansh: Lord Shiva (a part of)
Tanmay: Lord Shiva (engrossed, absorbed)
Trinabh: Lord Vishnu (three)
Vedic Names for Baby Boys With Positive Meanings
A name that has a positive meaning supports a life well-lived. You can give your baby boy that added boost with a name containing such attributes. You may decide to couple a baby boy name that evokes positivity with a name meaning divinity for his middle name.
Adhie: Kind, noble
Amod: Pleasure, joy
Arit: Worthy of praise
Caru: Charming, beloved
Harshit: Joyous
Lahith: God's gift
Lai: Beloved one
Lalit: Beautiful
Manan: Thoughtful
Mati: Gift from God
Meeth: Friend, love
Mit: Friendly, warm
Mridul: Soft, calm
Ojas: Brilliance, bountiful energy
Sarthak: Meaningful, significant
Shantanu: Wholesome
Vibhu: Great, excellent
Heavenly and Divine Sanskrit Baby Boy Names and Meanings
Many believe that the energies of the divine bestow great gifts on a namesake. Choose a name for your baby boy to aid his spiritual growth right from the get-go.
Anu: Angel messenger of God
Apu: Virtuous, divine, pure
Arsa: Sky, heaven
Bhuvi: Heaven
Divit: Heaven, reaching for the sky
Gagan: Sky, the heavens
Nakin: Dwells in heaven
Pujit: Worshipped
Udit: Lofty, ascended
Udyat: Rising star
Sanskrit Names for Boys That Mean King or Leader
A name that means a king or powerful leader might carry good karma throughout one's lifetime and aid them in achieving great deeds. These Sanskrit baby boy names and meanings all point to power, leadership, and reign.
Amol: Faithful, king
Diyan: Judge, leader, captain
Iravan: King of the ocean
Kanishk: Ancient king
Kian: King
Ranav: King
Viraj: Sovereignty, majesty
Viraja: Ruling, sovereign
Yuvan: Young king, heir apparent
Sanskrit Boy Names That Mean Warrior
You can choose a name that references one or more of a warrior's characteristics. The meanings behind these strong and courageous names might help someday inspire your little man to adopt the positive attributes of a brave and respected warrior.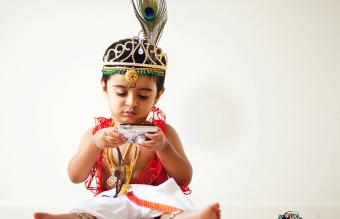 Abhi: Fearless, brave
Ahar: Defender
Ahir: Devotee, fearless
Ajai: Invincible, no defeat
Baru: Brave
Ekaveer: A unique hero
Jaiveer: Victorious
Jayesh: Victor
Malin: Little warrior, strong
Nirbhay: Fearless
Oman: Protector
Oorjit: Power, strong
Pradyut: Shining, illuminated
Pragyan: Wisdom, supreme intelligence
Rakshit: Save and Protect
Ranajay: Victorious
Shaurya: Bravery
Tarak: Protector
Tarush: Conqueror
Tavasya: Strength
Sanskrit Names for Boys Stemming From Nature
Nature derived names appeal to parents because of their beautiful, serene meanings and references. A Sanskrit name that reflects nature is a wonderful gift to your baby boy. Select a name that will always serve your child with a deep connection to the earth.
Abhra: Cloud
Abjit: Conquering water
Adita: Sun
Adrie: Rock
Ahi: Water, sun, cloud, fawn
Ansu: Sun, ray of light
Bater: Gray quail
Bhumi: Earth, land
Casa: Blue Jay
Chand: Moon, shining moon
Druhyu: One who loves nature
Harit: Green fragrant plant
Hirav: Greenery
Hridyanshu: Light from the heart, moon
Indraneel: Emerald
Kairav: White lotus, white lotus opening at moonshine
Kaushtubh: Legendary gem
Kshiraj: Moon
Mrig: Rain or deer
Mrinal: Lotus
Choosing a Sanskrit Name for Your Son
Those looking into selecting a Sanskrit name for their child have ample options to consider. They can go with a common or popular Sanskrit name for boys, or a unique Sanskrit name for their boy. When considering a Sanskrit baby name for your little guy, be sure to fully understand the meaning behind the name to help you select the appropriate one. Find a name that best personifies your son, your beliefs, and your parental intentions, and select a moniker that your child will wear well throughout his life.