Make the big announcement meaningful and fun with these creative gender reveal ideas for family. Whether you're announcing the gender to a new big brother or big sister or telling grandparents your good news, there are lots of ways to share the excitement with family. Everyone will remember the special moment they found out whether baby would be a boy or a girl.
Simple Gender Reveal Ideas for the Whole Family
If you're lucky enough to be able to get the whole family together for a gender reveal party, these simple gender reveal ideas for family are fun and inexpensive. No need to big explosions or fireworks; these easy ideas have you covered.
Invite the Whole Family to Help You Paint (in Blue or Pink)
It's always nice to have help getting ready for the new baby, and if you have family willing to lend a hand, you can organize a creative gender reveal event. Choose two colors of paint for the nursery - one for a boy and one for a girl. Then have a friend who knows the gender go buy the paint for you. Invite the family over to help paint the nursery. When you open that first can of paint and put some on the wall, everyone will know whether the new baby will be a boy or a girl.
Make a Gender Reveal Scavenger Hunt for the Family
Have a friend who knows the baby's gender create a fun scavenger hunt for the entire family. Each clue can lead to the next, and the last clue reveals the baby's gender. Clues can send everyone around the back yard, similar to an Easter egg hunt, or they can be larger scale and send people driving around town. Have a big party at the end when everyone knows the baby's gender and can celebrate with pink or blue cupcakes.
Serve a Special Drink
Try this refreshing way to announce baby's gender to the whole family. Choose packets of blue or pink drink mix and place them in white envelopes. When everyone is ready, they can dump the drink powder into cups of water. It will instantly tell them whether baby is a boy or a girl.
Reveal the Gender in a Special Sippy Cup Toast
If you or your partner already knows the gender, you can surprise everyone with the news by giving a special toast and presenting everyone with a sippy cup that reveals the baby's gender. This simple idea is perfect for any big family gathering, from holiday meals to backyard barbeques. You can use any wording you like, but here's a simple gender reveal toast example:
We just wanted to thank everyone for joining us this afternoon for a family picnic. As you know, there'll be one more seat at the table next summer, and we're all so excited. You may be wondering, like [insert partner's name], what color sippy cups we'll be buying for our new addition at the picnic table. Well, when you have a toast, it's customary for everyone to have a beverage, so I brought a new cup for someone special. Please join me in toasting our new little [girl or boy]. Welcome to the family!
Get Dogs in on the Fun
If you have the whole family together and want a creative way to announce baby's gender, get your dog involved. Tie some pink or blue balloons to the dog's collar and wait for her to wander into the room. Everyone will react with surprise and joy.
Play a Family Game of Gender Reveal Baseball
This is the ultimate gender reveal idea for families who love sports. Set up a game of baseball with your extended family. Mid-way through the game, substitute a gender reveal baseball for the real ball. When someone hits it with the bat, it will spray pink or blue powder, telling everyone the gender of your next all star. You can get gender reveal baseballs from PoofThereItIsReveals on Etsy for about $10 each.
Say It With Silly String
If you're having a big family get-together outside, pick up some cans of pink or blue silly string. Cover the label and remove the cap so no one will know what color they have. When the time is right, everyone can spray the silly string at the same time. The color will reveal the baby's gender to the whole family.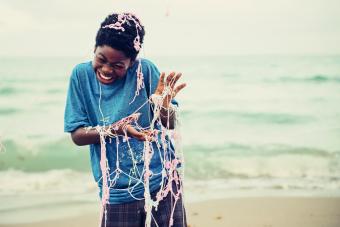 Have the Whole Family Dress in Pink or Blue
You can let your family reveal the baby's gender to you with their attire. If you don't know the gender but the rest of the family does, invite them to show up at your house wearing pink or blue. Get everyone together for a family photo so you can remember this special moment.
Get Into a Colorful Water Balloon Fight
Make a gender reveal water balloon. Fill lots of opaque balloons with plain water and one with washable pink or blue paint. Have everyone head out to the back yard and start flinging the water balloons at one another. When the balloon with the paint pops, everyone will know the baby's gender.
Gender Reveal Ideas for Grandparents
Get ready to reveal baby's gender to grandparents with these fun family ideas. From special gifts to shared art time, they're sure to remember these moments.
Announce It With Art
Set up a finger painting date for older siblings and grandparents, giving them only pink and blue finger paint to use. When they've played for a while, ask if they're ready for a few more art supplies. That's when you plunk down a bin full of pink or blue glitter, markers, colored pencils, paper, and more.
Give Grandparents Special T-Shirts
Order T-shirts for the grandparents that reveal the baby's gender. For instance, you might give a T-shirt that says, "Proud Grandma of a New Baby Girl." Wrap it up in a box and have them open the shirts at the same time.
Present Them With a Special Christmas Ornament
If you're revealing baby's gender around the holidays, you can give new grandparents a pink or blue Christmas ornament as a gift. You can order special designs, make your own, or simply choose any pink or blue ornament. It will always hang on their tree to remind them of the special surprise.
Gender Reveal Ideas for Big Brothers and Sisters
Big brothers and sisters can learn about the new baby's gender with these fun family ideas. They are simple and fun for everyone.
Surprise Them With Balloons
This simple surprise is a memorable way to announce the baby's gender to younger kids. Order a bunch of helium balloons in pink or blue. Then blindfold the older sibling and reveal the balloons. Kids will always remember this fun surprise.
Pick Up Some Gender-Reveal Playdough
Did you know there's playdough that starts out white and then turns pink or blue as you play with it? This is a great way to let kids know whether they are having a little baby brother or sister. You can pick up color-changing playdough from the Essential Dough Company on Etsy. It retails for $22 for 10 packs.
Let Older Kids Paint Your Belly
If you have older kids who can keep a secret, let them announce the gender to you by painting your belly. Give them pink and blue paints and then put on a blindfold and earplugs. When the paint is dry, reveal the masterpiece for everyone to see.
Do a Volcano Science Project (With a Twist)
You know that fun volcano science experiment where you combine baking soda and vinegar to watch the volcano erupt? You can turn this exciting lesson into an even more exciting gender reveal. Simply add a few drops of red or blue food coloring to the bottom of the volcano without telling the kids.
Revealing Gender to Family Far Away
If you don't live close to your family but still want to include them in the fun of revealing baby's gender, these simple ideas will be perfect. They're also great for times when a big in-person gathering just doesn't work for everyone.
Send a Gender Reveal Cake to Far-Away Family Members
If grandparents or other special family members live far away or can't be with you at a party, you can order a gender reveal cake from a local bakery. Have the cake delivered to the special family members and set up a video conference to watch them cut into it. It will be a fun and interactive experience for the entire group.
Share a Gender Reveal Playlist or CD
Make a special playlist or mix CD to send to family near and far. Your choice of songs will reveal the baby's gender. Here are some fun examples:
"Brown-Eyed Girl" by Van Morrison
"Baby Boy" by Beyonce
"Let's Hear It for the Boy" by Deniece Williams
"Girls Just Wanna Have Fun" by Cyndi Lauper
Do a Gender Reveal Photoshoot and Send Everyone Pictures
Hire a photographer and set up a gender-reveal photo shoot. You can dress in pink or blue and hold up signs, balloons, or anything else that will announce baby's gender. When you get the images from the shoot, make them into cards for family or post them to social media for everyone to see.
Surprise Everyone With a Video
Get local family together or simply sit down with your partner and make a fun gender-reveal video. You can have colored pink or blue confetti rain down from the ceiling, use a bunch of balloons as a backdrop, or simply dress in pink or blue. Then send the video to loved ones far away so they can join in the fun.
More Gender Reveal Ideas for Family Parties
If you need more ideas, you can always host a more elaborate gender reveal party for family and friends. Get everyone in on the fun and play some creative gender reveal party games everyone will love. No matter how you choose to announce your baby's gender to the family, everyone will be excited about this new addition.