Cute and practical, night lights can give your baby's nursery a charming glow. However, many parents worry about the effect these lights may have on their infant's vision development. Understanding the most recent research about this issue is important, especially if you're planning to purchase one of the many adorable night lights on the market.
Is It Safe to Use Baby Night Lights?
Fortunately, recent scientific evidence suggests that infant night lights pose no cause for concern. There have been several scientific studies into this issue, and doctors have concluded night lights may actually benefit infant development.
Original Correlation Between Night Lights and Nearsightedness
The controversy about night light use and vision development started with the publication of a study in the journal Nature in 1999. At that time, researchers found a correlation between ambient nighttime light before the age of two and later myopia, or nearsightedness. However, researchers based this correlation on survey results, rather than an examination or medical records. In addition, they did not take into account the parents' own level of myopia, which could have a major effect on infant visual development. When examining this article, it's important to remember that it proposes a possible correlation as opposed to a definitive link between night lights and nearsightedness. There are many other factors that could be involved.
No Link Between Night Lights and Vision Problems
As a follow-up to this study, a 2001 study published in the journal Perceptual & Motor Skills found that there was no association between nearsightedness and the use of lights in infant sleeping areas. The study included almost 500 individuals and examined the use of night lights, hall lights, and full light in nurseries compared to total darkness. There was no link between light use and myopia.
Doctors Now Recommend Night Lights
Today, the American Optometric Association recommends that parents leave a night light on in their baby's room to help boost visual development, particularly from birth to four months of age.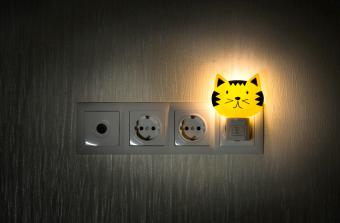 Shopping Options for Night Lights
In addition to vision development, night lights are practical for keeping light low during night-time feedings and diaper changes. However, there's no scientific evidence to suggest that babies experience fear of the dark or that not having a night light will deprive your infant of important stimulation. Deciding whether to purchase a night light is mostly a matter of personal preference. Fortunately, there are a number of night light styles to choose from if you do decide to buy one.
Baby Monitor Night Lights
For many families, a baby monitor is a necessity, so getting a monitor that does double-duty with an integrated nightlight makes sense. If this is the style you have in mind, consider these options:
Auto-Sensor Night Lights
One of the most affordable and environmentally friendly options is a plug-in night light with an auto sensor. These night lights have a photo eye that turns the light on or off depending on the light level in the room. Typically, they are nothing fancy, but they are a good, practical choice. Consider these options:
Feit Electric Eternalite? LED Sensor Nightlights - Sold as a three-pack at Buy Buy Baby. These nightlights go on at dark, off at dawn and last 100,000 hours. The three-pack retails for about $10.
Safety 1st Auto Sensor Nightlight with LED Lights - This baby nightlight is sold as a two-pack at Walmart. It automatically turns on when the room becomes dark and off when there is light in the room. The nightlight is energy efficient and cool to the touch. The LED lights last 25 times longer than standard light bulbs. The set retails for less than $7.00.
Maxxima LED Plug-in Night Light - This nightlight comes in a pack of four and is available on Amazon. It features a single LED that provides a subtle, warm light. This nightlight will activate when it is dark and turns off when your room gets bright. These are energy efficient and bulbs never need replacing. The set retails for just under $8.00.

Maxxima MLN-16 LED Plug in Night Light
Decorative Night Lights
Using baby nightlights also offers a great opportunity to add a decorative element to the nursery. You can find a nightlight to match just about any theme or color scheme. Consider some of these cute options:
Blue Gummy Bear Nightlight - This sweet nightlight from Crate and Barrel looks like a giant gummy bear. It is colorful and playful and would make a great addition to any little boy's room. It also comes in pink for a little girl. This option retails for under $30.
Silicone LED Papa Puppy Nightlight - This nightlight is very cute and can be found at Amazon. You can turn this nightlight on, off and adjust the brightness of the light by touching the puppy's nose. It also offers a timer shutdown function. It retails for under $20.
Ceramic Moon Night Light - This standard, plug-in nightlight from Pottery Barn Kids is a beautifully crafted ceramic 'quilted' moon that has a soft, gentle glow. It's a great choice for a baby's nursery and retails for about $35.
Other Great Night Light Options
There are some night lights that offer up more than just light to help your little one sleep. Some play music and project pictures on the wall, others are energy efficient, while others are recommended to be used during nursing. A few of these options include:
Skip Hop Elephant Moonlight & Melodies Crib Soother and Baby Night Light - This baby nightlight has a projector with music and can be found at Target. It offers multiple ways to soothe your baby. It plays four lullabies, four calming nature sounds and projects a starry night sky scene on the ceiling or wall. There is a dimmer-controlled, glowing nightlight in the elephant's belly. You can choose the appropriate combination of light and sound that's right for your baby. It retails for under $30.
VAVA Baby Night Light - The VAVA Baby Night Light sold on Amazon, is not only highly recommended for your baby, it is also the best night light for nursing. It emits a soft, dim glow which enables you to check on your baby or use as a bedside lamp for nursing at night. It is 100% safe for your baby. It can change light color from warm yellow/white to cool white. It has a touch control setting and a timer setting. It uses a rechargeable battery and has a convenient charging base. It retails for about $23.
Dreambaby Lady Bug Night Light - This baby night light can be found at Walmart. This night light is not only decorative and adorable but long-lasting and highly energy efficient. It is easy to use, has one-touch operation and will turn off automatically in 30 minutes. It retails for $14.

VAVA VA-CL006 Night Lights for Kids
The Decision Is Up to You
Whether or not you decide that using a night light is right for your baby, it's important to understand the science behind the choice. If you do elect to add a night light to the nursery, you'll have no trouble finding one that meets your needs. The best night light for your baby is one that meets your practical needs and budget, as well as your child's room decor.