Fall names are an inspired choice for parents expecting their bundle of joy in the autumn season. Your life is about to change in the most miraculous way, which mirrors the transition that Mother Nature is experiencing during this time of harvest.
Autumn names can be warm, inviting, and purposeful. They signify a time when people come together and celebrate life's greatest gifts. If you are looking for some fall-themed names for your baby boy or baby girl, we have gathered the cream of the crop for you to pick from!
Cute Fall Names for Your Beautiful Baby Girl
When you think of fall, one of the first things that come to mind has one thing in common:  they all feature glorious shades of orange, red, yellow, gold, and brown. These hues can serve as the perfect inspiration for fall names for girls!
Month names and titles that highlight the reason for the season, the harvest, can also be an energizing choice for an autumn name.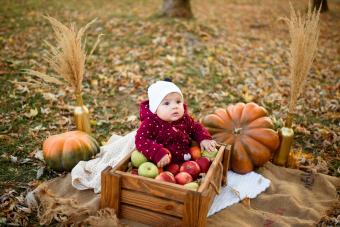 Aluma - Maiden or sheaf of grain at harvest (Hebrew)
Amber - Jewel (Arabic) 
Aurelia - Gold (Latin)
Aurora - Gold (Latin)
Autumn - Of woods (Latin)
Brandy - Burnt wine (Dutch)
Bruna - Brown (Yiddish)
Carmine - Garden or field of fruit (Hebrew)
Ceres - Goddess of the harvest (Greek)
Dawn - Daybreak (English)
Eve - Life (Hebrew)
Fiona -  Fair or white (Scottish, Irish, and Gaelic)
Goldie - To shine (Old English) 
Jora - Autumn rain (Hebrew)
Linden - Pretty (Spanish)
Luna - Moon (Latin)
Maisie - Pearl (Scottish, Irish, Greek, Hebrew, Persian, and Latin)
November - Ninth month (Latin)
Octavia - Eighth child (Latin)
Orla - Golden woman (Latin)
Rhea - Poppy (latin) or stream (Greek)
Ruby - Red gem (French)
Sabrina - From the border land (Latin) or princess (English)
Scarlett - Deep red (Middle English)
September - Seventh moon (Latin)
Sorrell - Bitter or from the tree (French)
Tawny - Little one and yellowish-brown (English)
Twila - Creative (English)
Wednesday - Born of Wednesday (American)
Zarina - Golden (African)
Fast Fact
Speaking of the name September, did you know that babies born in this month might have greater academic success than their peers? This is likely because September is the most common cut-off date for kindergarten, making kids with these birthdays the oldest in their class and giving them a leg up!
Creative Autumn Names for Your Bright-Eyed Baby Boy 
Similarly, if you are looking for a strong baby boy name, a good place to start is with the themes of this masculine season. In ancient times, men were hunters, and they took what they needed from the land. Fall names can have meanings that stem from these motifs, and they might provide parents with powerful epithets for their sons. 
Adam - Earth (Hebrew)
Alden - Antique (Middle English)
Archer - Bowman (English)
August - Exalted (Latin)
Bodhi - Awakening or enlightenment (Sanskrit)
Branden - Fiery hill (Old English)
Casper - Treasure bearer (Persian) 
Cormac - Chariot driver (Irish)
Everett - Strong boar (German)
Finn - Thunder (Old Norse)
Glenn - Secluded wooded valley (Irish)
Graham - Grain (Latin)
Griffin - Red or ruddy (Welsh)
Hawthorn - Where the hawthorn trees grow (Old English)
Hayden - Hay field (Old English)
Holden - Valley (Old English)
Jasper - Red, yellow, or brown stone (French)
Jonas - Dove (Hebrew)
Kaelan - Waterfall or pool (Irish)
Nash - Cliff (Old English)
Orion - Son of fire (Greek)
Rylan - Dweller in the rye field (Old English)
Sawyer - Woodsman (Middle English)
Silas - Wood or woodman (Latin)
Russell - Red-haired (French)
Ryder - Horseman (Old English)
Weldon - Well hill (Old English)
Wesley - West meadow (Old English)
Woody - From the old forest (English)
Zephyr - Wind (Greek)
Fast Fact
A study in the International Journal of Sports Medicine says that babies born in November are "fitter and more powerful than those born at other times." This could also be related to the fact that fall babies tend to be older than the other students in their class, but either way, if you were hoping for a little athlete, you may be in luck!
Fall-Inspired Gender-Neutral Names for Your Little One
If you're looking for unisex baby names that relate to the harvest season, we have a cornucopia of names that branch out from an array of autumn themes — including nature, friendship, the harvest, and the beautiful hues of this vibrant time of year. Here are some of the most popular gender-neutral fall names for your little boy or little girl. 
Aki - Autumn (Japanese)
Ambrose - Immortal (Greek)
Ash - Ash tree (Old English)
Aspen - Shaking tree (Old English)
Aster  - Star (Greek)
Auburn - Fair (Latin)
Avery - Counselor (English)
Briar - Shrub or small tree (English)
Dagan - Corn or grain (Hebrew)
Dakota - Friend or ally (Native American)
Ember - Spark (Old English)
Equinox - Equal night (Latin)
Finley - Fair-haired (Celtic and Irish)
Harvest - The season or period for gathering crops (English)
Jordan - To flow down (Hebrew)
Lennox - Amid the elms (Scottish)
Logan - Little hollow (Scottish)
Oakley - From the oak meadow (Old English)
October - Born in October (American)
Phoenix - Dark red and mystical bird (Greek)
Quinn - Wise or queen (Greek and Gaelic)
Raine - She is singing or queen (Sanskrit)
Reed - Red-haired (English)
Riley - Rye (Irish)
Rory - Famous one or famous ruler (German)
Roux - Red hair (French)
Rowan - Tree with red berries (English)
Thu - Autumn (Vietnamese)
Wren - Chief (Welsh)
Xanthe - Yellow (Greek)
Need to Know
There is one downside to being a fall baby — researchers have found that "autumn-born babies, who are about 4 months old when the winter virus season peaks, have a nearly 30 percent increased risk of developing asthma." This means that parents of fall-born babies should take extra precautions during RSV season.
Beautiful Nature Names for Your Autumn Baby
Of course, you can't have autumn without spending some time outdoors! From pumpkin patches to scenic hikes, you can find inspiration for fall names for girls and boys all around you when you explore Mother Nature! We've picked quite the crop of incredible autumn names for your fall baby.
Apple - Fruit name (American)
Bramble - Blackberry bush (English)
Brooke - Small stream and water (German and Old English)
Citrine - Reddish yellow (Middle English)
Clementine - Mild or merciful (Latin and Polish)
Dahlia - Valley or branch (Scandinavian or Hebrew)
Daphne - Laurel tree (Greek)
Fawn - Young deer (Latin)
Fern - Leafy plant (Old English)
Gaia - Earth (Greek)
Ginger - Flower (Latin)
Hazel - Hazel tree (Old English) 
Ivy - Vine (Old English)
Juniper - Juniper berry (Latin)
Kiona - Brown hills (Native American)
Laurel - Laurel leaves, honor, and spirit (Latin)
Maple - Maple tree (English)
Marigold - A flower (Greek)
Olive - Olive tree (Latin) and kind one (Old Norse)
Raven - Dark-haired or wise (English)
Robin - Bright, famous, and queen of morning (English)
Sable - Dark brown colored fur (English)
Sage - Wise one or from the sagebrush plant (French, English and Latin)
Saffron - Yellow flower (English)
Sapphire - Blue jewel (Greek)
Savannah - Flat tropical grassland (Spanish)
Sierra - Saw tooth mountain rainge (Spanish)
Skye - Cloud (Old Norse)
Tali - Dew (Hebrew)
Willow - Freedom or tree (English)
Fast Fact
If you are hoping that your sweet baby will live a long, happy life, reaching the ripe old age of 100 or more, you may get your wish! Studies have also found that the majority of centenarians were born between the months of September and November. 
Outdoorsy Fall Baby Names for Your Little One
Fall baby names are rooted in the natural world. The autumn season is known for outdoor pastimes and the spectacular beauty of this ever-changing world. These fall names for boys or girls are a perfect choice if you are on the hunt for fall forest-themed epithets!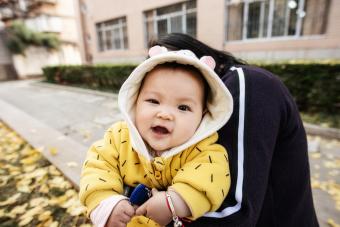 Alder -  Alder tree (Old English)
Asher - Ash tree (Middle English) or fortunate (Hebrew)
Bear - Bear (English)
Birch - White or birch tree (Old English) 
Bram - Raven (Irish)
Calum - Dove (Scottish)
Cedar - Cedar tree (English)
Colt - Young horse (Middle English)
Dune - Brown (English)
Elm - Elm tree (English)
Finch - Small bird (English)
Fisher - Fisherman (Old English)
Flint - Hard, quartz rock (English)
Forrest - Out of the woods (Old French)
Fox - Fox (English)
Heath - Heath or shrub (English)
Hunter - Search (Old English)
Indigo - Dark blue (Greek)
Larkin - A bird (English)
Lief - Beloved (Old Norse)
Oak - Oak tree (English)
Onyx - Dark black or precious stone (Greek)
Pike - Point or hill (Old English)
Radley - Red cliff or red meadow (English)
River - River or by the riverbank (English)
Rocky - Rock fortress (Old English)
Roscoe - From the deer forest (Old Norse)
Slate - Fine-grained rock (English)
Sycamore - Fig or mulberry (Greek)
Thorne -  Thorn tree (Old English)
Fall Names Are Pretty Fantastic
Not only do fall names have great meanings, but they are also unique names that will allow your child to stand out from their peers! However, if you are leaning towards more common names, you also have the option to select an autumn option for their middle name. This can honor their time of birth, while still allowing you to keep with typical naming traditions.