Celebrate your little one's first Halloween and share this adorable moment with friends and family by taking pictures of your baby sitting in a pumpkin. This may seem like a complicated photo to get, but it's actually all about choosing the right pumpkin and making your baby comfy in it. We've got all the tips and tricks you need to make it happen.
Choose the Perfect Pumpkin
Baby pumpkin photos start by choosing the perfect pumpkin for your little punkin. The easiest way to do that is to bring your baby along to the pumpkin patch (bonus chance to get pumpkin patch photos too!). Place your baby next to a pumpkin and choose one that's about the same size as your baby sitting.
Quick Tip
Tiny babies are going to need more support from the pumpkin than older babies, so choose a pumpkin that will offer enough back support for your baby to sit up.
Carve the Pumpkin to Fit Your Baby
Start by measuring the widest part of your baby (probably that adorable little tummy) and cutting a hole in the top of the pumpkin that's at least six inches bigger. You need your baby to fit inside comfortably.
Scoop out all the "guts" of the pumpkin and discard them.
Quick Tip
If you want to cut arm or leg holes, now is the perfect time to do it. Just like the top of the pumpkin, any arm or leg holes should be wider than your baby's limbs so they're comfortable.
Bring the Pumpkin Up to Room Temperature
Even though it's tempting to start taking baby pumpkin pictures right away, it's way better to wait to avoid a lot of tears. The truth is if someone plunked us in a super cold pumpkin, we wouldn't be thrilled either. Your baby will be happier if the pumpkin isn't freezing, and a happy baby means more of a chance to get that perfect photo.
Ideally, let the pumpkin sit at room temperature overnight so it can dry out a little bit and warm up for your baby.
Set Up Your Baby Pumpkin Pictures in Great Light
The lighting you use for your pictures matters just as much as finding and carving the right pumpkin. Harsh light will make it hard to see cute details like your baby's eyes or the sheen of the pumpkin. Here's the ideal setup for pictures of your baby in a pumpkin:
Choose a spot in your home with large windows that aren't getting direct sun coming through them (a four-season room is perfect, but any big windows will work).
Spread out a blanket to make sure the background is clear. A light-colored one is great because the pumpkin will show up.
Turn off any overhead lights.
Quick Tip
If you want to take the photos outside, look for a shady spot under a big tree.
Make Sure Your Baby Is Warm Enough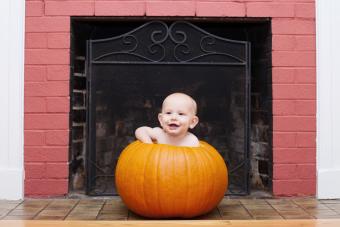 Being nearly naked and plopped inside a pumpkin can be a little cold. Keep your baby warm enough to get some good photos. Inside, this can mean setting up a space heater just outside the shot. Outside, it means only shooting on those really warm fall days when your little one won't be freezing.
Move Quickly and Plan Several Photoshoots
Chances are, your baby is not going to love this experience for long, so get everything ready before you put them in the pumpkin. You'll want to set your camera or phone to shoot continuously so you'll be able to capture those smiles. You may have only a minute or two at a time before the baby starts to object.
The key here is to do multiple photoshoots. Start at the best possible time when the baby is rested, fed, and happy. Shoot until they get annoyed, and then take a break before they get really mad. Wait and shoot again. Keep going until you get your photo.
Quick Tip
Here's a little insider advice for getting those smiles. You know the most obnoxious song or video your baby loves? Play that on your phone right next to the camera so your little one will look and smile.
Try Different Positions With the Pumpkin
While the classic "baby sitting in a pumpkin" pose may be ideal in lots of situations, it's not always going to work for every baby. If your little one can't sit up or the pumpkin keeps rolling over, try laying them down on a blanket (still inside the pumpkin). It will make a great background, and some younger babies are happier in this position.
Wait for Newborns to Get Sleepy
If you're hoping to get some newborn baby in a pumpkin pictures, choose your moment wisely. For the youngest babies, it's all about finding a time when they're really sleepy (and that's a lot of the time with newborns). Make sure they're nice and warm and wrap them in a blanket before putting them in the pumpkin.
Quick Tip
Make sure your newborn's head is supported and stay close to help them maintain a comfy and safe position.
Think Outside the Pumpkin Too
Posing your baby inside a pumpkin and keeping them happy long enough to get great photos is a great goal, but don't despair if your little one isn't cooperating. All you need is a backup plan for baby pumpkin photos that will have your little one smiling and you skipping the stress.
Try posing your baby next to or on a pumpkin or dressing them in a pumpkin costume. There are no rules as long as you get a photo you love and your baby stays happy. Now all you have to do is add the perfect pumpkin quote or caption, and share the pictures with the world!