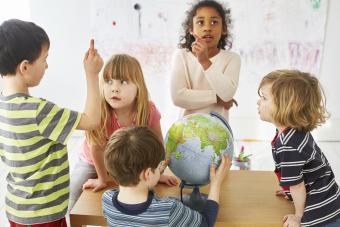 Geography lessons for kids include studying maps, people, and all parts of the Earth. Test your geography IQ with free, printable trivia questions and answers.
Geography Trivia for Kids
Kids in upper elementary grades are learning the basics of geography and should be able to answer many of these trivia questions. Kids answer four multiple-choice questions and five true or false questions about mapping, population, and natural resources. Download the document by clicking on the image and then the download icon. If you have any problems printing, see this guide for online printables.
Ways to Use Geography Trivia Questions
Trivia questions work great for quizzes, competitions, and DIY games like jeopardy-style games. However, there are lots of other fun ways to use these facts.
Make screen printed shirts for a trivia team where each has a question on the front and the answer on the back.
Create unique geography alphabet posters for your classroom by drawing geographical pictures that start with the letter coloring page you choose and adding a trivia question related to those pictures.
Make a family scrapbook that includes pictures of places you've visited with related trivia questions and answers written around the pages.
Take photos of old maps or landmarks then add trivia questions to them using photo editing software to create unique postcards.
Learn More About Geography
Don't let the fun stop with trivia! Keep learning about different aspects of geography to better understand your world. Books, games, movies, and websites provide fun facts, challenges, and pictures to help you learn.
Where In the World Are You?
Find out how you fit into world knowledge by seeing how many trivia questions you can answer correctly. Use these questions as a starting point to learn more about geography or use them to gauge how much you already know.