Whether it's been a long day at work and your kiddos are eager to spend time with you, or you're a stay-at-home-parent who wants to get the kids out of the house for a few hours in the evening, you might be looking for some fun things to do at night with your kids.
You can keep evening activities simple whether you stay in or go out. The point is really that you spend time with your child at the end of the day. We love these ideas that anyone can do for some family fun time. 
Evening Activities to Do With Kids at Home
Once you get home at the end of the day, you may not be excited about going out again. You can stay home and bond as a family instead. These evening activities are simple and encourage conversations with your child during a night at home.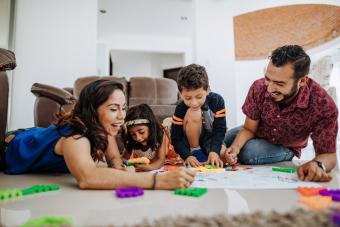 Play Games in Your Backyard
If the weather is nice, get outside. Grab your whole family and play some backyard games that encourage friendly competition and help you make wonderful memories.
Quick Tip
If you have kids of different ages, look for games to play such as Bocce ball where you can pair up younger and older kids, or one parent and one kid. 
Designate a Family Show
Cartoons, sitcoms, game shows, and educational programs are all great choices for your family show to binge. Once you have a show selected that everyone loves, you can settle in for an episode or two on laid back evenings together. You might even introduce your kids to a show you loved when you were young.
Have a Bonfire
An evening around the bonfire encourages conversation, storytelling, and maybe a few roasted marshmallows. From spring to autumn, this is a great way to spend time together as a family while enjoying the outdoors.
Build a Pillow Fort
Remember the indoor pillow or blanket forts you built as a kid and how much fun they were? You can relive that experience with your own kids now. Help them build a pillow fort and spend the evening with your imaginations.
Chat Over a Family Appetizer
While you're waiting for dinner or just getting the oven preheated, this is your chance to have a chat with your child. Grab a pre-dinner snack or appetizer — just veggies and dip is perfect — and catch up on the latest details of their life.
Play Hide and Seek
It's a simple game, but it's truly fun no matter your age. Whether indoors or outdoors, a round or two of hide and seek is fun for the whole family.
Break Out the Sidewalk Chalk
If the weather is nice, host a family art competition in your driveway. Sidewalk chalk creates endless possibilities for using your imagination.
Have a Family Game Night
Everyone's favorite board games and a ton of snacks is the start of an evening of quality family time. Or get creative with games that don't require any equipment! Either way, every member of the family wins when you're getting to create memories and have some lighthearted fun.
Gt a Dance Party Going
In the chaos of the evening tasks and preparing for the day ahead, you need something to help everyone loosen up. A five-minute dance party puts everyone in a better mood. 
Designate a Screen-Free Hour
Screens make life easier and entertainment accessible. But, you might want to designate some time as a family to put the phones down and enjoy one another's company. An hour of screen-free time every evening encourages endless quality time experiences.
Pray or Meditate Together
Maybe you're seeking some peace in your life and for your family. A time to pray or meditate together helps you focus on your values and discover your peace together.
Have a Picnic
Kids love eating outside. Let's be honest, we adults like it too. Pack up some picnic foods for some backyard dining or eat dinner on the patio for a serene evening with your kiddos.
Read Aloud Together
Literature has brought people together for all of time. Find a book series you love and spend some time reading it together as a family each day. You can swap duties as readers or even choose audio books to make the process easier.
Make It a Movie Night
Movie nights are simple, but they can become precious memories for your child. Let them help you choose a movie, prepare the snacks, and enjoy some time together without the pressure of conversation. Whether it's an inspirational and thought-provoking film, or something just plain fun, it's a win for everyone. 
Try a Puzzle
Have you ever noticed that working on a puzzle with someone always results in a long conversation? The same can consistently happen in your home if you spend a little time each evening making progress on a large puzzle together.
Embrace Arts & Crafts
Even if you don't consider yourself creative, your child probably loves making arts and crafts projects. Do a few of those projects together or use this time to demonstrate interest in something they love and let them teach you all about it.
Quick Tip
Doing things with your kids in the evening doesn't need to take a lot of time, but it can be really meaningful if you let them pick the activity or choose to do something that you know they enjoy. If your kid loves drawing, grab a sketch pad and some drawing prompts and draw together for 15 minutes. Do they love building? Pull out the LEGO tub and build together. Anything they like is a good option. 
Evening Activities to Do With Kids When You Want to Go Out 
If what you really need is a break from staying home, try some fun activities you can go out and do. These ideas will help you get out of the house and make memories with your kids.
Go for a Walk
It's simple, but effective. Walks encourage conversation, adventure, and a healthy lifestyle. If you want to make it more interactive, turn the  walk into a simple scavenger hunt. 
Go to the Park
If you're out walking anyway, you may as well head over to your local park. You can stroll the walkway, check out the trails, or allow your kids to enjoy the playground area so they're a little more eager to climb into bed for sleep later in the evening. You'll likely want to do this activity as a family before the sun fully sets in the evening.
Check Out a Local Museum
If it's a weekday, your local museum or aquarium probably won't be super busy. This is your chance to leisurely stroll the sights and have some conversations with your child about what you see.
Grab Ice Cream Together
This might not be something you want to do daily, but a little ice cream treat can certainly turn your day around. Going out for a quick little treat might improve your mood and make a sweet memory for your child in the process.
Hit Up a Food Truck for Dinner
If you're already out grabbing ice cream, you might grab dinner as well. Chasing down your favorite food truck is fun and making dinner special is an instant win with the kids.
Play Mini Golf
Some friendly competition with your kids can be loads of fun. Hit up your local mini golf course for an evening of laughter with your whole family. For nighttime fun, lunar golf is a fun way to enjoy the sport together.
Have a Mom or Dad Date Night
Quality time as a family is great, but quality time with each individual parent is also important for children. Plan something you both can enjoy together and spend some time chatting about whatever might be on your child's mind.
Try a Family Bike Ride
You can rent bikes at many parks or just invest in your own. Either way, this fun family activity is a great way to wrap up your day, get in some movement, and spend time with your little one.
Go for a Drive
Driving is just therapeutic sometimes and maybe that's what you need most after a tough day. You never know, your kid might need the same. Go for a drive together to simply sit in silence or to talk about the happenings of the day.
Things to Do With Your Kids While You're Getting Other Things Done
The evening is often as full of tasks and responsibilities as the rest of the day. That means that as much as you want to spend time with your family, you also have things on your list that must be done. These activities will help you spend time with your kid while taking care of the things you must do.
Make Dinner Together
You have to do it anyway, so you may as well have fun doing it. Get your kids involved in age-appropriate ways they can help prepare the meal so you can spend time with them in the process.
Get Groceries Together
Even a trip to the grocery store can be exciting for kids if it means they get one-on-one time with you. Take them with you to the store and check off your list while you chat about the day.
Work Out as a Family
If you prioritize fitness, including your kids is just another way to reinforce the importance of health for them. Take them with you to the gym or set up a home gym you can all enjoy together.
Do Yard Work Together
Your kids might not be eager to pull weeds, but they might be willing to play in the dirt while you do. Let the tag along for your outdoor maintenance and find ways to make the experience fun for both of you. ave little kids practice counting the number of weeds they pull or have older kids race against mom or dad to see who can pull the most. You can also offer a reward or incentive to have them help.
Learn Something New Together
If you've been longing to learn an instrument or take an online course, you might enjoy having a study partner. Show your child the importance of being a lifelong learner and let them join you in the process.
Make the Quality Time Count
At the end of the day, it's not about the things you do. Spending time with your child is about building on your relationship and enjoying one another's presence. You might want to choose something you both enjoy doing, but what matters most is that you do it together.