There are so many things they don't tell you about becoming a mom. A major one is how little time you have to get ready every day. There's a reason so many new moms go through a big chop; it's fast and low-maintenance.
But you can have the best of both worlds when you have a family with some simple tips and tricks. Try out a few of these easy hairstyles for moms and see which ones make you feel the best.
Try Overnight Beach Waves
Heatless curls have taken social media by storm. These satin u-shaped puffs have changed the wavy curl game for people who need to be on the go from the moment their alarms go off. You can find them for pretty cheap about $10-$20, which makes them a much more cost-effective investment than a Dyson Air Wrap, for example.
To get these beachy waves, dampen your hair and, starting from the ends, rolls the hair into the puff. Use the interior structure to clamp it into a position that's comfortable to sleep in. Release the puff in the morning and tousle the waves using your fingers or a wide-toothed comb.
Toss It Up With a Turban or Scarf
When you're nearing wash day, you've probably got a little excess oil in your hair. To zhuzh it up without using a ton of dry shampoo, toss your locks up with a turban or a hair scarf. From the back, collect your hair, and twist the scarf/turban to the front, trying at the top of the head. This makes adjusting the knot as the day goes on super easy.
Put Together a Sleek High Pony
Ponytails aren't only for your kids! Lightly spray the top of your head with some water, and using a boar's hair bristle brush, smooth the hair back into your hand nearly at the crown of your head. Then, use your favorite kind of elastic to secure it into place. And if you really want to keep that high pony stuck in place, spritz it with some light-weight hairspray.
Braid Your Hair Back
When in doubt, braid your hair back. Moms with longer hair know how much harder it can be to style your luscious locks when the clock's ticking down. Big chunky braids have been a go-to for decades, and they're still one of the easiest hair styles to put together. Go simple with a three-strand braid or get a little more complicated with flashy Dutch or Fishtail styles.
Gel Your Hair Down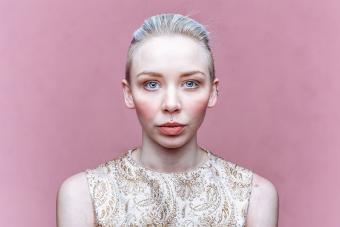 For short hair that takes a lot of product and heat to create volume, one styling tool you can use instead is gel. We're not talking the heavy greaser style gel that was popular with 50s pompadours. Today, there's a ton of lightweight gels made for all hair types and textures. It will only take a few minutes to slick your hair back with some gel and a fine-toothed comb.
Tame Your Bedhead with a Blow Dryer
You don't need to go to the salon for a simple blow out. With a roll brush (use smaller sizes for shorter hair lengths) and a blow dryer, you can give your hair a new lease on life after rolling out of bed. If you don't shower in the morning, you can wet a comb and spread it through your hair or spritz it with a spray bottle.
To add a little volume and life to your hair, use the brush to roll up and out at the root as you blow dry. Focus on directing it back and pulling it to the front for maximum lift. Also, consider teasing the roots if you have naturally flat hair.
Make a Top Knot That'll Put Mom Buns to Shame
Stereotypical mom buns take just as long to put up as this classy ballet-inspired bun does. Simply gather your hair as if you were making a ponytail, twist it in one direction and wrap it around a central point at the crown out of your head.
Once all the hairs are wrapped around, forgo any elastics or scrunchies as these don't secure the twisted strands as well as hair pins do. Take the hair pains and work around the circle, pinning the bun into place. Pull a few strands out around the temples to frame your face and give it a less manicured look.
Rely on the Half-Up, Half-Down Style
A half-up, half-down style truly takes two minutes to do. Use the top of your ears as a guide to gather about half of your in your hands and wrap it into a bun that sits on the top of your head. It's a cute style that has a hint of sophistication, plus it keeps hair out of your eyes when you're running after your kids on the playground.
Get Funky With Some Space Buns
In honor of Princess Leia's iconic space buns, these dual buns have worked their way out of the kids' salon and into influencers' repertoires all over the internet. To give yourself some space buns, use a tail comb (the one with the long stick on the end) to give yourself a middle part. Follow that part all the way to the base of your head.
Clip one section with duck bill or claw clips and pull the other into a pigtail at the top of your head. Wind the pigtail around itself and secure with elastic or hair pins. Do the same for the other and try to match symmetry as much as possible.
Quick Tip
Slightly offset your first bun to the side of your crown instead of plopping it directly on top. This will make your style feel more balanced.
Pin Back with Barrettes or Hair Pins
Dip into your kids' closet by pinning your hair back with some colorful barrettes or hair pins. You can embrace the "what's yours is mine" motto while also keeping your hair out of your face in some semblance of a style. Take the strands at your temple and pin them back alongside the edge of your head or at the very back.
Give Yourself Two Braided Pigtails
A super fun style to give a youthful flare is to braid pigtails into your hair. Perfect for multiple different hair types and textures, as well as lengths, this is a hairstyle you can even prep the night before and have ready for when you've got to start the day bright and early. Make that middle part using your tail-end comb, clip one side, and get to work braiding down the back. And, you don't have to know how to French braid either! You can start the braids as high or low as you'd like.
Straighten Your Simple, Sharp Bob
A smart bob is the straight-haired woman's best friend. With a little hair oil and a hydrating spray, your severe bob cut will look like you've just gotten it done at the salon. You can use a straightener to really create a smooth line or blow the ends under for a more natural look.
Stick to Short and Tousled With an Easy Pixie
Last, but not least, is the tousled pixie. There's an unspoken trend in early motherhood that marks a new mom and that's the pixie chop. Not everyone gets rid of their long locks, but when you're in the throws of a 5-day sleep deprived streak, those kitchen scissors look more and more appealing.
When styling your new pixie, the biggest tip is making sure you comb or brush it into place while it's still wet. And try not to fall asleep on a wet pixie cut, because you'll have to re-wet and style the whole thing when you wake up to a serious case of bedhead.
Don't Sacrifice Styling Your Hair to Motherhood's Demands
Every mom deserves to feel great about how they look, whether you're in that pesky post-partum period or your schedule's crazy from managing older kids and their activities. There's not much that can make you feel more like yourself than putting your best face forward. Yet, time's the currency with the highest exchange rate for moms - so these easy five-minute hairstyles might just be the way to go.