Free printable graduation invitations made in Microsoft Word are fun and easy to use. You can save tons of money at graduation time by customizing free to download graduation invitation templates instead of purchasing fancy invitations. Click on the template you love most to download, personalize, and print using Word.
Free Graduation Photo Invitation Template
Show the growth of your graduate with graduation photo invitation that includes two photos of the graduate. You could choose to add two senior pictures, candid photos, a photo of where they're heading to college, and even a kindergarten graduation photo. This digital graduation announcement template includes standard graduation invitation text and the phrase "All Grown Up!"
Ways to Customize the Template
A personal invitation from the graduate always means more than a standard invitation, so add as much personality as you can.
Choose two great photos that showcase the graduate.
In the place of one photo, add the school logo or mascot.
Include the graduate's nickname or full name, whichever feels right to you.
Have guests RSVP directly to the graduate instead of a parent.
Add an event after the ceremony so guests can celebrate with the graduate in a more personal way.
Printable Graduation Invitation Letter Template
A graduation invitation letter looks like a handwritten letter and feels very personal. The cursive handwriting makes it look handmade so guests will feel honored to receive an invite.
Ways to Customize the Template
Adding special touches to the template makes the invitation feel even more unique and special.
Print invitations on white paper for a modern look or beige and pale yellow tones for a vintage feel.
Have the graduate write a personal post-script (P.S.) at the end of each letter.
Roll letters into scrolls tied with ribbon and hand-deliver.
Free Graduation Quote Invitation Template
Use a fun or serious quote from graduate to create a graduation quote invitation. The template features room to add a quote in large letters at the top to send a special message to guests. There's room to add in all the basic graduation information.
Ways to Customize the Template
Since the quote is the star of the show, look for unique sayings or phrases that set your invitation apart from the rest.
Use a famous graduation quote from someone the graduate looks up to.
Pull a lyric from a graduation song to use as the quote.
Look back through saved school papers and old home videos to find a quote the graduate said as a kid.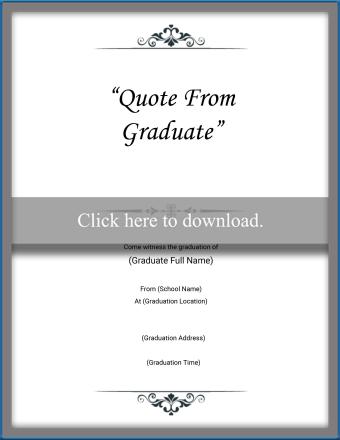 Printable Graduation Cap Invitation Template
One modern graduation trend is to decorate the top of graduation caps with fun sayings or words so ceremony guests sitting in risers can read them. This invitation template has the look of a decorated graduation cap making it unique. The blue color scheme symbolizes education and the phrase "Hats off!" goes with any type of school graduation.
Ways to Customize the Template
This basic template has a modern feel, but you can make it more personal with your choice of words and delivery.
Glue the invitation to the top of a 3D paper graduation cap.
Include fun or inspirational wording you might actually see on top of a graduation hat.
Attach a real tassel to the invitation for a 3-dimensional graduation invitation.
How to Make Your Own Graduation Invitations
The easiest way you can make your own graduation invitations is to start with a free printable template. Graduation announcements and graduation invitations are not the same thing, so make sure you understand what an invitation should say. It should definitely include the graduate's name, the location and time of the ceremony, and if an RSVP is required.
Look for a design that fits your graduate's personality or aspirations.
Download the template using the download icon in the top right corner of the screen. Rename the document so it's easier to find.
Use every editable space as an opportunity to adjust the graduation announcement wording and include personal information and show some personality.
Choose a high quality paper to print on or have them printed as a copy store for even more paper options.
Tips for Sending Graduation Invitations
When you mail out or deliver graduation invitations depends on whether tickets are needed. How you send them depends on who you're inviting, how many people you're inviting, and your personality.
For ceremonies with unlimited seating, sending invitations out about three to four weeks in advance is fine.
If guests need tickets, you'll want to mail out invitations about two weeks before the ticket collection deadline so you have time to receive RSVPs.
When inviting fewer than 15 guests, hand deliver invitations to everyone who lives close by.
If you're on a budget, email the finished invitation template to guests. Make sure to use a great, descriptive subject line.
Make invitations look more formal by splurging on lined envelopes.
Make invitation envelopes more personal by including photo stamps of the graduate and having her handwrite addresses.
Customize Your Graduation Invitations
While you can buy high school and college graduation invitations online from a variety of retailers, you have more freedom to be creative and can save money when you use free printable graduation templates. A graduation is momentous and personal at the same time, so customize invitations to match.