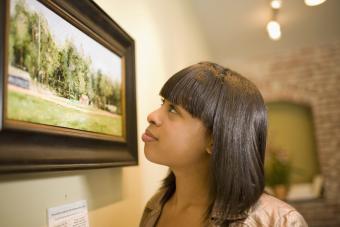 If boredom is dragging you down, find some fun things to do with teenage friends, or take a solo adventure! Fun things for teens to do range from going out and exploring your city or town to exploring the internet. Try some of these ideas, and throw in your own twists based on what you already like to do.
Free Things for Teens to Do
Most teens struggle with having enough money, so free activities can kill the boredom blues.
Visit a museum on a free day - Check out your local museums on one of their free days. Not sure when the next free day is? Call your local museum and ask. In addition, most local libraries have passes to family-friendly attractions. Just call to see if your local branch has this opportunity. There's also Museum Day Live, a national day where participating museums offer free admission.
Repurpose clothing - Look through your closet and dresser to find old clothing items that you don't want any more. Sell the ones you can, but consider repurposing the rest. Turn an old T-shirt into a fun pillow or cut off the legs of your jeans to create shorts and use scraps of fabric as patches.
Break a world record - Find an obscure world record and see if you can break it. Can't break a record? Gather some friends or neighbors and have a record-setting competition. See who can unroll a roll of toilet paper the fastest or who can wrap someone in newspaper in the shortest amount of time.
Pet Rock - Find a nice rock, paint it to look like a pet and care for it all day as if it were a real pet or even a baby. Don't forget to take it with you everywhere you go for at least 24 hours.
Online Activities for Teenagers
If you want to be online, but are tired of the old familiar websites and apps, these ideas might fit the bill.
Upload a video to YouTube - Create a video with an app such as iMovie, then upload your masterpiece to YouTube. Grab a video of your pet doing something cute, make a short film, do a gaming tutorial or make a stop motion movie.
Musical.ly - If you haven't downloaded this popular app yet, you're missing out. Easily create lip-synced music videos with Musical.ly and share them with your social media circles.
Start a blog - Share your thoughts, feelings and activities on a blog. For your safety, remember not to share too many personal details on your blog. Wax eloquent on your opinions, write a poem, or review the latest movie.
Have a conversation with Siri - Grab your iPhone and have a lively conversation with Siri. To start, you can ask her to "Beat-Box" for you; the response is great. You can also ask her about her love life, the meaning of life, or where she was born.
Selfie with your pet - Cuddle your furry little friend and take a few selfies. Costumes and props are encouraged. Filter and edit the photos and post them on your social media platform.
Solo Fun for Teens
When all your friends are busy, you need to find entertainment that is fun to do by yourself.
Get crafty - Look for projects that interest you on Pinterest, such as string art, duct tape wallets, bath bombs or beaded necklaces. Consider making these items as gifts for friends and family. You can sell any extra projects online or at a craft fair.
Create a scrapbook - Print your favorite photos of your family, your pets or friends. Assemble them in a scrapbook complete with stickers, captions and other embellishments.
Prank Someone - Plan some funny pranks to pull on your family or friends. Make sure the person getting pranked will find your shenanigans funny and that no one, nor their property, will be harmed.
Invent a new pizza - Create the weirdest combo of pizza toppings you can imagine. Gather all your favorite ingredients and see what wacky combo is your favorite. Be sure to write your favorites down so you can recreate them in the future.
Random notes of encouragement - Write words of encouragement on sticky notes and stick them in random places. Leave a few for your family to find, in the refrigerator, on the bathroom mirror or on the car's steering wheel. You might also want to leave some at your neighbor's house or even on a local community bulletin board.
Change your voicemail - Have fun coming up with a great new voicemail message. One idea is to say, "Hello," as you would normally answer the phone. Then pause and say that you can't hear the other person. Then hang up.
Things to Do With a Group of Teenage Friends
You and your friends usually have a great time together, but sometimes the same-old-thing might sound boring. Try some new stuff to help keep the boredom away.
Have a photo shoot - Gather some friends and a few fun props such as a wooden chair or large, empty photo frame. Take turns shooting "professional" type photos of each other. If you don't want to do a formal photo shoot, find a nice background and some fun props, such as hats and wigs, and create a photo booth.
Spa Day - If you can afford a trip to a real spa, grab your buddies and go. If your budget doesn't allow, create a spa at home. Take turns giving each other foot and shoulder massages, soak your feet, and eat light foods and drink flavored water. Don't forget to light a few candles or dim the lights and play some soft music.
Visit an exotic food market - Get outside your food comfort zone and try some new foods. Visit your local ethnic grocery store, or if you don't have one, try the ethnic food aisle in your nearest big chain store. You might be surprised to find something you didn't know you liked!
Tacky movie marathon - Find the cheesiest, tackiest movies on Netflix or Amazon Prime (or in your parent's movie collection) and have a movie marathon. Be sure to pop some popcorn and stock up on theater candy before you start.
Write a funny play - Write a humorous play about your school or group of friends. Write a spoof/satire play that playfully pokes fun of friends and some of the more popular teachers at your school. Practice and perform the play in front of friends and family. Be sure that your jokes aren't too harsh and that the objects of your satire have a good sense of humor.
Talk into a banana - Head to a public place with a banana. Hold it to your ear and pretend to have a long, meaningful conversation into it. Laugh occasionally or take notes. If someone tries to talk to you tell them to wait one second and then tell the banana you have to go.
Lost unicorn - Create a lost pet poster featuring a pet unicorn. Offer a reward and put it up around your neighborhood.
Outdoor Activities
Sometimes it's hard to concentrate on anything indoors when the outside looks so inviting. Step outside and have fun.
Chalk art - Chalk art is a standard childhood activity, but it can also be fun for teens and adults. Create an elaborate masterpiece on your driveway or surprise a friend with a beautiful creation in their driveway.
Seasonal fun - Enjoy the current season outdoors! In winter, go ice skating, sledding or make snow angels. In spring and summer, enjoy the pretty flowers, go to the beach for volleyball or have a picnic. During the fall, rake fallen leaves into a maze or jump into a large pile of them. You could also go on a hayride or pick apples.
Paint war - Buy some water-based paint, safety glasses (available at the dollar store), and gather some friends. Make sure everyone is wearing old clothes that can get dirty and have a paint fight. You can fill balloons with paint to throw at each other or hurl paint with brushes or hands.
Eating contest - Get some messy food that would be fun to eat with your hands (or without your hands) for an eating contest. Spaghetti, watermelon and pie would all be good choices. Invite friends, neighbors and family to participate and see if they can eat these yummy foods without utensils or even their hands.
Nerf gunfight - Gather all your Nerf guns (squirt guns could work too!) and have an epic fight with your friends or family. Set up targets for a little practice and divide into teams for a war. If you are by yourself, challenge yourself to hit targets around your yard.
Stay At Home Fun
Don't feel like going outside? You can still have fun while staying inside.
Googly eye everything - Grab a bag of googly eyes and put them on everything from the gallon of milk in the refrigerator to the photograph of Grandma. Make sure you don't ruin any of the objects you are attaching the eyes to. Wait for your family's response.
Blackout party - Pretend you don't have any electricity. Turn off the lights, light some candles and play guitar or roast marshmallows in the fireplace. Enjoy reading by candle light or living like a pioneer.
Balloon volleyball - Blow up a balloon and clear some space for a competitive game of balloon volleyball. If you don't have anyone to play with, see how many times you can hit the balloon into the air without it touching the ground.
RomCom and Ice Cream - Grab a pint of your favorite ice cream and curl up with your romantic comedy. If you're not a rom-com fan, have an action film marathon. As long as you have a pint of ice cream and a favorite movie, you can enjoy the evening.
Build a Lego city - Find your Lego blocks and create a whole city. Use your family dog or hamster as the oversized villain. Film your pet destroying the city.
Recreate your favorite restaurant food - This site that offers copycat recipes of many popular restaurant specialties. Most of the ingredients are items you might already have in your home.
Minute to Win It games - These short games require minimal set up and usually no purchases. They can be played with family, friends, or all by yourself.
Enjoy Your Time
To help ward off boredom in the future, consider sitting down and writing out a list of things you like to do. Store this list away for a time when you just can't figure out something fun to do. You might also want to learn about teenage mad libs as an enjoyable way to spend your time.