For those setting sail this season, creative boat captions are the best way to seas the attention of the many scrollers on your feed! The next time you're out on the water, snap a lot of fun photos and pair them with sailorly sayings to share your seafaring joy with your landlubber friends.
Not sure how to caption your pics? Explore the brilliant boat captions below and discover the perfect words to sum up your time on the water!
Unless otherwise noted, all quotes and captions are original and written by LoveToKnow Staff.
Short Boat Captions for Instagram
Let your boating photos speak for themselves by pairing them with super-brief captions. These short and snappy boat Instagram captions pair perfectly with fun photos of you and your crew on the water.
Boat life
Float life
Out to sea
Boat goals
Boat vibes
Aqua nuts
Hope floats
Boating babe
Makin' waves
Float therapy
Just add water.
Fortunate floater
Salty as I want to be
Carefree Boat Ride Captions to Show Off Your Bliss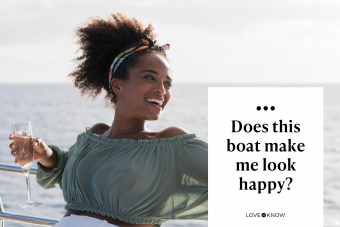 There's nothing quite as relaxing and awe-inspiring as a boat ride. The next time you're out on the lake or river, snap some spectacular shots and share them with your social connections.
Floatin' the coast.
Livin' the lake life.
Not a pier in sight.
Chillin' on the river.
Cruisin' with my bffs.
Boat hair, don't care!
Sailin' away from ordinary.
Ain't life grand on the water?
I like my water just a bit choppy.
Just soakin' up some sun and sea.
Does this boat make me look happy?
There's no such thing as a bad day on a boat.
Getting (a little) lost at sea is how I find myself.
There's nothing like sunshine and the open sea.
Funny Boat Captions to Bring Some Salty Smiles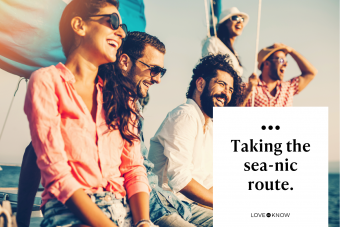 Okay, so maybe puns inspire more groans than laughs. Either way, they're still super-cute. Your friends are sure to at least let out a chuckle (even if they also roll their eyes) when you post these punny boat captions for Instagram.
Wake for me!
Ship happens...
Too hot to paddle.
Thrown for a sloop...
Taking the sea-nic route.
Float-loose and fancy-free.
Did I leave you in my wake?
Gettin' a boost of vitamin sea.
In port today? Naut if I can help it!
Will I be back soon? Naut if I can help it!
A day at sea? Just what the dock-tor ordered!
I love boating a yacht.
Back that raft up.
I was ferry impressed with today's views on the water.
It was a boat-iful day to be on the water!
Canoe believe it?!
I have been harboring hopes of a boat day for a while.
Sweet Boat Day Captions for Couples
When you and your beau go out cruising on the water, that's the best time to snap a few selfies of the two of you. Choose your favorites and share away. The sayings below will help you find just the right thing to say.
Love on the water.
My catch of the day.
Boatin' with my boo.
[He/she/they] reeled me in.
The only crew I need.
Just me and my buoy.
Me and my bae, floating away.
[He/she/they] really floats my boat.
Just me, my old man, and the sea.
Oh Captain, my Captain!
He/she is my anchor!
Isn't she boat-iful?
On land or at sea, together is where we always want to be.
Who's the captain and who's the first mate? That is the question!
Just [him/her/them], me, and the open sea. There is nothing else on earth I need.
Paw-some Insta Captions for Dogs on Boats
Boats aren't just for people! Puppers love them too. There's nothing quite as smile-inducing as a photo that captures the sheer joy of a dog boating with its people. Steal Instagram with a fetching dog caption.
Dogs love boats.
That's one happy pupper.
Welcome to the pup deck.
Dogs are built for boating.
That's a bow wow of a wave.
It's ruff out here on the water.
Ah, to feel the wind in one's jowls...
Boating beats playing fetch any day.
Woof! I'll never go back to car windows.
There's a reason it's called the dog paddle.
Boat days are simply paw-fection.
Yacht & Sailboat Instagram Captions to Highlight Your Adventures
Lucky enough to spend time on a yacht or sailboat? Document your boating adventure by taking all the photos your SIM card can hold and then pair each one with a suitable saying.
Boat envy
Come sail away.
Yacht too shabby!
Sailing is in my nature.
Livin' the yacht life.
A sailor's life for me.
Work hard, sail free.
Sailing soothes my soul.
She's a lot more than a little dingy.
Ready to sail-ebrate in style!
The bigger the boat, the better the vacay!
The best yacht is one that someone else gets to maintain.
I'm not the type to ride off into the sunset. I'd rather set sail.
If you still think one can't buy happiness, you've probably never been on a yacht.
Quick Tip
If you are spending the day on a boat, you will likely dock somewhere. This makes beach captions another great source of inspiration! And for those frequenting freshwater, don't forget about lake captions either!
Famous Boat Captions for the Serious and Silly Sailors
Sometimes the best way to caption a boat day is with the sage words of someone else. These silly and serious boat quotes can be a great choice for the seamen looking for some sage words to pair with their post!
Caption Your Love of Boating
With such a fabulous list of aquatic captions, it's easy to spread the word about your love of boating. Use these boat day captions as-is, or get inspired to come up with even more fabulous sayings about the joy of being on the water. Also, be sure to check out our 250 family boat names if you're trying to name your crew's vessel.