Looking for a worthy wine caption for your instagram post or witty expression to write in card to your wine drinking buddy? These 100 phrases will keep it light and fun, just as wine should be.
Witty Wine Captions and Phrases
Find all the cheeky sayings, slang, and witty expressions you need for your wine-centric social posts and more.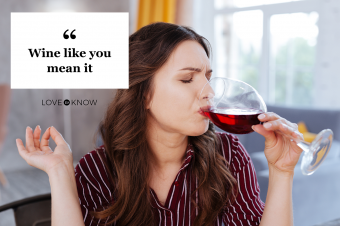 Winding down with wine
Vino for life
Save water, drink wine
Wine not?
It's Wine o'clock!
I decant even
Love at first sip
Wine time please
Either give me more wine or leave me alone.
On Cloud Wine
Splashing that juice
But first, wine
Drink wine, feel fine
I don't give a sip.
Life is what happens between coffee and wine.
It's always the right time for a glass of wine.
Wine like you mean it.
Wine smiles all around
Shining with wine
Wine Captions for Drinking With Friends
There isn't much that is better than a glass of good wine shared with a great friend. These quotes pay homage to just that.
Wining with the best
A bottle to share
Good friends, better wine
Friends who sip together stay together
I'll bring out the good stuff for you
One glass for you, one glass for me
Hanging with my best grape friends
Wine brings people together
Community in wine
Great minds drink alike
Celebrate with bubbles
You, me, and wine for life
Dine together, wine together
Friends through shared love of bubbles
You like wine too? Let's be friends.
Why would I wine with anyone else?
Waiting for my wine partner
Our friendship is like an aged Bordeaux.
Saving the best bottle for my BFF
You're my DOCG friend for life
Instagram Wine Captions
Is your grape juice shot hitting the gram? Choose the perfect caption for your photo that will make all your followers thirsty.
Keep calm and sip on
Mind blowing bottle
Keep it natural
Fermented grape juice
Glou glou hour
Nouveau new new
A glass now, a glass later
Thirty Thursday
By the bottle or by the glass?
Everyday juice
Splish splash
I promise I'm here for more than the label.
Crisp and cool, like me on a first date
Bubbles all day, everyday
Cougar juice
Wine of the day
My body is 50% wine 50% water.
Wine up
Wine shopping is the best shopping.
Wine Cellar Be Like
Art in a bottle
Glasses are overrated.
Wine Tasting Captions
Training to become a somm or just playing along? These descriptors and more are perfect quick quotes to capture your tasting experience.
Old-vine beauty
Tasting the terroir
Wine fair life
Sip, Spit, Repeat
Wine flight
Taste the world
Fruit-forward please
#vineyard life
So many wines, so little time
Tame the tannins
Bring the acid
Feelin' the mouthfeel
Juicy Juice
Sunshine in a glass
Tour and taste
Pour me another
Racy Acidity
Taste buds transformed
Bursting bubbles
Brimming with flavor
Specific Wine Style Captions
These playful, varietal-specific sayings are fun and witty, just like that Beaujolais you're drinking.
Vibing with my Valpolicella.
I only drink Franciacortta.
St. Laurent is my religion.
Pass the Pinot Noir.
Vinho Verde summer
Grenache groupie
Pinot Grigio girl
Riesling like you mean it
Bordeaux life
Wednesdays were made for Weißburgunder.
Show me the Barolo.
When in doubt, Prosecco.
There is no bad time for Champagne.
It's just another Malbec Monday.
Don't fret. Falanghina.
Rosé All Day
Moscato makes my world go round.
Cab Sauving my way through life
Chardonnay your way around
Write It Right
No matter what you're drinking, who you're drinking with, or where you are drinking it, there is a drinking caption out there for you. Choose the right one for your best friend, your bottle of Bordeaux, or your wine tasting in Burgundy.