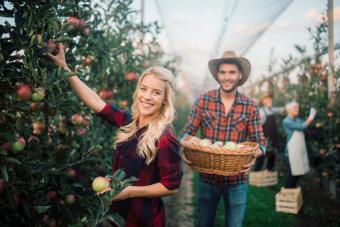 When the temperature cools down and the apples mature, that's Mother Nature letting you know that it's time to round up your friends and family for a day of apple-icious fun at a local orchard. From filling up a bushel with your favorite varieties to sipping freshly pressed cider while snacking on apple pastries, nothing signals that fall has arrived quite like apple picking season. Mark the occasion with a selection of selfies partnered up with the perfect captions to document the apple-picking fun.
Apple Picking Instagram Captions
Did you have a fabulous fruit-filled day at the orchard? Shout it out to the social-sphere! Your followers are sure to be green (or red!) with apple envy.
Will work for apples.
They're all Delicious to me.
I never met an apple I didn't like.
Into every life, a little Fuji must fall.
Havin' a Golden Delicious kind of day.
All in all, they're all just apples in the fall.
Supermarket apples are yesterday's news.
Dear Mother Nature, thank you for apples.
You see apples; I see pies waiting to be baked.
Everything's coming up Crimson Crisp and delish!
Seek and you shall find all the apples you can eat.
Captions for Family Apple Picking
What's a family outing that everyone will love? Apple picking, of course! This is your chance to get some truly candid fall family photos to share. Pair them with these creative captions.
A-picking we will go...
Havin' a Gala time with the fam!
This family is filled with good apples.
Adventure today, applesauce tomorrow...
They might be fruity, but I love them - cores and all.
We're off to pick a bushel, a bushel of wonderful apples...
We picked apples together, and we liked it (even the kids)!
Apple picking is the stuff that family traditions are made of.
A family that apple picks apples together truly sticks forever.
Apple picking: The one activity every generation can agree on.
Apple Picking Insta Captions for Couples
When you and your sweetheart spend a day at the orchard, be sure to snap some caption-worthy pics to share. Pair them with these heart-worthy captions for true #couplegoals memories.
Just me and my Honeycrisp.
[He/she/they] are the apple of my eye.
Picking autumn magic together.
I love [him/her/them] to the core.
Pickin' apples with the one I picked.
Pink Lady doesn't hold a candle to her.
We go together like apple and cinnamon.
Testing out our apple picking compatibility...
Apple picking in autumn with the one I love.
Awesome Apple Orchard Captions
Apples are awesome, but what about the orchard? It's a veritable forest of apple trees ripe for the picking! What an incredible backdrop for your social snaps.
The orchard is my happy place.
I could live in an apple orchard.
The orchard is calling, I must go.
Just strolling through the orchard...
This apple orchard is unbe-leaf-able.
There's no room for crab apples in this orchard.
Farm-to-table is great, but orchard to belly is faster!
You see an orchard; I see vats of cider looking for a place to happen.
The best orchard is one where the apple doesn't fall far from the tree.
If an apple a day keeps the doctor away, how powerful is a whole orchard?
Punny Apple Picking Captions
No collection of apple captions is complete without at least a few funny puns. Garner some giggles and groans with these cute but corny expressions.
Always stay by my cider.
Don't get all Winesap-py on me.
Pick back and enjoy some apples.
The orchard is my h-apple-y place.
Here I am, cored in the orchard with you.
What an a-peel-ing way to spend the day!
Well, that was an apple pie opening experience!
Walk be-cider me and be my apple picking buddy.
How'd you know the apples were ripe? I got an in-cider tip.
Where can an apple file a complaint against a worm? Apple-ate court.
Share the Apple Picking Love
From heartfelt expressions to silly sayings, there are a lot of creative ways to caption photos of your apple-picking autumn adventures. Feel free to use these as-is, or let them serve as inspiration for you to come up with even more wonderful ways to enhance your photos with words.