Funny Venmo captions can serve as a sly thank you to the person who saved everyone the split check fee or covered the tab when your wallet seemed to walk away.
They are also a clever way of calling out the friend who skipped out early on dinner without paying their part of the tab or stole the appetizer that you intended only for yourself. If you're searching for funny Venmo messages to make your transactions more comical, you've come to the right place!
Unless otherwise noted, all captions are original and written by LoveToKnow Staff. 
Funny Venmo Messages for Drinks to Toast a Person's Kindness
What better way to say thank you for last call than with a funny Venmo caption? These clever quips will give everyone a riesling to smile!
Team pumpkin spice.
Thanks a latte!
Sip, sip hooray! You are getting paid back today!
Making up for my pour decisions.
Marg my words — I will pay back the rest of what I owe you soon.
To a brewtiful soul, who made me very hoppy with last round!
Sending thanks from the bottom of my glass!
For all the lovely libations
Thanks for the fourth quarter pick me up. 
It's a grape day when we all get paid!
Fantastic Venmo Captions for Fine Food Purchases
The best of friends will always be there when you find yourself in a pickle. If you want to make a big dill out of their thoughtful gesture, these food-inspired Venmo captions are sure to help them relish the moment!
Sorry ... I thought the app was for the table.
That 2-for-$25 deal was seriously a steal!
I mean ... WHAT a burger!
We are seriously keeping Uber Eats in business.
Torchys runs. Just in queso you wanted your money back.
To a supreme friend — thanks for getting me the pizza I kneaded!
Thanks for the spec-taco-ular lunch!
I thought that the best things in life were fry, but have it your way! Here's your whopping [amount you owe] for the burger...
Thanks for brunching up our weekend!
So sorry for stealing your appetizer, but when you dip, I dip, we dip. 
Fast Fact
Don't be afraid to get creative with your Venmo captions! You have up to 280 characters to use so feel free to mix and match words and emojis together to make the perfect message.
Funny Venmo Requests to Get Paid Quickly
Asking for money is never fun, but you can cut the tension with a little bit of humor. These are a few ideas to get the funds flowing! 
You're a fungi ... but that was MY stuffed mushroom.
Turns out your mom was right. There's no such thing as a free lunch.
Penny or two for your thoughts…
I like big bucks and I cannot lie.
Can you give me my quarterback? 
Did you enjoy binging Yellowstone? My Paramount account thinks so...
I'm feeling a bit single. Care to double my pleasure and double my fun(d)?
Don't you love me???
It's that time of the month. Pay your bills!
It's the season of giving. Shouldn't you get in the spirit?
Funny Venmo Payment Captions for an Array of Moments
For those who want to send more than just a basic emoji message with their money, these playful Venmo captions can make things more fun!
You know why…
For taking care of my dogs who identify as humans. 
Thanks for the memories that happened before the margs.
To the person who makes sure I never go thirsty.
Thanks for rescuing me from my Tinder date.
Hopefully you remember what this is for...
Because my husband told me to pay you.
Sorry this is late. Thanks for not charging interest.
Officially debt-free as of [month] 2023!
Payment for our palace. How else could we live so pretty?
Funny Cash App Notes That Just Make Cents
Sometimes the best way to say thank you to someone for lending you cash is to make a funny money comment with your return of funds! Here are a few you will definitely want to check out!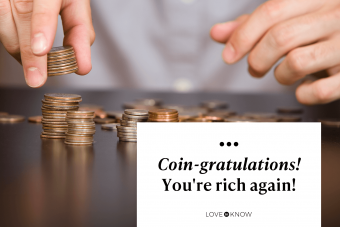 Sorry I'm so forgetful. I wallet forget next time.
For our cash only adventures...
Wads up?
Your contribution was note-worthy. 
That was a cents-ational night!
What is this money for again? 
Thought I was going to make a clean getaway. Oh, how dimes have changed.
Grab your umbrella! I'm makin' it rain!
Coin-gratulations! You're rich again!
Thanks for cashing up with me last night!
Funny Zelle Memos for the Adventures You Don't Want to Advertise
Sometimes, what happens at the bar, needs to stay at the bar. When you want to hint at your fun without giving the whole story away, these comical Zelle captions can get across what you want to say!
Worth. Every. Penny.
To our terrific tomfoolery!
Glad we didn't die...
Thanks for being the ultimate chauffeur!
Re: Last night's shenanigans
For that unfortunate series of events...
Paying my weekly klutz fee. Sorry about you know what...
For coming to my rescue yet again.
Remind me why we are living life like there is no tomorrow?
Thanks for the memories! You may need to fill in some blanks later.
Brilliant Birthday Captions for Your Venmo Presents
For those moments when you realize that someone's birthday has come, and almost gone, Venmo can save the day! These funny Venmo captions can capture your sentiments and help your friend celebrate just a little bit longer.
Last call!
Level [age]
Same time next year?
Make a wish!
At least the gift isn't belated?
I'm here to cake your day! 
Since you are no longer on your parent's health insurance...
Celebrate good times, COME ON!
Love you bunches!
You take the cake! But now you can buy some!
Clever Quips to Throw in Your Venmo Descriptions
Venmo is the perfect place to pay a person for virtually any predicament. These punny and clever captions are sure to perk them up even more than their payment!
Could you be any richer now?
Marked Safe From Lost Wallet Worries. 
Friends don't let friends pay for drinks alone. 
Keep the change, ya filthy animal.
Because you need it more than I do. 
Continuing my gambling addiction — hoping for a home run this season.
Thanks for always giving me your kid's snacks. You're a great mom friend.
At restaurants, broken dishware brings applause … sorry I didn't know the rule was different at your house.
Thank you for being a friend! Traveling down the road and back again. Go ahead, gas up on me!
Funny Venmo Captions Can Brighten Everyone's Day
Get creative with your payment descriptions and make everyone's day a little bit more joyful. These silly sayings can bring a smile to people's faces, even if they are the ones who have to send you money!