If you are celebrating, wine is often on the guest list. This makes wine quotes the perfect pairing for your festivities. Our menu includes a blend of social-worthy captions, funny wine quotes, and elegant expressions that relate wine to the various aspects of the human experience.
No matter what your palate prefers, we have a varietal of wine sayings that are sure to please.
Unless otherwise noted, all quotes are original and written by LoveToKnow Staff. 
Funny Wine Quotes to Sweeten Up Your Instagram Posts
Looking for some chuckle-worthy vino sayings? Punny or not, these Insta-ready wine quotes are sure to lead to some laughs.
Que syrah syrah.
Keep calm and sip on.
Just say yes to wine.
Makin' some pour decisions.
Wine today, hangover tomorrow.
Grape minds drink alike.
Just sharin' some sour grapes.
Resting wine face.
I wine, therefore I am.
I'm on cloud wine.
Wine gives me superpowers.
Just me and my big girl glass.
Wine Sayings to Show Off Your Bottle Full of Fun With Friends
Not all wine sayings have to be crafted for social selfies. True friends and great wine have a lot in common!
Say hello to my pourin' posse.
My partners in wine.
Clinkin' and drinkin' with the BFFs.
Come sip with us! The more the merrier!
All things are possible with a good friend and a glass of wine.
Friends who sip together, stay together.
True friends know when to be quiet and let you wine.
Wine always tastes best when shared with a good friend.
If friendship was wine, you'd be the most prized vintage.
Find happiness in the glass, surrounded by friends.
This is much cheaper than therapy!
Pilates class? I thought you said pour a glass!
Take caution if you sip with us ... they have quite the vermouths on them!
Quick Tip
For those who like to gift a bottle of vino for practically every occasion, a simple way to customize this gift is to tailor-make a label for the person you plan to share it with! These wine quotes can be a fun way to caption your love for them and good wine!
Winning Wine Quotes for Moms, Because If You Know, You Know
Once you become a parent, you quickly realize why your mom had such an appreciation for fine wine. It was YOU. As you step into her shoes and find the need to wine down in the best way, consider these amusing adages about this ever-necessary adult beverage.
To stay sharp, I only drink wine on days that end with 'y'. 
This is mommy's special juice.
Did you know that you can buy liquid patience?
If you want to be more open-minded, then simply open a bottle of wine!
Every mother needs two things to survive — coffee and wine. Just don't guess which one is in the mug.
I always tell my kids to never keep things bottled up. I didn't want to be a hypocrite!
I'm surviving motherhood one glass of wine at a time. 
I always cook with wine. Sometimes it actually makes it into the pan!
Oh, sweet child of mine. You are the reason I need this wine.
Short Red Wine Sayings for All Your Zin Moments
Red wine is in a category all its own, so it's only fitting to include a few wine sayings and puns specific to it!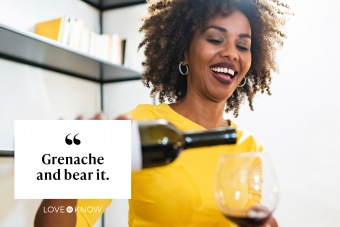 Grenache and bear it.
Life is a cabernet.
Any port in a storm.
Just say yes to pinot noir.
A little merlot never hurt anybody.
My friends always have malbec!
Did last call seem a bit a little primitivo?
Heigh-ho, heigh-ho, it's time to pour the merlot!
I'm Bordeaux out of my mind, unless I'm drinking red wine!
It's just another merlot Monday!
Classy Wine Quotes for All Your Elegant Occasions
No collection of witty words about wine would be complete without a selection of upscale expressions for your fanciful occasions!
Wine is liquid poetry.
Tannins are the flavor of life.
You're worth the good wine.
Wine is meant to be sipped and savored.
Wine plays a prominent role in a life well-lived.
A good wine is like a catchy song. It excites the soul, livens up the mood, and provides a sensational sensory experience.
Enjoying the greater things in life — good food, great friends, and fine wine.
Wine allows us the opportunity to slow down and savor life's fruitful moments.
Funny Wine Quotes About Your Wine-derful Life
Not all quotes about wine and life have to be serious. Humor has a place too! Explore these funny quotes about life and vino!
Seize life by the wine glass.
Life is too short to drink cheap wine.
Need to wind down? Sip a little wine down!
Think of your life like a fine wine — it only becomes richer with age. 
Life looks better through rosé-colored glasses.
If you can't be with the wine you love, love the wine you're with.
If you want to age like a fine wine, then drink some!
Working nine to wine. Just trying to make a living. 
Opening a good bottle of wine allows us to explore other parts of the world with a single sip. 
In both celebrations and sadness, wine is the confidante that we need. It cheers any occasion.
Flirty Wine Quotes & Puns for When Your Heart Is on Cloud Wine
Is wine your love language? These fun and flirty wine puns are perfectly suited for some banter with your special someone.
You had me at prosecco.
You're my riesling for living.
You sauvignon-ed me from myself!
You're the cabernet to my sauvignon.
I zinfandel for you!
Rosé with my bae!
Love the wine you're with. 
They had me at merlot!
Will you accept this rosé?
You're so vine. I think about you all the time!
Just like a fine wine, this person gets better with age!
Yes, size matters! Who wants a small glass of wine?
Romantic Wine Quotes to Toast the Wine That You Want
If you're looking for a romantic wine quote, such as for a wedding or engagement toast, consider these more sentimental wine sayings.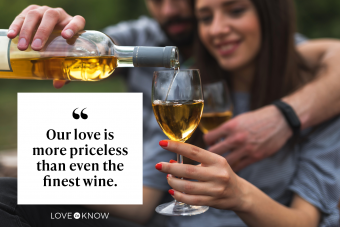 Our love is more priceless than even the finest wine.
I will love you longer than the finest wine requires to reach its peak.
Like a fine wine, as long as it's allowed to breathe, true love never expires.
If my love for you were wine, it would be the most precious vintage.
Like a rich bottle of wine, this person provides elegance to any setting. 
May our love age like a fine wine, growing better and richer with time.
Like this glass of champagne, we plan to be flute-ful and multiply!
Who doesn't love a full body with an outstanding personality and pure elegance? I would have been a fool to turn down such a thing! The wine was pretty good too. 
Famous Wine Quotes for the True Connoisseurs
Want to make sure your followers know how much you love wine? Put a cork in their curiosity with these famous wine quotes from iconic movies and songs.
Make Someone's Day With a Well-Chosen Wine Quote
From social captions to special occasions, these witty wine quotes provide a great way to brighten your day and put a smile on someone else's face. Don't stop there though! We have quite the selection of sayings to make someone smile any day of the week!