Pool quotes and captions are the perfect way to show off your splashing good time! Make your pool pictures stand out from the crowd by adding any of these impeccable pool sayings. From classy to sassy, these captions capture the fabulous fun pool time brings.
Unless otherwise noted, all quotes and captions are original and written by LoveToKnow Staff.
Clever Pool Captions for Instagram Poolside Pics
Grab your bathing suit and hit the pool! It's time for pool selfies. To make sure your pics are epic, you can add a unique pool caption to grab the attention of those scrolling by. We love these essential summer captions for relaxing by the water.
Beach, please! I'm floating in the pool.
Suns up, the float is out.
Keeping it cool in my pool.
Relaxing needs a cool drink and even cooler water.
Breathe - pool time is almost here.
It doesn't get hotter than floating on the water.
Close your eyes and feel the water around you.
When I need a break, I float in the pool.
Nothing is better than relaxing in the pool.
For fun in the sun, add a pool.
Short Pool Captions for Getting Your Swim On
Looking for a short pool caption to add to your Instagram? Try out one of these gems. They scream 'getting in the water.'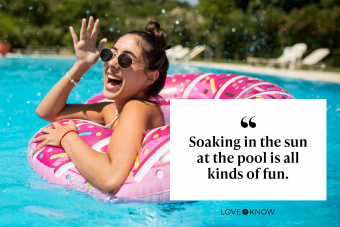 I keep it classy most of the time, but in the pool, I'm sassy.
Mixed drink in my hand and feet in the water.
Bathing suit = yes, please.
Poolside is my best side.
Definitely a pool state of mind.
Life is better in the pool.
More swimming, fewer worries.
Sorry, the pool is calling.
It's a waterful life soaking up the sun by the pool!
I can't answer. I'm going swimming.
Soaking in the sun at the pool is all kinds of fun.
Funny Pool Quotes That Will Show Off Your Splashing Good Time
If your relay want to show off your poolside fun, then consider using a fin-tastic pun as your pool caption! These funny phrases are sure to go swimmingly with your photos!
If you are not spending summer by the pool, then water you doing?
Pool's out for summer!
Chaising my blues away by the pool!
Getting back to the swim of things...
Girls just wanna have pool fun!
Talk to the tan. #pooldayvibes
Floating on sunshine!
Just add water!
There is always a 100% chance of us having a splash-tastic time at the pool!
Glowing brighter by the pool!
Now that's what I call using your noodle!
I stay fit by doing my pool-ups every day.
Check out today's pool-aroids!
Quick Tip
Jokes are another great way to grab the attention of your followers! If you managed to snag some funny poolside shots, consider using summer jokes for your pool Instagram captions.
Cute Pool Captions to Spice Up Your Summer Photos
Summer, pools, and cool drinks are waiting for you. Show the world that your summer is slammin' through these cute pool captions. They are sure to spice up your snaps.
Bikini, pools, relaxation! It's all I need.
Feeling stressed, jump in the pool.
Nothing is better than being surrounded by water.
Swimming is my kind of exercise.
Dive in and let the water take over.
Float, relax, repeat.
Some of my best memories are found in the pool.
Bliss is floating on the water.
Find your happiness in a pool.
There is nothing more fun than floating in the sun.
Perfect Pool Sayings to Share
Adding your perfect beach vacation to the scrapbook? Try out a few of these superb captions to make your pics pop.
Summer is about to get funner; just add water.
Pool time is fun time.
Water makes you sparkle.
Poolside glam.
To look your best, hang out by the pool.
Swimwear is my wear.
When you are ready to whine, get some sunshine.
The pool gleam is the dream.
Swim, soak, float. That's my happiness.
I live for the sunshine and the pool.
Sassy Poolside Captions for Those Summer Vibes
From sassy to sexy, the pool just makes you feel fabulous. Show off your summer vibes to the world with a few fun sayings. These are perfect pool captions to add to a mug or tumbler.
Poolside is less classy and all sassy.
Summer means perfect pool weather.
Sexy, playful, alluring! Yes, I'm talking about the pool.
Do you smell that? The pool is calling.
Every day is better in a bikini.
Don't be a potato. Move your lounging poolside!
Drinks flow poolside.
Chill out in the pool.
Get your sunglasses and hit the pool.
No shirt, no shoes, no problem! Just meet me at the pool!
Cool Posts for Life-at-the Pool Pics
When summer finally comes, you want to take all the pictures. These pool Instagram captions are the best accessory to go with your tan shots of the season!
If you want to see me at my best, catch me at the pool.
Lazy days in the pool turn your summer up.
It's so cruel when you can't hang out at the pool.
Have a staycation in the pool.
Enjoy life in the pool.
Picture perfect is in the pool.
I'd rather be in the pool.
Sunshine, cocktails, and pools are calling my name.
Grab a friend and hit the pool.
A pool and good friends equal a good time.
Fun Pool Sayings to Add to Your Summer Selfie
When it's pool time, you can't help but add a selfie or two to your feed. Make sure your post trends with the prime pool quotes.
Grab your flip-flops and hit the pool.
Sexy selfie - just add a pool.
Pardon my absence. I was at the pool.
Prepping for a pool party.
Summertime fun in the pool.
Pool life is like floating on a cloud.
Getting ready for swimsuit season.
Prime pool time.
Pool floaties fill my life.
It's time to pool.
Swimming Pool Captions for Perfect Pics
You can't be picture-perfect without a fabulous caption! It sets your picture apart. Keep one of these unique pool captions in mind for all your social media posts.
Today's forecast: Hitting the pool.
Chill out and get ready for the pool.
Oh, pool. I'm so ready for you.
Laying in the pool is what summertime is all about.
Are you pumped for the pool?
Let's get sassy! It's pool time.
Shake your tail fins! It's pool time.
Summer potential is found at the pool.
Did you say pool party? Count me in.
Keeping it real, poolside.
Swim-tacular Swimming and Pool Quotes From Famous Faces
Pool quotes can be funny, insightful, and even inspirational! These famous phrases from athletes and fictional characters who spend a lot of their time in the water can be spectacular pool sayings to pair with your Facebook or Instagram posts.
Share Your Pool Pictures With the World
Set your pictures apart with a few choice words. These pool quotes are as fun and bold as you are. They can also make for an awesome addition to your beach house decor or you can use them to customize a gift for a pool-loving friend. No matter what, they'll remind you to float like there is no tomorrow!