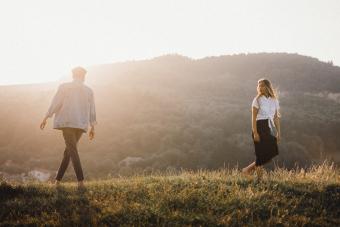 The one that got away can be hard to forget. From the perfect moment that never was to the lover who left, poignant quotes can help you look back on the one who remains forever in your heart. Get ready to dive into a beautiful list of "the one that got away" quotes. They offer a cathartic way to reminisce about that precious person.
Remembering the One That Got Away Quotes
Thoughts about the one that got away just hit you right in the heart sometimes. You could be doing the dishes or driving your car, and your memories are suddenly flooded with their image. Different things can trigger you, from a particular color to a song, or even a scent. At that moment, you wonder what your future might have looked like if that path had been taken.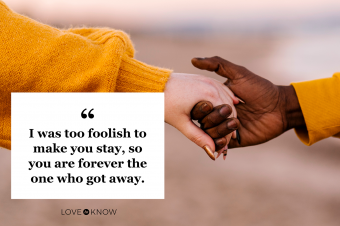 Though you were only a grain in the sands of time, you changed me. Your presence changed the very fiber of who I am for the better.
I didn't realize that your soul was part of mine until you weren't part of my daily life. Even though you are gone, you will always be with me.
You are the moon and I the tide. You will always have an effect on me.
Your memory flitters across my mind like a beautiful song long forgotten.
There is a piece of my heart that will always be yours. It's much like a porch light waiting for you to come home.
You crashed into my world with the intensity of a hurricane. You brought light where there was only darkness. For that, I will never forget you.
When I think of the love that could have been, my memory always shows me your face.
I was too foolish to make you stay, so you are forever the one who got away.
Sometimes the most precious things in the world are meant to fly free. They are only yours for a moment before they go away, leaving you with what-ifs.
Long Lost Love Quotes to Reminisce About the Past
It can be hard to forget the love you lost. Because sometimes you don't realize how perfect someone was until the moment they are leaving. In addition to movies and songs to help you sort through your memories of them, try out a few quotes too.
Though we were not forever, my heart struggles with us not being together.
My heart still beats for you.
When the perfect person walks out of your life, heartbreaking chaos reigns.
Loving you completed me. Our memories together are still my greatest gift.
Sadly, it's the throes of separation that make you realize the depth of your love.
The moment you left my life, you took a piece of my soul with you. I take comfort knowing you always carry a little piece of me through life.
Your heart might have let mine go, but mine was not ready for you to leave.
Love is a selfish beast that takes my breath away because you are gone.
Heartfelt Messages About the One That Got Away
There is no specific reason why the perfect one gets away. From a missed opportunity to a misunderstanding, there are many reasons someone leaves your life. Check out a few "the one that got away" sayings you could add to a picture, card, or memory book.
There is always that one who lives in your heart forever. You are that one.
My view of the world changed the moment it crashed into yours. Though you are gone, the impact you left on my heart is permanent.
We missed our chance at love in this life. I can only hope that in the next one, we get it right.
You are a butterfly that lives forever in my heart. Your memory still brings me beauty and warmth even though you have long since fluttered away.
The hardest thing about letting go is realizing what could have been. You are indeed the one that got away.
I saw the beautiful future we could have created only after it was too late because you got away.
We could have had an epic love story, but sadly now it's just a chapter in life I'll always long for.
This is the moment where I knew without a doubt that you were the one that got away.
Quotes About the One That Got Away for Guys
Falling in love isn't a science; but accepting that a relationship wasn't meant to be is hard. These quotes can help you process and understand your emotions.
Your memory fills my heart with smiles and sadness. It's a strange balance.
You no longer live in my life, but my dreams are filled with the one that got away.
Having you in my heart but not my arms is a heart-wrenching reality.
To say I'm letting go of something I never had doesn't seem right; but it's hard to tell my heart that.
When our eyes met, I could see our future together, but fate took a different path. I will miss that future that never was.
It's only after they are gone that you realize you lost the brightness of the moon because you were too caught up in the stars.
There is always that one summer love you never forget.
The great love we could have had is the memory I will never let go of. You are the one that got away.
Famous Sayings About the One That Got Away
Everyone has that one person that got away from them. Check out a few famous "the one that got away" quotes.
"Your memory feels like home to me. So whenever my mind wanders, it always finds its way back to you." - Ranata Suzuki
"In another life, I would make you stay, so I don't have to say you were the one that got away." - Katy Perry
"You can love someone so much... but you can never love people as much as you can miss them." - John Green
"When you loved someone and had to let them go, there will always be that small part of yourself that whispers, 'What was it that you wanted and why didn't you fight for it?'" - Shannon L. Alder
"No one compares to you, but there's no you, except in my dreams tonight." - Lana Del Rey
"There's nothing worse than the one that got away. It haunts you for weeks like a bad dream, eats away at your psyche like a termite on softened wood." - Bruce Littlefield
"Though I never really had you… to me you will always be the one that got away." - Ranata Suzuki
"It broke my heart. He's the only one who got away." - Richard Corkery
"You're the one who got away. And I can't stand the thought of that happening again. I will do whatever it takes to keep you, he said, and the words torched her heart." - Lauren Blakely
The Perfect Words to Capture Love Lost
There are those people in your life who make such an impression on you that you often wonder how your world would be different if they were still part of it. These quotes provide sentimental prose to describe a person forever trapped in your mind and heart. Use these telling words to navigate your journey of fondly remembering your long lost love.