Adoption poems express the sentiments of those who have adopted children, those who've given their baby to someone to adopt, and those who wish to adopt in the future. These poems about adoption by Michele Meleen are uplifting and inspiring as they relate to adopted children and adoptive families of all types.
Adoption Poems for Adoptive Mothers
An adoptive mother's perspective is unlike any other. Express your unique point of view to your adopted child with sentimental poems. These inspirational poems from adoptive moms are a reminder for adoptive moms and their children of what makes their bond special.
Most Moms
Most moms don't get to choose
their idea of perfection
embodied in one child.
Most moms don't get to see
what their baby looks like
from the start.
I'm not most moms,
I'm one of a lucky few
who get to handpick their child
as I did with you
Mom
When you are ready
and you feel the love
I'll ascend from caretaker
and you'll call me Mom.
My Two Moms
God gave me one mother
to love and guide me.
When she needed help,
he gave me another.
My two moms both fill my heart
with compassion and care.
Because of them, I feel loved
whether together or apart.
Adoption Poems by Birth Mothers
Birth mothers may not ever have the chance to share their thoughts and feelings with a child they've placed for adoption. Poems from a birth mother's perspective can help adopted children connect with the person who gave them life.
For You
Unanswered questions
left me with fear,
with no way of knowing
my ability to provide care.I chose the safe route,
at least from my view,
the one that provided
a worthwhile life for you.
Our Magic Moment
We've shared one magical moment,
the moment you were born.
It's worth its weight in gold,
but you have other wonders to behold.
I'll cherish our one moment,
and hope you will too.
We may not connect in any other way,
But we'll always have our magic moment - your birthday.
Always Be My Baby
In my eyes,
in my mind,
in my heart,
you'll always be my baby.
There are no ifs,
no buts,
no maybes,
you'll always be my baby.
You'll have a new life,
a new family,
a new love,
but you'll always be my baby.
Adoption Poems for Children
Adoption is full of different emotions for everyone involved, especially children. Embrace your feelings with sad adoption poems that can also be inspiring and cathartic. Adoption poems from a child's perspective offer a look into the mind of an adoptee.
Knowing
I'll never know the smell of your hair,
How you lived life or even where.
I'll never know the sound of your voice,
Or whether with me you had a choice.
I'll never know the thoughts in your head,
Whether you're still here or possibly dead.
There are many things about you,
I'll never have the privilege to know.
But, one thing I know without a doubt,
Is you gave me a life to grow.
A Wanted Child
Adoption can make you feel
like someone didn't want you.
But that feeling can't be true.
The child I always wanted,
was a child I never knew
until I adopted you.
Sibling Love
You have one part
that's not in me
and we look different,
anyone can see.
But, you are my sister/brother
and that can't change,
because the love in my heart
won't ever go away.
Adoption Poems for Adoptees
Adoption can be a long and emotional process for children. Poetry about how it feels to be and adopted child can help family members relate to these complex feelings.
Complete
Unwanted, unloved,
without a guiding star.
I felt happiness
was out of reach, afar.
Desired, cherished,
your greatest wish was for me.
I feel complete
with my new family.
My Village
They say it takes a village
to raise a child true.
You gave me a village,
and for that I thank you.
Birth parents,
adoptive family,
you've given me a village
that never sees an adoptee.
I Adopt You
Looking for purpose
Craving love of family
I adopt you too.
Short Adoption Poems to Adoptive Parents
Short poems about adoption work great for keepsake items, adoption gifts, cards, or love notes to the adoptive parents.
Love Is Vast
Parent and child
together at last
adopted by choice
our love is vast.
Adopt It All
Adopt happiness,
adopt joy
whether girl or boy.
Adopt life,
adopt love
families built from above.
Complete Puzzle
A puzzle undone
Parents without birth child
Completed with your love
Adoption Poems for Grandparents
Adoptive grandparents looking to connect with a new grandchild can express their love through short, meaningful poetry.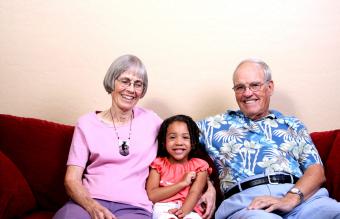 Love Is Grand
Love is grand
and family extends
beyond Mom and Dad.
They chose you
and we did too.
Don't forget to share the love
with Grandma and Grandpa.
Bonus Family
All I ever wanted
was a mom and a dad
to love me and call me
their forever family.
Little did I know
I'd get the bonus of
a forever Grandma and Grandpa.
Poems for Parents Hoping to Adopt
The adoption process for hopeful parents can be emotionally exhausting. Get inspired to keep your adoption hopes alive with powerful poetry.
My Own Child
All I've ever wanted,
all my heart has ever known,
is I've got room to love
a child of my own.
My child may not come
from my very own womb,
but he or she will be a part of me
and our love will help us bloom.
Hope Is Given
Friends and family give me hope
that one day I will find
the love that only a child can bring
and my heart will finally sing.
Hope is given here and there
near and far
always sincere.
As long as hope is given
I know my day will come
when I'll become a parent
through my dream adoption.
We'll Wait Forever
We've been waiting a long time
for our forever family
and sometimes it feels too long.
Why haven't we found our child yet?
Why must the hurt be strong?
We've been waiting a long time
for our forever family
and we'll wait forever
whether things go right or wrong.
Touched by Adoption Poems
Adoption poems will put a smile on anyone's face, especially when given as a gift. Place poems in an adoption baby book for a wonderful tribute to a child. Use poems in invitations, announcements, shower decorations, and more.