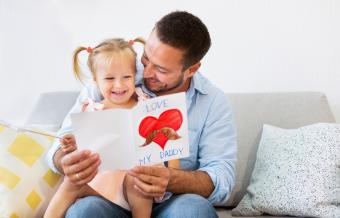 There are only a few things sweeter than receiving a heartfelt poem from a child. Help your son or daughter create a gift that will bring a smile to their Dad's face on Father's Day. Whether you're looking for preschool Father's Day poems to use in a card or ideas for father's day kid poems to include in a gift, these verses can give you some inspiration!
Examples of Poems for Dad's Special Day
A Father's Day poem from toddlers and preschoolers can be written any way your child chooses. Rhymes are always fun, but they aren't necessary, and you don't have to use a particular form. All your child's poem needs to do is tell their dad how he or she feels about him. Here are a few examples to provide some ideas for your kids to share with dear old dad.
How Babies Say Happy Father's Day
By Michele Meleen
I may not have the words just yet
to say "Happy Father's Day!"
But, I can show you with my love
in many other ways.

A little smile,
a tiny giggle,
tiny fingers gripping your hand.
These are all the ways I say
"You are the man!"
Looking Up to You
By Michele Meleen
When I look up,
you look down
and we see eye to eye.
You are big
and I am small,
each other's favorite guy.
This Father's Day
and all to come
I'll look up to you.
Because you are
who I want to be,
The best dad I could learn through.
Happy Father's Day to My Hero
By Kelly Roper
Dad, you are my hero,
Because of all you do.
And on this Father's Day,
I want to say
I'm proud of you!
I love you so much, Dad,
And I want to be sure you know,
That every day, in every way,
I'll love you more as I grow.
To My Dad
By Kelly Roper
To my Dad who:
Chases monsters from my closet,
Reaches stuff that's way up high,
Carries me on his shoulders and
Lets me try to reach the sky,
Keeps me safe no matter what,
And watches over me when I sleep,
Puts bandages on my cuts,
And lets me make the car horn beep.
I love you, Dad, in every possible way.
Have a Happy Father's Day!
To Dad on Father's Day
By Kelly Roper
Take my little hand in yours
And we'll walk along the shores.
Bring me along with you so I can
take part in everything you do,
I will always be your child, but I'll
Only be young for a short while.
And I don't want to miss any time
With you, precious dad of mine.
Happy Father's Year
By Michele Meleen
It's really a shame
they only give you one day
to be celebrated by me.
You deserve a whole year
and every day really
So, I won't say
Happy Father's Day.
Instead, this is what you'll hear:
Happy Father's Year!
Sharing Is Caring
By Michele Meleen
I got you a gift
for Father's Day
and since you're so good
at showing you care,
I know when you open it
you'll want to share!
Father's Day in My Heart
By Michele Meleen
Though we're far apart
It's still Father's Day to me
Deep within my heart.
Ice Cream Fun
By Heidi Butler
Every night I have a dream,
that you will take me out for ice cream!
How about we do that today?
On this Happy Father's Day!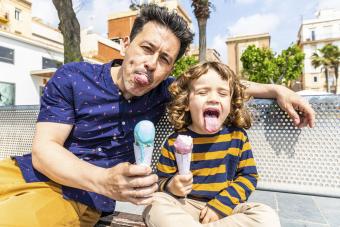 To the Coolest Guy I Know
By Heidi Butler
I think you are the coolest Dad in every single way,
And I can't wait for you to come home each and every day.
You're my hero, my protector, and my very best friend,
I will love you till the very end.
Thanks For Being My Dad
By Heidi Butler
To a guy who is funny and smart,
I love you with all of my heart.
You taught me how to throw a ball,
And you pick me up every time I fall.
I hope you know how very glad,
I am to have you as my dad!
D.A.D.
By Heidi Butler
Dads like you are hard to find,
Always funny, smart, and a grilling mastermind.
Daddy, you are truly one-of-a-kind!
Amazing Daddy
By Heidi Butler
No one measures up to you.
I only wish you had a clue,
about how amazing you truly are,
You really are the best dad by far!
Father's Day Sweetness
By Heidi Butler
You are the coolest dad on this Earth,
I have loved since my day of birth.
You are wise and funny and very sweet,
How about we go out for a treat?
Help Your Child Write a Father's Day Poem
Depending on your child's age, your son or daughter may need some help to create a poem for dad on his special day. A Father's day poem for kindergarten students and younger children doesn't have to be difficult. You can provide help and creative inspiration by spending time talking to your son or daughter.
Ask your child to tell you about some of their favorite memories with their dad, such as the time they went fishing together or when they shared a tea party.
Ask your child which words come to mind when thinking about dad. Write down those words if your child isn't old enough to do it for themself.
Now, use these words and memories to create a poem. Your child will probably need your help to organize their thoughts.
Choose an easier poem style, like an acrostic poem that spells out "DAD" or "FATHER'S DAY."
Quick Tip
You can also help your young child create a poem easily by asking them questions like: What do you love about dad? What is your favorite thing to do with dad? and so on. Then write out the lines and it's a poem straight from their heart that will be a hit.
Creating Father's Day Gifts Using Poems
Once your toddler has written the poem, you'll need to decide how you want to present it. Turn a simple poem into an inspiring gift by using some of these easy ideas:
Custom car coasters are always a good choice for dads on the go! You can create a logo using your child's poem and then have a professional print it for you. This is a gift that will get years worth of use and can serve as a constant reminder of how important dad is to his kids.
Personalized travel mugs are another fantastic canvas for your child's preschool Father's Day poem! Brands like Shutterfly allow you to design everything online and even include photos!
Purchase a ceramic flower pot and use a permanent marker to write the poem on the pot. Place pens, a letter opener, and other office supplies inside the pot for dad to keep on his desk.
Purchase a plain cardboard letterbox. Decorate it with photos of your child, their dad, and other family members. You or your child can write the poem on a piece of construction paper, laminate it, and glue it on the center of the lid.
Cut a large poster board in half. Using finger paints, let your child decorate the poster with her handprints and/or footprints. Glue a laminated copy of the poem that they have written to their father in the center of the board. You might even choose to have this gift framed.
Pull out all your craft supplies and help your toddlers create a unique Father's Day card that features their poem! Even if they can't write, this gives them the opportunity to be a part of this project.
If your child can write, have them write down the poem on construction paper and decorate it with pictures they've drawn or even photos of them and their dad. Then, laminate the entire project. Next, adhere it to an OXO Good Grips Snack Container. Finally, make a Father's Day snack mix with his favorite treats! This is something he can use at home or at work.
Show Dad the Love
Father's day is the time to make sure that dads everywhere know how much they are appreciated. It doesn't matter whether your child writes an original poem or uses one they find in this article. Father's day poems from preschoolers will be a cherished memory for both them and dad. As long as Dad feels the love on his special day, the poem will be a hit!