It's that time of year again! Parents are pulling out their cameras to take back-to-school pictures. Since everyone is jumping on this bandwagon, you can help your images stand out with the perfect first-day-of school captions to pair with your picture-worthy post!
Unless otherwise noted, all captions and sayings are original and written by LoveToKnow Staff.
First-Day-of-School Captions From Parents to Kids
The first-day-of-school can be both a blessing and an emotional day for parents. Getting kids back into their school routine and enjoying some quiet time is a remarkable thing. However, once the silence settles in, you might really start to miss them. These first-day-of-school Instagram captions can help to capture your mixed emotions.
From holding my hand to stepping into the classroom. Oh, how time flies.
The first day of school is bittersweet. Bitter because our summer together is over, but the silence is something I will savor.
Today is the first day of the rest of your school year. Fly high!
Watching them walk away that first day always hits you right in the feels.
The smiles are bright on the first day. But the adventures you hear about after school are even brighter.
Knowledge is power, and today is the first step in gaining the power to achieve your dreams.
As I watch you walk away, know I'll be waiting for you here when your school day is done.
It's that time of year again; let the back-to-school posts begin with this little cutie.
Every year is a new picture and another step in life's journey.
It's a new year and a new first-day picture filled with positive vibes.
Back-to-School Sayings for Your Social Posts
After taking that epic first day of school picture, make sure that your first-day-of-school quotes or captions are an A+ choice! These sayings are guaranteed to get you the grade, and the likes.
Looking perfect to start the day. Can't wait to see how your after school photo compares!
New shirt, new shoes, and a new attitude for the first day of school.
This little cutie is going to rock ___ grade!
Nothing is sweeter than a first day of school pic.
So proud of this little one right here. First day of a new year.
Nothing beats watching your little one skip off to school on the first day.
Keepin' it fresh this year with a new first day of school look.
It seems like summer will last forever, but then you blink, and they are back to school.
Off to make new friends and memories this year.
One minute you're holding them in your arms, and a short second later, they let your hand go and walk into class.
Cute and Funny Captions for the First Day of School
Your kid's first day picture turned out so cute. Make your followers on Instagram laugh with these funny phrases.
Saved by the bell. The school bell!
I forgot what quiet sounded like.
The first day of school pic... you can guarantee they won't come home looking this way.
Now begins Mamastay. Mama stay in bed.
And so it begins again. Lunches, backpacks, carpools, oh my.
First-day hair, don't care.
It's funny how they jump up for that first day of school, but then the snooze button becomes their bestie.
All I want to do is think about the pool, but I guess it's back to school.
Saying goodbye to summer vacation in style. Now it's back to school.
While fall might be giving summer the boot, at least I'm going back to school looking cute.
Helpful Hack
Funny one-liners and puns about school can also make great captions! If you are looking to put together a light-hearted post, this can be an easy way to bring some laughs!
Perfect Pre-K Captions to Highlight Their Very First Day
The most memorable first-day-of-school photos are usually the very first and the very last. For the parents who are sending off their big kid to school for the very first time, here are some sweet sayings to pair with this big moment!
Your future is bright little one. Up, up, and away you go!
And just like that, you are in preschool. I'll just be over here bawling my eyes out.
I forgot what it felt like to have to get up and get ready each day. This is going to be an adventure for the both of us. #firstdayofschool
To my big kid: Wishing you nothing but the best on your very first day!
Today marks a big step forward towards your independence. I cannot wait to see what you accomplish.
Get ready world! This little guy/gal is off to build that brain.
I hope your teachers realize how lucky they are to spend the day with you sweet boy/girl. I love you.
The first day of school seemed so exciting until the silence set in. It surprises me to say, I cannot wait for you to get home and bring back the noise!
I cannot wait to see you fall in love with learning and watch you grow! Preschool, here we go!
Backpack is on, shoes are tied, all that's left is to go inside. #firstdayofschool
Last First-Day-of-School Captions for Seniors
Similarly, as your baby heads off to their senior year, it can hit you in all the feels. The tradition you've been building together for the last 13 years is coming to an end. For parents, grace every picture with a heartfelt caption that shows off your pride. For seniors, caption your excitement as you head into this monumental year!
Today begins a lot of firsts and a few lasts. Happy last first day!
And with this picture, I shed a tear. This begins the first day of my baby's senior year. His/her last first day is finally here.
Every year a new first-day picture has lined the wall. Well, this is the last first of them all.
There is always something a little bittersweet about taking your first day of school picture as a senior. You realize it's the last one.
The moment I've waited for my entire school career: the first day of my senior year.
It's the first day of my last year until freedom! #letsdothis
Take a moment. Take a breath. You are a senior. #backtoschool
The first day of school takes on a new meaning when you become a senior. A new adventure is about to begin.
Going back to school in style. Rockin' senior year!
Start the clock: It's the final countdown!
Is it possible for senioritis to start this soon? #lastfirstday
Fun Back-to-School Instagram Captions for Teachers
It's not just kids who partake in the back-to-school picture day fun. Teachers also get in on the fun!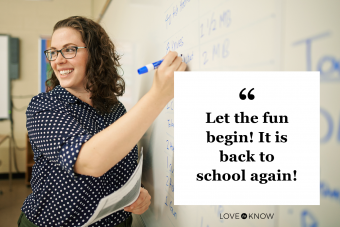 I love teaching, I do, but I love summer vacation too. #backtoschoolagain
New year, same teacher. Going back to school.
Most of my students come in looking great on the first day, so I feel like I need to make an effort too.
Let the fun begin! It is back to school again!
I've been waiting for this. It's time to enhance young minds.
Summer was exciting, but it's time for these kids to start writing! #languageartslearning
Going back to school is an exciting time of year...the return of paychecks always brings good cheer!
New year, a whole new classroom.
Even though summer is done, we can still have fun!
It's all about first impressions.
Sentimental First-Day-of-School Instagram Captions
It's hard not to get sentimental when it comes to first day of school captions and posts. Show how much this tradition means to you with these thoughtful first day of school captions.
And just like that, you're starting a whole new adventure.
I'm so excited to see you grow. But your first day of school is hard on a parent, you know.
Your first day of school. How can it be? A second ago, they were handing me a sweet baby.
The first day of school is already here. How did you grow up so fast?
I can't believe it's time for the first day of school. Where did my baby go?
With a smile and excitement, you hopped on the bus. But my heart is missing your face and putting up quite a fuss.
It's exciting to have your first day of school. But it's thrilling to hug you tightly when it's all over.
School is the first step in reaching your dreams. Like a star, you will soar towards them.
There they go. Their adventure is starting.
A lot excited and a little anxious. It's the first day of school!
Famous Quotes for First-Day-of-School Captions
Want to add a little celebrity inspiration to your first day of school caption? Try a few popular and poignant quotes spoken by individuals we look up to in life.
First-Day-of School Sayings to Help You Remember the Moment
It's fun to take a picture of your kiddos on their first day heading back to school. Not only is it a memory, but this tradition also allows parents to see how much their kids have grown and changed over the years. Share your pictures with the world on Instagram and Snapchat with a captivating caption to commemorate the occasion!