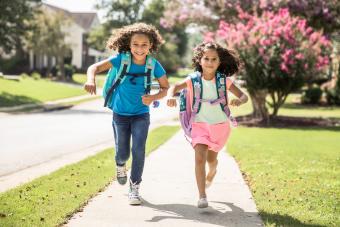 The back-to-school season brings about so many emotions, thoughts, and feelings for kids and parents alike. First-day-of-school quotes might help put those feelings into words and offer encouragement to your child.
From the inspirational to the hilarious, these quotes for the first day of school will give you and your child a confidence boost to kick start the year.
Unless otherwise noted, all quotes are original and written by LoveToKnow Staff.
Inspirational First Day of School Quotes for Kindergarten
Remind your kindergartner to reach for the stars, be their very best self, and have the best school year yet with an inspiring first day of school quote. A little inspiration may be exactly what they need for starting kindergarten.
Make this first day of school great, and the rest of the days will follow suit.
Education is the key to unlocking a world of possibilities and opportunities. Turn the key, kid!
The first day of school can be a scary one, but your strength and perseverance are greater than your fears.
Move mountains, push boundaries and make today the best first day yet.
The seed of learning gets planted today. Now all you have to do is feel yourself grow.
Whatever you do, wherever you go, we will be only a step behind, cheering you on.
Share the wonder that is you with the world.
Today is a day where everything and anything seems possible.
On this first day of school, show the world your brightness and beauty.
There is only one thing bigger than a kindergartener's curiosity, and that's their backpack.
Encouraging First Day of School Quotes for Elementary School
Their educational journey is just beginning -- and aren't you so lucky to be a part of this road traveled? Support your young learner with words of encouragement as they enter their academic learning years.
The first day of school is that singular moment where parents watch their babies blossom in the blink of an eye.
Happy first day of school! Make friends, make smiles and make memories.
It's a wonder that a head so small can hold so many questions, thoughts, and true potential.
Never forget, little minds are capable of very big things.
Today is a great day to grow, little one.
You've chosen your first day of school outfit, your new pencil box, and your notebooks. Now choose to lead with love and kindness.
On this special day, remember that while you may be small, you are so mighty.
The first day of school: where parents' tears outnumber the tears of kids.
Learn all that you can. Make as many friends as possible. Come back for more, five days a week.
Helpful Hack
You might write one of these encouraging quotes on a note included in your child's lunch or tucked into one of their backpack pockets.
Motivational Back to School Quotes for Middle School
Your kid is growing up before your very own eyes, and they are about to take the learning world on sans parents. Just because they're old enough to pack their own lunches and drive to class themselves, doesn't mean they can't use a few words of encouragement on another big first day.
All you need to be successful this year is already within you.
Remember, just because I'm no longer holding your hand and walking you into your classroom doesn't mean that I'm not right beside you.
Your future starts right now. Grab it and go.
Be brave. Make mistakes. Discover answers. The world is at your fingertips.
Changes are tough, but so are you.
As you start this new year, remember all the wonderful things that make you who you are and refuse to change them for anyone.
Capture hearts with your kindness and change minds with your understanding.
Knowledge is the information you gain in the classroom, wisdom is what you learn outside of the classroom.
You're changing a lot these days, but just know that this one thing never changes: I'm always excited to see you come home at the end of the day.
I know you still feel so young and so grown up all at once. This new year will bring more opportunities to practice the grown up part.
Relatable & Reassuring First-Day-of-High-School Quotes
From the first day of high school to the start of the final senior year, high school students might need a bit of reassurance before they walk through the doors. These quotes will relate to teens where they are and provide some encouragement.
Just by walking through the school doors, you brighten up so many lives. Have a great first day back.
Remember: The first day of school is usually a half-day, so you can still sleep the afternoon away as your teenage lifestyle requires.
Being a budding adult doesn't mean I'm not taking your picture on the first day of school.
Happy first day back to school! Let the countdown to winter break commence.
You may feel the weight of all the expectations, but I hope you also feel the weight of everything you bring to the table.
Life is changing quickly these days, but you can still count on the first day of school to come around too quickly.
You're discovering who you are and what you want in life. This school year is meant to help you do that.
This season is much shorter than you feel it is now. Soak in these final firsts and look toward the future firsts with hope.
You're on the cusp of adulthood, and this first day is one of the final steps in that direction.
It's okay if you're still figuring out who you are. What matters is that you're unapologetic about the parts of yourself you're sure about.
Funny First-Day-of-School Quotes for the New School Year
Nothing chases away those first day jitters like a few funny words. Leave your kids giggling with one of these catchy and chuckle-worthy back-to-school quotes.
On this first day of school, remember that you can be anything you want to be... except a crocodile.
You have a new backpack, a new lunchbox, and new shoes. You are ready to rule the world!
Have a great first day and don't worry about us parents. Rest assured, these are NOT tears of sadness.
Get out there and be a boss. Heaven knows you have this routine down to a science.
Time to get back to school. I'm sure the schools lost and found missed us over the summer.
An entire summer of questions stored up for this ever-eventful day. Blessed be the teacher.
Setting out into the world is a scary thing, but look at you being all amazing!
Happy first day of school! You're out of bed, so you might as well go learn something.
If the first day of school feels hard, remember that back in the day, some of us old-timers had to do this sans Google.
Make the first day great, because no matter what, you are going back again tomorrow.
Famous Learning Quotes for Budding Brains
Just because someone said it first, doesn't mean you can't borrow a saying or quote and pass it along to your favorite learner! These famous words live in infamy for a reason, and they are perfect sentiments for kicking off a brand new school year.
The New School Year Means New Possibilities
Each new school year brings about new experiences and adventures for your child. Make sure you capture the excitement of a brand new year with fun first day of school announcements, new school year traditions, and, of course, a fun quote or two to inspire and bring about joy.