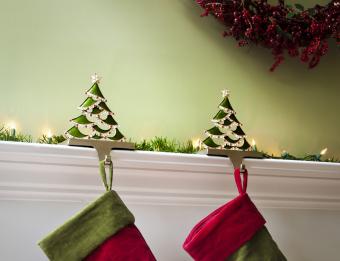 Festive Christmas designs for stocking holders can add a new decorating element to your fireplace mantel. Liven up your garland or Christmas theme with the perfect addition of stocking holders.
Buying Holiday Stocking Holders
Getting that Christmas stocking to stay up, especially after Santa Claus stuffs it with goodies, might require a special Christmas stocking holder. Stocking holders add a festive, decorative touch anywhere you put them. They also help prevent damage to your mantelpiece or wall from nails and tacks.
Snow Globe Stocking Holders
If you're a snow globe collector or you just enjoy the fun of snow globes, this type of stocking holder is for you. Find the ideal snow globe stocking holder and arrange your mantel decorations to highlight it.
This Santa snow globe holder features Santa Claus with a toy bear, train, and a rocking horse in snow globe. You can hang your stocking on the upside down candy cane. It sells for about $25 with free shipping for Amazon Prime members.
The Light Up Ornament & Snow Globe Stocking Holder features an ornament placed on its side. The back switch controls both the glittering snow and LED lights, making it a beautiful light. Pick it up from Von Maur in gold or silver colors for about $35.
The Glitter Swirl Christmas Tree Stocking Holder from Christmas Central features a clear tree almost 10" tall. It includes a battery-operated motor to ensure the glitter "snow" is falling whenever you glance at it and also includes LED lighting. Purchase it for less than $35.
Alphabet Stocking Holders
Use alphabet stocking holders to spell out family names, or use a single initial for each family member. You can arrange alphabet stocking holders to spell words, such as "Home" or "Peace".
This alphabet and name stocking holders feature your initial and then your name written in varying fonts, sizes and color. You can choose either a block or script font. Cost is around $25 with free shipping for orders over $39 from Bed Bath & Beyond.
These alphabet stocking holders are made of iron and aluminum and feature a bronze finish. Each letter of the alphabet is available for about $30 plus shipping costs calculated at checkout from Pottery Barn.
Mantelpiece Options
The traditional location to hang stockings is a mantelpiece above a fireplace. A stocking holder adds a touch of whimsy without causing damage.
Personalized individual name: There are several Christmas motifs, such a reindeer, santa, snowman, and more with a cast-iron base and stocking hanger. Choose up to 12 characters from nine different fonts. Cost is around $28 with free shipping on orders over $35 from Personalization Mall.
Gingerbread house: If you enjoy decorating with gingerbread motifs for the holidays, this stocking holder is for you. It features a gorgeous gingerbread house made of resin from hand-sculpted work. The cost is around $45 plus shipping from Frontgate.
Wooden stocking hangers: These stocking holders are made of a Maine hardwood. They're angled to hang from a mantelpiece, shelf, or ledge. They are unobtrusive and blend well with many décors. Each set of two is available in natural or green and costs around $25 at L.L. Bean with free shipping on orders $50
Light-up Choices
Light-up stocking holders are a fun choice if you enjoy decorating with a little bling. This style of stocking holder can add needed lighting for a low light mantel.
Stocking Holder Stands
If you don't have a mantelpiece, stocking holder stands are a fantastic solution. These stands look great anywhere in your home. Place beside the Christmas tree or against a wall. Santa will certainly have no trouble finding your stockings!
Believe metal stocking stand: This stand has the red glitter word Believe written in a scroll font. Cost is around $30 with free shipping on orders over $39 from Bed Bath & Beyond.
Chalkboard presents stand: This stand comes with four stocking hooks. It features chalkboard panels in the shape of glittery gifts that may be personalized and changed each year. It costs about $30, plus shipping at Kirkland's.
Personalized metal stand: You can personalize this stocking stand with your family's name, up to nine characters. It's made of metal and has your choice of a green Christmas tree or yellow star on top. The stand holds up to six stockings and costs about $28 from Walmart, plus shipping.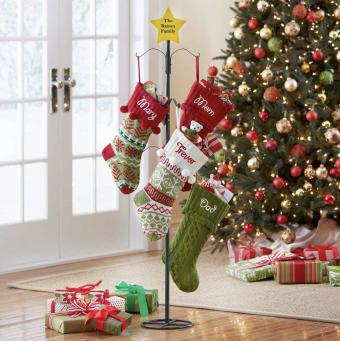 Charming Christmas Décor
There's a Christmas stocking holder to fit every design style, whether it's country, contemporary, whimsical, or vintage. Stocking holders add charm to your mantel Christmas decor.