If you have been searching for a party theme that can be a perfect fit for your child, these awesome 10 year old birthday party ideas are loads of fun for outdoor and indoor celebrations no matter the season.
Rock Climbing
A rock climbing themed party is the perfect option if you have an adventurous child who is into sports that require lots of brainpower. Consider reserving a rock climbing gym that offers a party room that can accommodate a group of kids and gives you the flexibility to bring your own party decorations, food and refreshments.
Go-Kart
If your child is a go-kart enthusiast, planning an indoor go-kart party is a fun way to celebrate a special birthday. Most indoor kart tracks offer a private room and give you the choice to select other activities, such as laser tag and an arcade where the kids can play various games.
Lego
Lego is the ultimate theme to celebrate a child's birthday party. It's a wonderful choice if you are looking for a way to minimize party activity planning to keep a group of kids entertained. Simply set up a hands-on Lego station in which the kids can get creative with building blocks throughout the entire party.
Board Game Marathon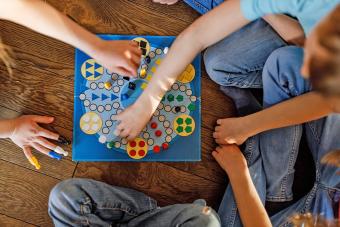 Invite a group of your child's friends for a kid-friendly board game marathon. A way to keep it stress-free by trying to figure out what board games would be perfect for a group of 10 year olds, consider suggesting each guest bring a board game they absolutely love. The guests might not have a chance to play all the different board games, but they will have plenty of fun choices to choose from.
Bowling
A bowling party is an exciting way to celebrate a special child who loves to stay active while in the company of friends. Plan ahead and reserve a few lanes at your favorite bowling alley that can easily accommodate your guests. Most bowling alleys will allow you to bring your own party decorations and a birthday cake, but will not accept outside food and drinks. Be sure to make arrangements with the venue to decide on a party package that can be tailored to your needs.
Trampoline
Gather a group of kids for an epic birthday party at your nearest trampoline park. A trampoline park is an exciting venue for kids who love to get active and challenge themselves with fun zip line adventures and obstacle courses fit for a ninja.
Video Games
Playing video games might be most kids' favorite way to hang out with best friends lately. If playing video games is your child's new obsession, plan an hour of video game fun and other indoor or outdoor party activities to get their bodies moving. Narrow the video game party to one theme to make party planning a breeze. From Mario to Minecraft and Roblox, there are a few video game titles that can offer lots of creative ideas to plan an epic birthday party for your child.
Arts & Crafts
If your child is always trying to find an excuse to get creative, an arts and crafts party is a cool theme to have friends over for a birthday celebration centered around a fun project they can create on their own. Bonus? The kids can take their crafts home as a fun keepsake. Set the stage with an art & craft station in which the kids can get their creative juices flowing and get inspired by each other's creativity.
Laser Tag
Let the battle begin! Whether you are bringing the battlefield experience to your house or booking an entertainment venue to celebrate your child's birthday, a laser tag theme will offer a fun-filled day to kids who enjoy thrilling heart-pounding activities. It's a great opportunity for the kids to learn concepts, such as teamwork building and strategic thinking while celebrating their friend's special day.
Pizza Making
Pizza is the beloved food item from every party menu, and kids don't seem to get tired of it. Plan a pizza making session with a group of friends at your house or at your favorite Italian restaurant that offers party packages with a kids' hands-on experience, such as pizza making from beginning to end, including an experienced chef to guide them.
Movie Night
Plan a birthday celebration filled with unlimited popcorn, fun treats and an exciting movie at your house that's perfect for 10 year-olds. If time permits, consider indoor or outdoor games the kids can play together after the movie session. If you are feeling extra adventurous, you may choose to take the group of kids to a movie theater instead and meet up for birthday cake at your house afterwards.
Ice Skating
Whether your child can or cannot ice skate, an ice skating party offers a great opportunity to learn a new sport regardless of the season. Book your private event with your nearest ice skating rink venue and make sure they can accommodate a group of kids for an epic birthday celebration. For an ice skating party, it's important to remind parents skate rentals will be included and to dress their kids in appropriate clothes that will keep them warm throughout the ice skating experience.
Backyard Games
If your child loves being outdoors, plan the ultimate celebration filled with exciting backyard games that will provide tons of fun and keep the kids engaged. Make a list of backyard games that are not only easy to plan and set up, but also interesting and challenging enough for 10 year olds. Be sure to plan extra games that are good for indoor fun as well in case of inclement weather.
Pickleball
Pickleball has been all the rage among kids and adults. It is a fun sport for all ages and all fitness levels, perfect for those kids who enjoy trying new sports simply because they love staying active. Whether you are setting up your own or booking a pickleball court for your event, your child's birthday party is bound to be amazing!
Ice Cream Social
If you are planning a summer birthday party, an ice cream social is the answer. It's an easy theme you can quickly bring to life with a little planning ahead. Set up a sundae bar where guests can customize their own ice cream. Set out toppings, such as sprinkles, crushed nuts, maraschino cherries, chocolate covered candies, whipping cream along with other essentials--ice cream scoops, napkins, ice cream cones, bowls, and/or cups. Keep ice cream tubs in the freezer and transfer them to a cooler filled with ice when it's time to serve.
Get the Kids Engaged
When choosing a party theme for your child who is turning 10 years old, opt for ideas that will give the kids the opportunity to socialize and engage themselves in activities in which they can develop skills they never thought they had while having fun with friends.