Birthday party for two? Our twin birthday party ideas are double the fun without double the work. These twin party themes are easy to pull off and will have your set of twins, no matter their age, feeling loved and adored.
Twinfinity & Beyond
Of all the twin birthday party ideas, this one is really taking off. "Twinfinity & beyond" is all about space, rockets, and celebrating two twins who love all things galactic. Not to mention, if your duo loves Toy Story, they'll love the Buzz Lightyear vibes of this party theme.
Two Cool Party
Celebrating a groovy set of twins? Party with the "two" cool pair and plan a groovy themed birthday celebration. Try a 70s disco or a mellow hippie gathering for this twin party theme.
Frozen Sisters
Celebrating twin princesses? It's time for a Frozen-themed bash! The hit from Disney is a popular party theme as it is. But, when twin sisters are the guests of honor, the idea seems even more appropriate. The toughest decision you'll need to make is which sister gets to dress as Elsa for the event.
Two-ty Fruity Celebration
If you want a subtle and trendy aesthetic for your twin birthday party, here's a sweet idea. A fruit-themed bash is a bit more sophisticated than a character-focused celebration. It works for older kids and teens or for party planning parents who want a theme that doesn't feel overstimulating. Citrus fruits, pears (there's "pair" pun somewhere in there), or apples make a sweet aesthetic for your twin celebration.
Batman vs. Superman
Twins with similar physical traits and polar opposite personalities might make birthday party planning a bit tricky. But if they have a shared interest in superheroes, there's an opportunity to have some serious fun. Batman vs Superman (or any combo of their preferred heroes) lets them each feel represented with a party theme that's totally cohesive.
Parent Trap Theme
There are tons of famous twins in pop culture and history, but everyone knows about The Parent Trap. Whether your inspirational duo was brought to life by Hayley Mills or Lindsay Lohan, the overall theme still works. Have a screening of the movie, serve Oreos in peanut butter, and hand out Camp Walden t-shirts as party favors.
Tutus & Choo Choos
A sweet ballerina and a train-obsessed little boy? You need a twin birthday party that suits them both. Cue the tutus and choo choos theme! All the pink ballerina things she could dream of — we're talking tulle everywhere — and the conductor aesthetic to inspire his imagination. This party is unique to your little ones and still allows them to celebrate together.
Milk & Cookies Party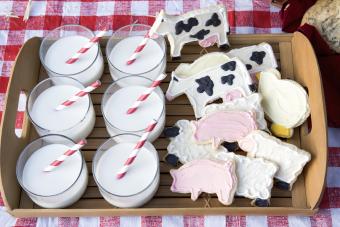 Twins who complement one another perfectly need a party theme with the same vibe. Milk and cookies are much better enjoyed together, and they both bring important characteristics to the dynamic. This is an easy theme to pull off, too! A cookie cake, individual milks for all the kids (or adults), and a round of pin the chips on the cookie make this a simple but fun party for everyone.
Tea for Two
This twin party theme is equal parts cute and elegant. It works for nearly any age and any set of twins. Two sweet kiddos hosting their own afternoon tea with all the sips and sweets sounds like a delightful way to celebrate.
One Prickly Pair
Twins make life exciting, and their combined party should communicate that to the guests. A "prickly pair" cactus aesthetic speaks to the beauty and all the unexpected parts of life with twins. We love how adorable this theme is and how simple it is to make all the decorations and food fit the vibe.
Twinning at Life
For the sports loving duo, a twinning at life party features all the goals, baskets, and scores to help them celebrate. You can choose one sport they both love, include a mix of their favorites, or lean into any competitive game that might interest them. You could even turn the party into an Olympic event!
Quick Tip
This theme also works for tweens who love video games. You could even build your theme around the classic board game, Life, for a seriously unique celebration.
Cater Your Party to the Duo of Honor
The most important thing to remember as you plan your party for twins is that the theme only needs to make sense to them. If one twin wants a princess celebration and the other wants a safari theme, you can totally make that work. Even if the overall vibe doesn't make total sense to every guest, your twins will still have a special memory to share for their special day.